sleggo22
Member since Nov 22, 2014

Male / 30
East Burke , Vermont
Block user
Recent

Jun 4, 2015 at 8:20
Jun 4, 2015
Opinion: The Dirtbag Life
Being a Paramedic works really well for the career plus riding style. Work 2 24 hours shifts a week, bike 5 days!!! Bike parks are always happy to hire you to help out to get some free passes as well. During winter switch bike to skiing.

Dec 2, 2014 at 6:17
Dec 2, 2014

Selling
Nov 22, 2014 at 8:16
Nov 22, 2014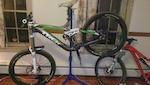 $3000 USD
Almost new 2013 Trek Session 8 Green. This bike was a brand new leftover at the local shop, I only rode it for 2 months this summer and into the fall. Its the wrong frame size for me so selling it for a smaller one. Bike was kept inside and well taken care of. Its a stock frame and parts just with upgraded pedals. Loved the bike rode technical downhill amazingly and was fun in the park as well.
Load more...