slowrider888
Member since Jun 15, 2003

Los Angeles , California
Block user
Recent

Nov 18, 2021 at 14:23
Nov 18, 2021
First Look: Lal Bikes' Supre Drivetrain Splits The Derailleur In Half Before It Happens On the Trail
@islandforlife: I too wish him and his company all the success in the world, for both being truly innovative and for making it happen. And I'd love to see the Supre drivetrain succeed in the marketplace. But I also hope Lal Bikes doesn't sell out to Shimano or SRAM, only because history has shown that major players will buy out the smaller innovative companies merely to squash any competition to maintain market share, and then abandon the innovative intellectual property they just bought—eg, Procycle bought out Balfa then mothballed their idler pulley + HSP as well as parallel-linkage VPP suspension designs, and Bauer bought out Mission then mothballed their more anatomically fitting "Purefit" hockey skates.

Selling
Aug 17, 2021 at 16:19
Aug 17, 2021

Selling
Aug 17, 2021 at 16:15
Aug 17, 2021

Selling
Dec 9, 2020 at 13:00
Dec 9, 2020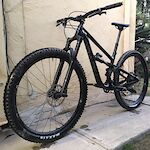 $2500 USD
2020 Revel Rascal ***New pics added*** Excellent Condition--bike was minimally ridden (maybe 40 hours?), due to excessive smoke from fires raging all summer long :-( Sale is for Rascal frame + RockShox Super Deluxe Select rear shock + stock headset ONLY. Not complete bike. Reach 424 mm Stack 600 mm ETT 588 mm ST 385 mm HA 66 deg (w 140mm Pike fork, 551mm axle to crown length ) SA 75 deg CS 435 mm WB 1182 mm HT 96 mm Seatpost 31.6 Max Tire 29" x 2.4" (per Revel) BB shell 73mm BSA/Threaded I'm 5'8" and the small Rascal fits similar to the 1st generation medium Evil Following that I rode for 3 seasons, but has a much better seat angle IMO. Revel licensed Canfield's "CBF" rear suspension design, and it delivers as promised--it pedals as well as (or arguably better than) Evil's DELTA suspension, but is noticeably more active during climbing with less pedal kickback on square-edged hits. And it corners better than any bike I've owned, including the v1 Following and v1 Offering. Selling because I'm thinking about sizing up to a medium frame, but I may regret parting with the small Rascal since it really rides so well. $2500 + shipping fees, firm

Selling
Oct 20, 2020 at 2:41
Oct 20, 2020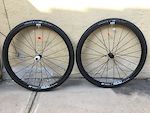 $400 USD
NEW DT Swiss C1800 DB 23 Spline 'Cross / Gravel Wheelset (700C), w Shimano 10/11 speed hub body   These are currently spec'd as stock wheels for solid bikes like Salsa's $4100 Warbird Carbon GRX 810 and $4100 Warroad Carbon Ultegra 700, as well as Jenson's "exclusive" GRX 800 Ibis Hakka MX build (was $4400, but now marked down), so they'd be a great way to upgrade from heavier, generic house-brand wheels that tend to dominate the lower tiers of the range.   They'd also make a great second wheelset for 'cross, whether as-is or mounted on your pit bike.  So buy these wheels, and then tell COVID to go F*CK itself, while you're cranking hot laps in the mud (or dust, like down here in SoCal) as you prepare for next season!  TIRES NOT INCLUDED But if 'cross is your thing, and you want these new, unridden Challenge Grifo Race tires (handmade, 120 tpi casing, kevlar bead, UCI 33mm width, 330 g, ~$80/pair retail price), then let me know, and we can talk about price. Details...  Front Wheel  *DT Swiss 370 Front Hub, 24 holes, for straight pull spokes, 12x100 Thru Axle  *DT Swiss R 500 Rim, 700C (622mm bead diameter), 22 mm inner width, 26 mm outer width, 23 mm depth, 495 g  *DT Swiss Aero Comp Wide bladed spokes, laced 2-cross  *DT Swiss ProLock Squorx ProHead nipples, alloy  *Center Lock rotor standard     *811 g  Rear Wheel  *DT Swiss 370 Rear Hub, 24 holes, for straight pull spokes, 12x142 Thru Axle, Shimano 10/11 speed freehub body *DT Swiss R 500 Rim, 700C (622mm bead diameter), 22 mm inner width, 26 mm outer width, 23 mm depth, 495 g  *DT Swiss Aero Comp Wide bladed spokes, laced 2-cross  *DT Swiss ProLock Squorx ProHead nipples, alloy  *Center Lock rotor standard     *936 g  Extra bits *1 pair Tubeless stems  *1 pair 6-bolt rotor adaptors  TIRES NOT INCLUDED (as above, unless you want to buy them too) Universal Cycles has these currently listed for $492 ($214 Front + $278 Rear), but feel free to Price Police me if you see a better deal for the Shimano flavored set.   First $400 (+ actual shipping fees), and they're gone.   I'd consider trading wheels for some mostly roadie/gravel/cross bits + the difference in price: *TRP Hylix brakeset (levers + calipers + hoses) *Gevenalle Brake/shift levers (what you got?) *TRP Spyre Mech Disc Brakes *Stems +/or Bars from Crust (or similar gravel drop bars ~50 cm or wider at the hoods) *110 BCD Crankset, for JIS (ie, Shimano compatible) square taper spindle *Brooks Cambium All Weather, Swallow, or Swift saddles (or their leather clones from other brands) *27.5" fork with 130mm to 150mm travel, STRAIGHT 1-1/8" steerer tube, AND 15x100mm thru axle

Selling
Oct 2, 2020 at 3:36
Oct 2, 2020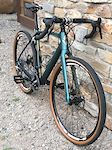 $1400 USD
2018 Diamondback Haanjo 5C EXP—First $1400 (plus shipping fees) takes it. Barely ridden, and in near minty fresh excellent condition. Full carbon frame & fork, w great tire clearance—27.5" x 2.1" XC knobbies to 700C x 40mm gravel tires. Diamondback's carbon Haanjo is like the poor man's version of Open's U.P. or Rodeo Lab's Traildonkey frames. In a nutshell, the 2018 5C EXP model was spec'd for versatility, and leans toward bikepacking or adventure touring w ultra wide gear range Shimano XT 3x9 drivetrain (571% gear range), bombproof Shimano bar end shifters (can switch from indexed to friction mode on the fly, to shift anything from 6/7 speed to 11 speed cassettes, with infinite trimming ability to keep chain in perfect alignment w rear cog), and easily serviceable TRP Spyre mechanical disc brakes. So whether you're riding the Tour Divide, or bikepacking on another continent, the 5C EXP's build kit was intended to be as headache-free as possible. DB's current topshelf 2021 Haanjo 8C ($4400) shares the exact same frame as this 2018 model, but has a higher end build kit and different paint scheme. With up to $3k that you're saving compared to a new 2021 carbon Haanjo, you could swap the stock HED Tomcat 27.5" wheelset for some blingy carbon deep section aero 700C disc road wheels (like November Bicycle's RCG36, Allroad 38, or Allroad 50 wheels) mounted w fast 28mm tires like Conti GP 5000 TLs or 32mm UCI regulation Cyclocross tires, to build up a sneaky fast endurance road bike or 'cross racer (I'd also swap the 5C's triple crank for a double crank, mount the bar end shifters to Gevenalle's Retroshift brake levers, and call it done). Great in depth review of the similarly spec'd 2017 model here: https://www.cxmagazine.com/review-diamondback-haanjo-5c-exp-carbon-650b-gravel-cyclocross-adventure/13 Geo: 500mm ST 525mm ETT 374mm Reach 543mm Stack 74.5 deg SA 69 deg HA (insanely stable bombing down twisty mountain roads) 130mm HT 430mm Chainstays 788mm Standover 1028mm Wheelbase 70mm BB drop 100mm x 12mm Front thru axle 142mm x 12mm Rear thru axle 1.125" to 1.5" tapered Steerer 27.2mm seatpost 73mm English threaded BB shell 420mm wide bars, w compact drop (can't find reach and drop specs) and 16 degree flare Wheelset is HED Tomcat disc w 650B/27.5" (21mm internal width) rims mounted w minimally used stock WTB 47mm wide Byway tires. HED Eroica gravel handlebars feel great, and stock DB rubberized bar tape is surprisingly good. Will ship w all stock parts, including DB flat pedals (not ones in pic), and all of DB's original small parts incl rear fender mounting block. In addition to the WTB Byway tires, I'll include a pair of minimally used Panaracer Gravel King Slick 650B x 42mm tubeless road tires. And if you need a second set of 27.5" wheels for those Gravel Kings, I've got a set built w Stan's Rapid rims (21mm internal width) laced to Shimano SLX Centerlock thru axle hubs (including 15mm to 12mm front thru axle conversion "sleeve"), that I'll sell for additional $150.

Jun 30, 2020 at 11:23
Jun 30, 2020

Selling
Jun 6, 2020 at 19:09
Jun 6, 2020

Apr 18, 2020 at 22:11
Apr 18, 2020

Dec 18, 2019 at 20:02
Dec 18, 2019
Load more...