soeug
Member since Oct 11, 2017

Male / 35
Vancouver , British Columbia
Block user
Recent

Aug 10, 2020 at 20:15
Aug 10, 2020

Selling
Aug 10, 2020 at 20:13
Aug 10, 2020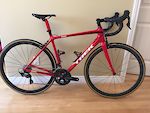 $3650 CAD
I'm selling my beloved 2018 Trek Emonda SL 6 - 54cm because I just bought a new bike with disc brakes so this bike needs to find a new home! Emonda's are made to be super light weight 500 OCLV carbon, so this bike is made for the billy goats who loves to tackle the next big hill climb. Super fast and agile, especially when matched with the Bontrager carbon wheels I have on them. The bike is in excellent condition. It is has been meticulous taken care of, never ridden outside in the Winter, and washed after rides (since I store it indoors). According to Strava, there's about 4000km on the bike. With milage, that's also some cosmetic things on the bike. There's a scratch on the left chain stay when the wind knocked it over when leaned up against the wall (see picture). The seat mass in the rear has some paint rub on it from the saddle bag. There's also some scratches on the crank. These are all cosmetic and doesn't affect the bike in any way. Specs: Ultegra R8000 drive chain. Crankset is 50-34 with Ultegra 11-28 cassette and Ultegra chain. Cassette has tons of life left on it. Chain is at about the .4 wear mark, so can use a new chain next year. The brakes are Bontrager Speedstop callipers. They are comparable to the Ultegra brakes, just a tad bit lighter. Others & Upgrades: TACX Ciro Carbon shell bottle cages (matching) ($35/each) Saddle: Specialized Power Comp Saddle (Brand new) - I also have all the other ears for the seat mast so you can run saddle rails sizes (7x 7, 7x9, 7x10). Stem has been swapped out from the stock 90mm stem to a 80mm Bontrager Pro Stem. Bar has been rewrapped with Supacaz Galaxy bar tape (as seen in picture). Tires: Upgraded from the Bontrager R2 tires that came with the bike with Vittoria Corsa G+700 x 25c ($90 per tire). The tires have about 1800 km on it. Still lots of life left on it and only had one pinch flat ever on the front tire. All cable ends have been changed to red anodized jagwire cable ends. I can give you a few more of those cable ends if you like. Wheels: I'm listing the bike at $3650 and that includes the Carbon Bontrager Aeolus D3 3 TLR wheels. These wheels are the more expensive Aeolus 3 wheels with DT Swiss hubs hand made in Wisconsin, not the cheaper and heavier Aeolus Pro 3 that are made in Taiwan with Bontrager hubs. There's about 2000km on the wheels. They are true and don't need any service at this time. These wheels are $1500-$1800 per wheel brand new! So I'm selling them as a set with the bike. I'll also throw in the Swissstop Black Prince Brake pads that are approved for these wheels ($65). There's a ton of life left on the brake tracks. Now this is the part you have to read carefully: If you have your own set of the wheels, I am willing to separate the wheels from the bike and sell them separately. $1800 for the wheelset + Swiss Stop brake pads + Vittoria tires $2000 for Bike without the wheels - Will put back on stock brake pads. - PRICE IS FIRM ON BUYING BIKE SEPARATELY Not included: No pedals. I have some flat pedals I can install for you to test ride. Serious inquiries only.

Mar 25, 2019 at 20:12
Mar 25, 2019

Selling
Mar 25, 2019 at 20:07
Mar 25, 2019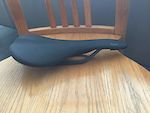 $100 CAD
I have a lightly used Fabric Scoop Pro Flat saddle that I used for maybe 2 months last season. No rips, no tears, just some markings on the rails where I had installed the saddles on the seatpost. Super light with carbon rails, unfortunately it didn't mesh well with my behind. Brand new sells for $220

Jan 24, 2019 at 20:21
Jan 24, 2019

Selling
Jan 24, 2019 at 20:21
Jan 24, 2019
Load more...