Point One Racing
is not an unknown name in the industry. Started by 2 racers' need for race worthy parts that are not only strong, but extremely light. Recently we got our hands on the Split Second stem from Point One, which has a very unique design, and some interesting characteristics.
Read on for more information on the Split Second...
Point One Racing is known for making parts that are light weight, but ridiculously stiff. Point One prides themselves on how responsive and reliable their parts are, even though they are trying their hardest for weight savings. CNC'd 100% in the USA, the Split Second stem weights in at a meager 137 grams for the 31.8mm clamping diameter, and 125g for the 25.4 clamping diameter.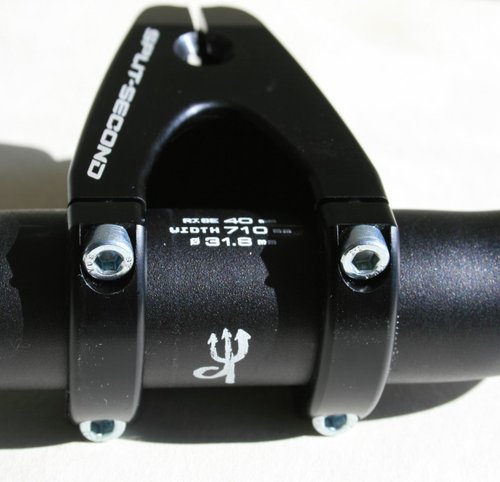 Machined with zero degrees of rise and 50mm of reach the Split Second stem gets the rider directly out in front of the bike, making it responsive, but not to short. 50mm seems to be the comfort zone for stems these days. Machined out of aluminum using advanced manufacturing techniques Point One ensures, and can
prove through testing
, that its stiffness to weight ratio is superior to many options out there. Point One Claims the Split Second to have a stiffness ratio of 8.349 inch pounds per gram.
"The tests are to measure the stems torsional rigidity, or stiffness. So you could say that with 150lbs of force at the end of the handle bar, the stem only flexes 1/10th of an inch at the point of application. We conducted this test with a lot of different stems, then we compared how much each stem flexed to their weight. That's where the 8.349 number comes from: the stiffness in in/lbs compared to the weight in grams, where stiffness is defined to be proportional to the slope of the graph of the force-deflection curve… " -Point One Racing
A Machined Masterpiece
Point One's Split Second stem uses a 55mm handlebar clamping width, meaning its clamping width is slightly wider than others to displace the impacts more, and resist slipping. The Split Second also uses an integrated top cap design, something some riders may not approve of, however ensures even more weight savings, approximately 20 grams. The only downside to this system is the fact you are forced to cut your head tube in order to use the stem at a specific height, you cannot use spacers on top of the stem. The Split Second stem is $119 USD and features high quality fasteners and a clean black finish (also available in a limited edition finish-see site for details).
Check out the
Point One Racing Split Second Direct Mount Stem here
.
www.PointOneRacing.com
" src="https://ep1.pinkbike.org/p3pb3102781/p3pb3102781.jpg" />