A student has designed a bike which can be folded completely into the space of the wheel's 26in circumference.
Click here for more info...
Dominic Hargreaves's bike, The Contortionist, has been shortlisted for this year's James Dyson Award for innovation.

It may bag the young inventor £10,000.


The 24-year-old, from Battersea, London, said he wanted to create a decent folding bike after the one he was using collapsed.
"I couldn't find a folding bicycle I liked," he added.
"I wanted something that could take a bit of punishment and that you could have fun with, so I made one myself."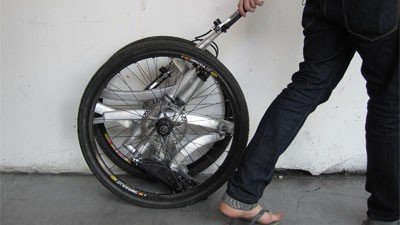 All folded up
Mr. Hargreaves has been in contact with various manufacturers and hopes to get the bike into production soon.
Competition founder James Dyson said: "The clever bit is how the front wheel can be rotated and repositioned so that the whole of the bike's frame fits into its circumference."