The start of my plan to have a meaningful bank holiday....So after wasting the last bank holiday my plan springs into action.
1) Todays regular two-three hours blatting round Haldon, messing around on trails both official and otherwise.
2) A XC type ride around Woodbury Common on Monday with someone I don't get to ride with very often. A chance to test if the Kona is usable everywhere as this is where I'd normally use the lighter, more agile inbred but we'll see.
3) Finishing with my first attempt at bivvying in an as yet undecided location on Tuesday evening. I know this is going beyond the bank holiday but I'm a teacher and I want to do something in my holiday other than mark books!
It even started early last night following the purchase of a spoke key and some fettling and assistance from the guy who normally does my wheels finishing in a straight pair of wheels. That's one less thing I need a bike shop for now! The first ride kicked off today with a somewhat soggy trip up to Haldon forest.
That said it was an excellent ride. The fog between threes made for an excellent atmosphere and once you were away from the road it felt like you were in the middle of nowhere. A newly discovered trail was ridden twice. The first attempt went very well, the second one finished with a fit of rage and snapping a branch of a fallen tree that had just taken a lump out of my hand.
Mostly standing water with slippery tree roots and the potential for some very controllable two wheel drifts. Sadly the obscene amount of rain meant I didn't get to take many photos as the camera sulked and stopped working about halfway through the ride, hopefully it will recover for tomorrows ride.
The intention is to use the same bike for all three rides in the shape of my Kona.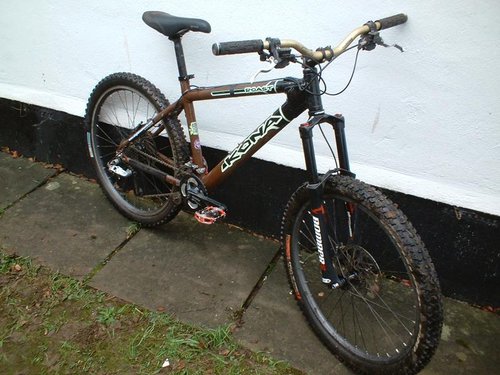 1672557
I have a feeling it may feel a little tank like tomorrow (especially after the addition of a shorter stem than the one you can see in the photo) but we'll see. So step 2 - I'm meeting Matt at 10am for a long-ish ride around Woodbury Common and hopefully a trip to secret(ish) DH trail which I'll then mark on a map as I've found it once and then never been able to find again.