My first attempt at bivvyingWell - this is it the last installment. If anybody is reading this (yeah right) they will probably be wondering how I feel right now. Tired yet fulfilled is probably the best answer. I've been to my regular ride, a long XC loop which found me some new DH trails and done something I haven't done before on my own. I'd say more tired than my trip to CyB last year because I've always been coming home and carrying on so cleaning bike, housework etc. But this has proved I can ride more I just need to plan it in advance a bit more. I feel a repeat of this three days thing coming on in the summer.....
As for the bivvy the ride out was unremarkable apart from the sheer size of the road climb. Following yesterdays rain I decided to take roads as much as possible rather than have to dismantle and clean my entire drivetrain for the third day in a row. I quickly found a suitable location and whipped out the bivvy bag, snapped a shot of the view before gathering wood and making a complete mess of lighting a fire. Bugger. That'll be me reading the SAS survival guide before the next bivvy then.
The sunset was an unexpected bonus as I'd though the tree line would obscure it quite badly and I settled down for the night. One piece of advice: do not read "Touching the void" before setting out bivvying and then set up on a slight slope. I woke up convinced I was falling down a mountain before getting a grip and realizing I was just sliding down the hill. I consider myself lucky I'm not dry cleaning the sleeping bag.
I was woken at about 5.20am by the large gob of Ice cold water that somehow rolled through the entrance to my bag and rolled down my back. The view that greeted me was this (literally taken as seen from my sleeping bag -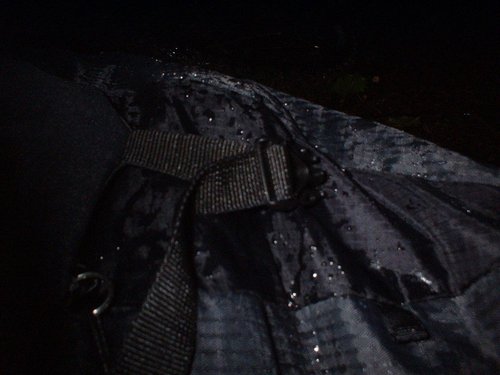 2085956
Oh goody - more rain, the one thing I couldn't possibly have seen enough over the last three days. Still I was warm, dry and safe so I decided to wait it out. An hour later I was still waiting and a rumble of thunder convinced me to get up, put my waterproof on and make tracks. It was a fun experience sleeping out under the stars and I think next time I'll just be better prepared so it'll be more fun. So my shopping list -
Head torch
Spare layer that packs down smaller
That's it the three days is over. Time to start working again ready for the last half term of the year on Monday.
Rough Bivvy location - OS Grid ref 929964 on OS Explorer map 114