stickydirt
Member since Jan 1, 2010

Male / 37
Bristol , United Kingdom
Block user
Recent

Jan 8, 2020 at 13:37
Jan 8, 2020
Podcast: How to Shred Until You're 70
Ben is a ledge. I trained with him and he not only made me faster but he's such a positive guy to be around he was good for my approach to riding and life in general. Look forward to listening to this, love a good downtime podcast and Ben always has interesting things to say.

Jan 20, 2019 at 3:27
Jan 20, 2019

Selling
Jan 20, 2019 at 3:24
Jan 20, 2019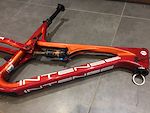 $1250 GBP
Fantastic condition 2018 Intense Primer frame in red/orange with Fox Factory Float Evol shock, Fox Transfer dropper (125mm) including lever and Chris King Headset. Everything is in fantastic condition, frame bearings changed 2 rides ago. One small paint chip in chainstay and one below BB otherwise the frame is in incredible condition. Only selling as it's slightly too big for me. This is an utterly brilliant bike, super light, 130mm travel and works with 130 or 140mm forks.

Apr 1, 2018 at 12:04
Apr 1, 2018

Selling
Apr 1, 2018 at 11:58
Apr 1, 2018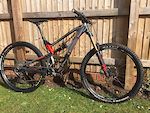 $2500 GBP
Selling this absolute beauty of an Intense carbine 29 custom build. Absolutely no expense spared on this bike from the full XTR groupset to the Chris King headset, Fox Transfer post (150mm), Stans S1 wheels with Maxxis tyres (High Roller 11 DD rear and DHR 11 Exo front), Deity bar and stem to the Fox 36 Factory 160mm. The bike is absolutely mint and has only been ridden 3 times (the fork has been used for around 8 months as it was moved from a previous bike). I am only selling as I now have an affiliation with another bike brand. This bike really is in incredible condition, the only signs of use being crank scuffing which happened on the first ride and some marks on the fork lowers from zip ties used to attach a mud guard, otherwise this thing is in showroom condition. It's light, insanely fast and a damn good looking bike. No time wasters please, no swaps or exchanges, local pickup from South Wales only.

Selling
Oct 19, 2015 at 11:51
Oct 19, 2015

Oct 19, 2015 at 11:46
Oct 19, 2015

Apr 11, 2015 at 8:00
Apr 11, 2015

Selling
Apr 11, 2015 at 7:58
Apr 11, 2015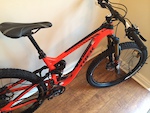 $1750 GBP
I'm selling my girlfriends 17.5" 2014 Trek Remedy 9. The bike is in excellent condition (she only used the forks for a couple of months before fitting a Fox 36) with some parts never used. Brand new tyres, short 50mm stem, upgraded Answer handlebars and a set of the excellent Spank Oozy wheels. This is an excellent bike in fantastic condition. Spec is all as seen in the pictures (full XT, Reverb Stealth), no pedals supplied. MOst of the main areas of rub have been covered in tape so even the paintwork is in great condition, just one or two small nicks from stone strikes. We both work at BikePark Wales and we are only looking for collection from BPW, no shipping, no swaps or trades please

Selling
Feb 2, 2014 at 9:16
Feb 2, 2014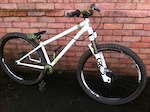 $500 GBP
I am selling my Deity Cryptkeeper custom build. This is a super high spec build and has been ridden about 4 times. Dirt mag were huge fans of this frame when they tested it and quite rightly so. It's light, compact and super maneuverable. Spec highlights include, Deity Cranks and Dirt 30 bars, (Thomson stem in photo is now swapped to a Deity stem), Hayes carbon brake, Manitou Circus Pro forks (100mm) Deity saddle an post, Deity Alibi sprocket. The bike is in fantastic condition as it has barely been used. Gutted to be selling this but I need to make room! Local pickup in South Wales only please
Load more...