strawsy25
Member since May 25, 2008

Male / 27
Aberystwyth , United Kingdom
Go check out my race team MJRacing www.pinkbike.com/u/mjracing
Block user
Recent

Nov 16, 2020 at 2:30
Nov 16, 2020

Selling
Nov 16, 2020 at 2:28
Nov 16, 2020
$250 GBP
Set of Hope Pro 4 wheels on Enduro Rims. Front 15mm thru axle come off a Fox 36 fork Rear 142x12 axle The front is completely true, rear has a slight tweak easily pulled out and one ding to the rim. Not been used for tubeless but easily converted. Bearings are good in both wheels and also comes with QR conversion cups for the rear. Postage at buyers expense.

Selling
Nov 15, 2020 at 4:26
Nov 15, 2020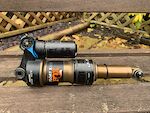 $170 GBP
Good condition has had a new shaft last year and has been serviced regularly. The bike it was on has not been used for 6-9 months and is in good working condition. Has the 3 riding positions plus three tuning selections (on top of this).

Selling
Nov 15, 2020 at 4:19
Nov 15, 2020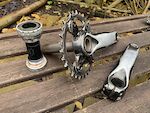 $70 GBP
Set of used (with flat pedals hence the worn paint!) Shimano XTR cranks with bottom bracket which is in good condition and a one-up 34t chainring. Cranks are in perfect working order as is the chainring and BB. BB 68-73 Threaded

Selling
Nov 15, 2020 at 4:12
Nov 15, 2020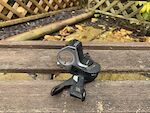 $20 GBP
In new condiditon, used for 3-4 rides. 11 speed m7000 shifter with right hand bar mount. Postage £2.50

Selling
Feb 13, 2019 at 9:21
Feb 13, 2019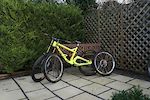 $1395 GBP
For Sale: GT Fury (L) Selling with NO BRAKES and 2 sets of wheels - Race ready (bar the brakes...) Good condition bike which has been helitaped from the beginning of time - scratches from use *this bike has been used! Have tried to show in the pictures as best I could the sanctions have a couple of scratches but do not affect performance. The frame is Sam Dale's old one from the GT days - shock is custom tuned and is phenomenal.. Just don't ride it enough! Size - L Rear Shock - Fox DHX2 kashima Forks - Fox 40 Factory Kashima Rear Mech - Shimano Zee Shifters - Shimano Saint Crankset - Shimano Saint Wheelsets Hope Pro 2's on Nukeproof Generator Rims Hope Pro 2's on DT Swiss FR570's

Feb 13, 2019 at 9:11
Feb 13, 2019

Selling
Feb 13, 2019 at 9:08
Feb 13, 2019

Jul 15, 2018 at 8:34
Jul 15, 2018

Selling
Jul 15, 2018 at 8:31
Jul 15, 2018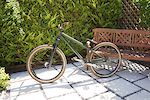 $525 GBP
I have a 2017 CR3 for sale, very good condition and has barely been used. NOTE: Rear wheel is currently cracked Price with rear wheel in current condition: £425 Price with new HALO SAS wheel: £525 Spec - M/L Frame - RST Space free forks - FSA headset - Kore bar and stem - Tectro Aquila - Halo H-Block tyres (have a park set which i can include free). Reasonable offers considered.
Load more...