A lot of people have been wondering about the new Karpiels, some of you didn't know they came back, and probably quite of few of you are asking what Karpiel is. They are a DH bike company based out of Poland.

Here's some background info, and a rundown of their bikes, and how they handle.


First off, for those of you who don't know, Karpiel is a bike company that has been around for quite some time. Jan Karpiel is the main visionary behind the company, which he founded in Reno Nevada, in 1997.
Jan karpiel's story
is interesting, but I'll just jump to the bikes.
His first most popular production group consisted of the Disco Volante, Armageddon, the lesser known hillbilly hardtail, and the Josh Bender inspired Apocalypse.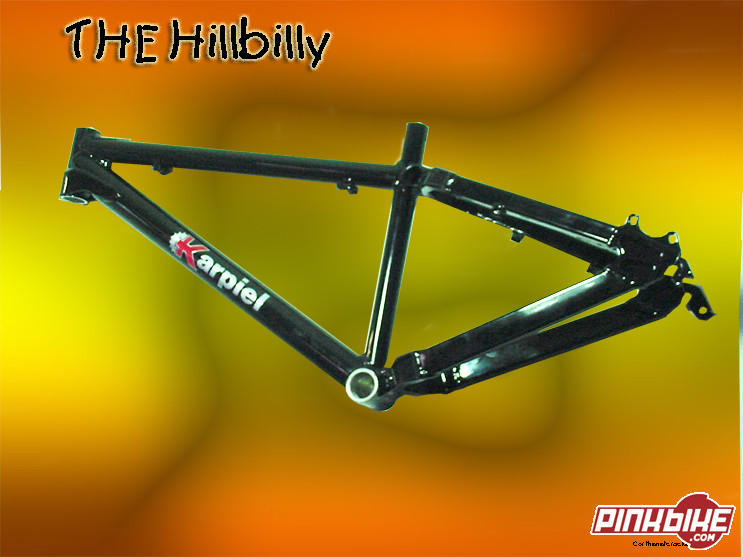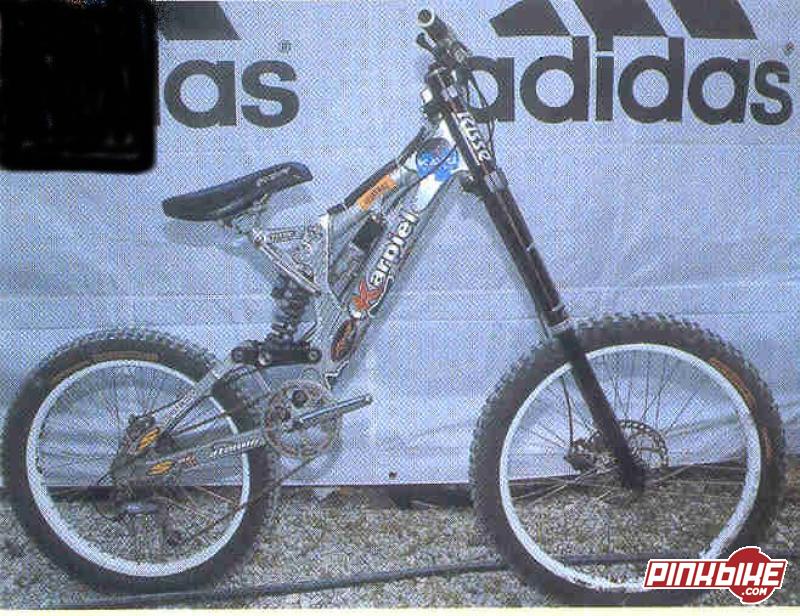 Custom Apocalypse that Bender rode
These bikes were conceived over a decade ago, and after a short hiatus, Jan is back at it again for '09 and onwards, with a vicious offering of new, redesigned bikes.
These new bikes almost completely navigate away from the pre-conceived image of Josh Bender hitting 50 ft cliffs. These bikes are racers, and they are fast. They can still handle cliffs just as well as ever, so you freeriders keep an eye out as well. But Jan designed these bikes to be fast, light, adjustable, and indestructible.
Let's start of with my current ride, the new
Karpiel Disco Volante
:
It's Karpiel's lighter DH bike, and seems to be the preferred bike of the team for this years World Cup courses, and also my choice for freeriding and even slopestyle.
The new frame is different from pretty much everything else on the market. It weighs in at a respectable 4.5 kgs, or just under 10 lbs, with a Marzocchi Roco WC shock. Here's all your geometry info, in inches:
Top Tube: 23.5
Stand over: 27
Wheelbase: 45.5
Chainstay: 17
Head angle: 65-66 degrees
BB height: 14 inches
Now for how it rides. The Disco frame is most at home on any type of DH trail, it definitely loves the rocks and the tight corners, but can hold its own on fast flowy courses as well. The adjustable suspension allows the rider to tune the travel and progression rate using the barrels. This means the bike can go from a stiffer, freeride feeling bike for the flowy stuff, or for the jumps, to a softer, slacker, and a more linear travel for rough DH courses. The travel is adjustable from 195-250 mm. When the bike is set in the 195 mm mode, it feels like similar to a low slung slopestyle bike, and makes it an ease to jump and whip around. But when the courses get steeper and rockier, the 220-250 mm range turns the bike into a no holds barred full blown DH bike, with never ending travel for the bigger bumps and of course the 40 ft drops I love to hit.
Bottom Line
:
This bike has proved itself over and over to me, being able to hold it's own on any DH race course and it's just as nimble through corners as it is being thrown around in the air. The suspension design from Karpiel is once again revolutionary, with an insane amount of adjustments as well. There is virtually no brake jack as the suspension is separated from braking forces. The rear end is stiff, especially with the swingarm reinforcements. When the going gets steeper with multiple hits, the bike truly shines and provides a bottomless feel on even the biggest hits. It is able to take multiple hard impacts without packing up at all. This bike rules at every type of extreme gravity riding, with the exception of slopestyle.
Price: $3,000.00 (USD)
Weight: 4.5 KG
Travel: 195-250mm


Now, My other ride,
Karpiel Apocalypse
:
To start off, this is the infamous 'HUCK' bike from Karpiel, which features two rear shocks. It is also the bike Bender rode for quite some time.
I would like to dispel a couple things about this bike. First of all, yes it is a tank, No it is not heavy! My built up bike, weighed in at 43 lbs. Yes, it is heavier than most world cup DH bikes, but this is an entirely different style of bike. The second thing most people get confused is this, the second air shock is NOT a blow off shock. It is there to work with the back shock to prevent harsh bottoming. It is activated about a 2/3 of the way through the travel. Now that we've got these out of the way, we can move on...
The Karpiel Apocalypse is one of a kind, no doubt about it. It's designed for psychos, and the "huckers" of our sport. This bike was made to do one thing and it does it well. That's soaking up anything and everything you can throw at it and ask for more. When it's time to go bigger than your insurance allows, it's time to take this bike for a ride.
I rode my bike for a year and half, winning 3/10 races and reaching the podium on 4 more. I also took it to Virgin Utah and hit some ridiculously high drops that I never want to again...ok maybe I do. I also rode it at my local spots, which inspired me to build some of the stupidest most technical lines I have ever ridden, and some of the dumbest drops I have ever done. But this bike took it like a champ and came back begging for more.
Perhaps the only two downfalls of this bike are tight corners, and flat pedally courses. It's a 12.5 inch travel bike, with 3-4 inches of sag, of course it's not going to pedal very well, but it still gets the job done. I rode it uphill a lot to get to the DH and I was able to hang with my buddies on their Bullits and Nomads. Tight corners prove to be a problem when your up so high, but throw a handful of big rocks and a berm into it, and this bike will beat any other through it.
The strengths of this bike are what makes it perfect for insanely technical terrain or huge freeride style terrain. It never packs up, even after ten 8 ft drops in a row. Braking jack is entirely gone, and it balances like a dream and tracks where you want it to track even in the roughest terrain. The travel is adjustable and tuneable with progression and travel being tuned by simply turning the barrels on the frame.
Bottom line:
This bike is insane. It's 12.5 inches of travel lets you go as big as your balls will let you, and it smooths out any DH course in the world. It'll definitely open your eyes to lines you never thought possible.
Price: TBA
Weight: 5.4 Kgs with shocks (12.3)
Travel: 12-12.5 inches

Some extra info, Karpiel will be making a new 4x/DJ frame for next year, in testing phase right now according to Jan and Maciek. The release of the x-1 is still unknown...
Contact Info
:
If anyone has any questions regarding Karpiel bikes please feel free to contact Brian.
brian.g@karpiel.com
or call
925-552-9327
. He currently has 2009 Disco Volante's in stock!
General contact: m.kucbora@karpiel.com
Visit them on the internet at
karpiel.com
.