svo123
Member since Jul 1, 2017

Male / 55
Boulder , Colorado
30 years on MTBs. New to Pink.
Block user
Recent

Nov 6, 2017 at 21:32
Nov 6, 2017

Selling
Nov 6, 2017 at 21:21
Nov 6, 2017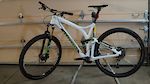 $2450 USD
2016 Rip 9 RDO large with freshly updated Fox suspension front and rear. 2015 Fox 32 fork. Stans wheels are older, most other parts are new or nearly that. 1x11 XT with 46T rear. Thomson stem and seatpost. XT crank. XT brakes. Frame has about 30 hours on it. Stans 3.30 hubs. DT spokes. Crest gen 2 front, Arch gen 1 rear. Wheels probably have 4 seasons on them. Frame has minor nicks from normal use. Don't drop or jump- too old for that! 27 lbs even as it sits with nearly new Nobby Nicks. If you use crank bros pedals or need a dropper I can add that in. Climbs like a beast. Just too many bikes and a carbon fat wheel set is lurking. Will include shipping to CONUS at asking price or we can work it out. $100 off for local pickup. eBay ID Svoboda123- 100%. Thanks for looking!. JD

Sep 13, 2017 at 11:06
Sep 13, 2017
Load more...