swelckertaylor
Member since Mar 15, 2012

Asheville , North Carolina
Block user
Recent

Jul 20, 2020 at 17:34
Jul 20, 2020

Selling
Jul 20, 2020 at 17:34
Jul 20, 2020

Mar 12, 2020 at 16:33
Mar 12, 2020

Selling
Mar 12, 2020 at 16:30
Mar 12, 2020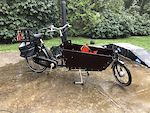 $1500 USD
This is an Amsterdam Bicycle Company Bakfiets.nl Long Cargo bike. We (since it was practically our family car) bought this in August of 2014, just after moving to Asheville. The bike was imported from the Netherlands by a bike shop in NYC, Rolling Orange. They then shipped it down to us in Asheville, where I put it together (I have extensive bike mechanic experience; used to work in shops and am trade-certified in professional bicycle repair from the United Bicycle Institute in Portland, OR). My family (me or my wife and my three girls) used this bike extensively for the first five years here, often foregoing the car for long stints. Originally my kids were under 1, 2.5 and 4 when we started using the bike. I ratchet strapped a carseat base in the front of the box for my youngest so that we could have her in her normal carseat, and the older girls used the bench seat, which comes with over-the-shoulders seatbelts. As my youngest got bigger, we bought an additional bench seat that goes in front, creating two rows of seating. All of the girls rode in there comfortably until about two years ago. The bike has pretty much sat for the past year. We were reluctant to give it up because we've had so many good memories using it, but it deserves to be ridden and loved by a new family. I just pulled it out from under its special cover we ordered with it (it lives under a carport type structure). I washed it and pumped up the tires and took it for a spin and it all still works perfectly. These bikes are designed to live outside year-round, so that in bigger cities where you have no garage, it can stay out in all weather conditions. While we haven't done that with this bike (it's always stayed under its cover and then under this carport), its all-weather build certainly shows in that it runs perfectly still despite having not been ridden much in the past year. The battery still had almost all of its charge and it shifted and braked perfectly. The bike also comes with a built-in brake that locks down the rear wheel and has a removable key. This was the only way we ever used when leaving the bike downtown (or wherever). The bike is so heavy that, when the rear wheel is locked, it really would be a feat for someone to steal it. The bike has an electric assist that really helps with Asheville hills. We debated a lot before buying the bike about whether to get this feature (it wasn't cheap!) but it was certainly worth it, as it really extends its range. Without the assist, it would really be a chore to get three kids and groceries around. The bike has a 7 speed Shimano internally geared hub (minimal maintenance, shift while you're stopped). Other accessories included with the bike: two Bontrager panniers (they pull off the rear rack easily and are designed to be used as grocery bags), a milk crate gorilla taped onto the top of the rear rack (great for throwing in a backpack or more groceries) with a reflective triangle on the back, a PDW Fenderbot rear blinky light (mounted directly to the fender), and a plastic canopy that goes overtop of the cargo box that allows the kids to be out of the rain and wind (my kids loved being in "the rocket ship;" it's got a couple of black marks on the clear plastic portion (it came that way, some minor cosmetic defect from the factory, it never bothered my kids). The canopy snaps on in about one minute and really allows you to use this as the family car all year long in Asheville. The bike will also come with the storage cover. It has some rips and is a little sun-faded by still works well. My wife and I were able to easily change out who was riding despite me being about a half foot taller than her. The design of the bike accommodates a wide range of riders. Another additional feature that I get a kick out of is a Chromag quick release for the seatpost. Sorry for the stream of consciousness details. Reach out if you have a question or want to test ride it. It's an investment for sure but one that really allows you to leave the car at home. Trips were always more fun when we took the bike. This is from the company's website for the current model that matches our. Note that not everything is the same but it gives a good overview: https://www.amsterdam-bicycle.com/shop/e-cargo-bikes/e-cargo-classic-long/?gclid=EAIaIQobChMIwaizk-CV6AIVFaSzCh0-eAkXEAQYASABEgJE5_D_BwE Price is firm.

Oct 5, 2019 at 6:55
Oct 5, 2019

Selling
Oct 5, 2019 at 6:54
Oct 5, 2019
$1300 USD
I've got a gently used Black Mountain Cycles Monster Cross Disc, size 53cm (which, in this bike, fits like a 55/56cm (I'm about 5'11" and this fits perfectly)). Super cool gravel/monster cross/adventure bike. I just don't ride it. I built it up from the frame a few months ago. Sorry it's got some mud splatter on it in the photos. I swear I'll wash it before I send it to you! Here are the details: Frame: Steel, light and lively feel. 142x12 thru axle rear, threaded BB. It's got 4 water bottle mounts (three inside the triangle, one under the downube), and all the rack/fender mounts you may need. I frame-saved the frame before building it up so you won't have to worry about rust Fork: Cool segmented fork that came with the bike, 100x12 thru-axle Wheels: DT 350 hubs to a Arc 24 rim on the front, a WTB Asym i23 rear, Robert Axle Project thru-axles Drivetrain: Microshift 10 speed bar-end shifter to a Shimano XT rear derailleur; RaceFace Aeffect crankset with a 32 tooth direct mount, steel ring; Shimano XT bottom bracket Brakes: Shimano mechanical and Tektro levers Cockpit: Salsa Cowchipper bars, Newbaums padded tape, Ritchey stem, Thomson seatpost, Chromag LTD Trailmaster saddle (the good kind with the titanium rails) Tires: Simworks by Panaracer, Super Yummy 27.5x2.22, fun all-arounders, set up tubeless Extras: Porcelain Rocket half frame bag, carries everything you need, big pocket on the right that fits trail needs, phone/glasses/map pocket on the left for smaller stuff; I put clear frame tape on all the spots where it Velcro's to the frame Here's the full write-up about the bike at the Black Mtn Cycles website: https://blackmtncycles.com/frames/mcd-frames/ Let me know if you have questions. Buyer pays shipping

Sep 21, 2019 at 11:48
Sep 21, 2019

Selling
Sep 21, 2019 at 11:43
Sep 21, 2019
$250 USD
I love building up old bikes. I found this frame a few months ago on eBay. USA made steel Trek 970. Lugged. In great shape. I used it as my "dad bike," to ride around bike paths with my kids. Hasn't seen a ton of use with me. There's hardly any blemishes on the frame at all, aside from some scratches on the bottom of the chainstays just behind the bottom bracket shell--looks like someone had used a kickstand on it and the plate that held it on scratched it. No dents or anything. Just some scratches that you'll never see unless you had the bike flipped upside down. Beyond that, the frame was built up a piece at a time with mix of vintage and new parts. Some highlights: -awesome XTR hubs to Sun Ringle rims. In great shape. The hubs spin super smooth. And the quick release skewers have that awesome XTR cut-out logo (see pics) -Specialized bullmoose handlebar -new Tektro retro cantilevers, stop great -vintage Shimano LX rear derailleur, in awesome shape -Shimano zee 10 speed shifter and 10 speed cassette (yes, a 9 speed derailleur can work on a 10 speed cassette!) -vintage Specialized crankset -new origin8 headset and seatpost -vintage Ritchey saddle -new Wellgo beartrap pedals -new Panaracer tires -new Oury grips Let me know if you have questions. Buyer pays shipping.

Aug 23, 2019 at 17:20
Aug 23, 2019

Selling
Aug 23, 2019 at 17:20
Aug 23, 2019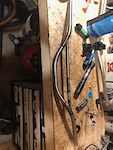 $50 USD
Hardly used bars custom made by a guy up in Alaska. Here's the write-up from his site: http://www.defianceframeworks.com/new-products/arise-bars 4130 handelbars. 4" rise, 15 deg. back sweep, 800mm wide. Clear finish. Comes with shim for 31.8mm stem. All bars are made to order. Custom rise, bend, length and colors are available. Usually $135. Flat rate shipping: $10
Load more...