sylwhistler
Member since Jul 21, 2008

Male / 35
North Vancouver , British Columbia
Life is like a riding a bicycle, to stay balanced you must keep rolling. Einstein meant shredding.
Block user
Recent

Oct 2, 2020 at 22:02
Oct 2, 2020

Selling
Oct 2, 2020 at 22:00
Oct 2, 2020
$50 CAD
Used by a novice. Worn at best 20 times over the course of five plus years.

Aug 18, 2020 at 11:54
Aug 18, 2020

Aug 8, 2020 at 13:31
Aug 8, 2020

Aug 8, 2020 at 13:14
Aug 8, 2020
Update: A Better Look at Norco's New Long Travel Bike
Hey @norco, here are some assumptions (and a bit of wishful thinking). Which ones are wrong? The Aurum (not HSP, now available in aluminum only) is aging and could (should) be replaced in your line up. The Aurum HSP is expensive to manufacture and some of its shapes can't be made in aluminum. You've been convinced by the team and customer/industry feedback that high pivot + idler pulley design out performs the horst link, and you see that people want to buy this design. You are seeing other brands coming up with trail/enduro bikes with such designs and you are now ready to get onboard. Enduro bikes are getting closer and closer to dh bikes in terms of geo, strength, weight and performance. More and more riders who can't justify and/or afford two bikes are choosing a trail/enduro bike over a dh bike. So, you come up with a hsp bike which: - can be done in aluminum or carbon; - is cheaper to manufacture in carbon than the Aurum HSP (rear trianlge); - geometry/suspension set up can be adjusted so the bike can be built has a full-on DH (200mm) or big enduro (170-180mm). - is lighter than the Aurum HSP. What do you think?

May 9, 2020 at 2:37
May 9, 2020

Selling
May 5, 2020 at 14:00
May 5, 2020

Selling
May 5, 2020 at 13:57
May 5, 2020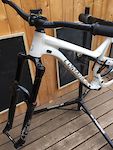 $1000 CAD
Brand new (out of the box, never ridden): Rockshox Lyrik Ultimate 29", Charger 2.1 damper, Debonair, rebound, Boost (15 x 110 mm), 51 mm offset Stem - Ride Alpha Freeride, 40mm Bar - Ride Alpha, 27mm rise, 780mm, 31.8mm Grips - Ride Alpha, DH grips Will not sell the fork separately. For everyone's time, I'll repeat that the price is firm. Thank you.

Apr 27, 2020 at 15:02
Apr 27, 2020
Review: Deviate Highlander - There Can Only Be One
I live on the North Shore and have been riding a Forbidden Druid (another HSP "trail bike") for a few months. Before that I had a horst-link/FSR bike with 160mm of travel. Based on my experience: - if you are not able to purchase an HSP trail/enduro bike in the near future, do not try one unless you handle frustration well; - 130mm of travel on the Druid deliver way more traction and impact absorption than 160mm on my previous bike, way more than I could imagine; - the bike is incredibly silent going down (without changing/adding anything to it); - the idler pulley makes a bit more noise than a "standard chain line" when it is really muddy (which is the least of my concerns when I'm covered in mud); and - the idler pulley has been trouble-free and not something I ever think about when ridding, not like the derailleur hanging off the side of my rear wheel.

Feb 13, 2020 at 21:18
Feb 13, 2020
Lucas Cruz Joins the Norco Factory Racing Team
Good and right decision from Norco to invest in more Canadian talents. The team may not be on the podium immediately but I suspect (and hope) they'll get more fellow Canadians to cheer for them.
Load more...