taber355
Member since Jun 25, 2020

Kenmore , Washington
Block user
Recent

Jul 29, 2021 at 18:29
Jul 29, 2021

Selling
Jul 29, 2021 at 18:27
Jul 29, 2021
$475 USD
Lightly used 2020 Ibis Alloy Wheels. The Ibis Alloy rims are tough and lightweight and will suit all of your riding needs. They come with hubs, rim tape, and valve stems and are ready to be thrown on a bike. The hubs sound great and have great engagement. They come with a 35mm internal width suitable for 2.35 - 2.8 inch tires. The wheelset as a whole(according to the Ibis website) weighs 1880 grams. If you seek more information, you can contact my account or check the Ibis website, listed here: https://www.ibiscycles.com/wheels/details/?wheelset=859 These were taken off of a 2020 Ripley for carbon rims and have been lightly used. They were set up with Shimano Deore XT Drivetrain and Brakes. No more than 10 hours of riding have been put on these. Thanks for taking the time to read this.

Selling
Jul 29, 2021 at 18:16
Jul 29, 2021

Sep 13, 2020 at 17:11
Sep 13, 2020

Selling
Sep 13, 2020 at 17:08
Sep 13, 2020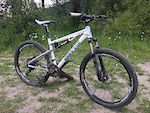 $650 USD
This is a great 2012 Sette Derro in good shape. This bike will work great for you while riding local singletrack. This bike comes equiped with: -Shimano SLX and DEORE componets (3x9) -SRAM Level T hydraulic Disc Brakes -FOX 32 suspension fork -DNM rear shock The whole ensemble weighs 30 lbs. Thanks for reading.

Selling
Sep 12, 2020 at 9:14
Sep 12, 2020
Load more...