Life is like a mountain pass. Sometimes you have to suffer your way to the top. But once you get there, it's worth all the effort. In August 2012, my friend Johannes Riebl and me set out to ride world's most famous ski tour - on our mountain bikes. We came home with some incredible memories. And a film, to share our story.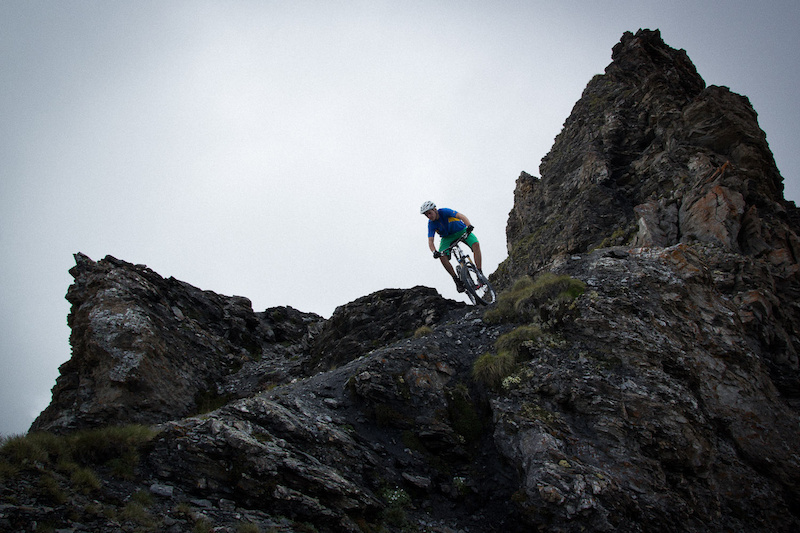 From Mont Blanc to Matterhorn
The Haute Route is probably world's most famous ski tour. The first to tackle it were British alpinists in the 19th century. They were obsessed with the idea of skiing from Mont Blanc to the Matterhorn. Many decades later, riders like Hans Rey and Holger Meyer followed in their tracks: not on skis, but on bikes. When I read about it for the first time in the Swiss "Ride Magazine", I was thrilled. I am not a mountain biking superhero and I knew that this trip would be way beyond anything I had done on my bike so far. Luckily, my friend Johannes Riebl was crazy enough to join me. I won't try to retell the story of our trip. That is what we shot the film for. But in the following, I would like to share some practical tips for all of the people who do not get deterred by our whining and who want to tackle the Haute Route as well.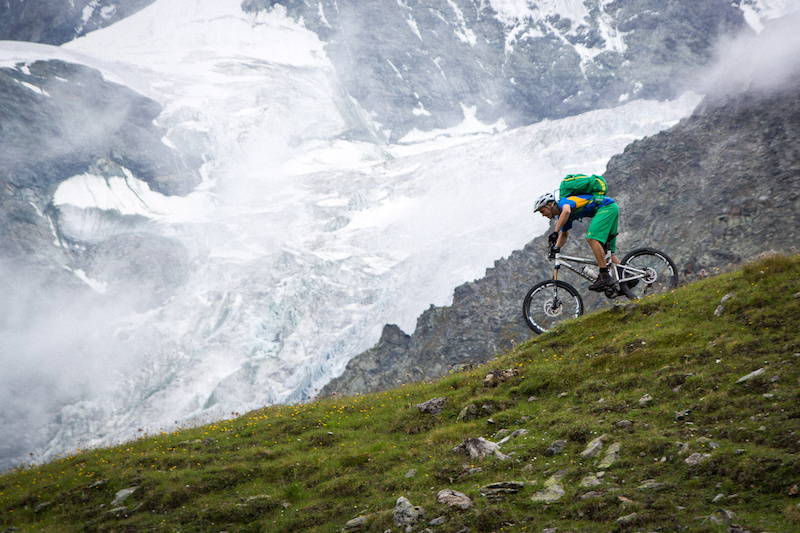 From Verbier to Brig, as close as it gets to the glaciers.
We set a goal to ride from Verbier to Brig within five days, staying all the time as close to the glaciers as possible. In Valais, there are 41 mountains with peaks above 13,000 feet and it is a breathtaking place to ride - or carry, as it turned out. We had to cope with at least 6,500 vertical feet uphill each day. The trails are rough and for the most part, the bikes were on our shoulders. The thin air did not help either. But the rewards were enormous: Far off the highly frequented mountain bike routes, we found solitude, sublime beauty and some of the Alps finest singletracks. The descent from Augstbordpass, for example, is one of the longest in the Swiss Alps and it is reserved for people following our route, as its remoteness makes it nearly impossible to ride on a day trip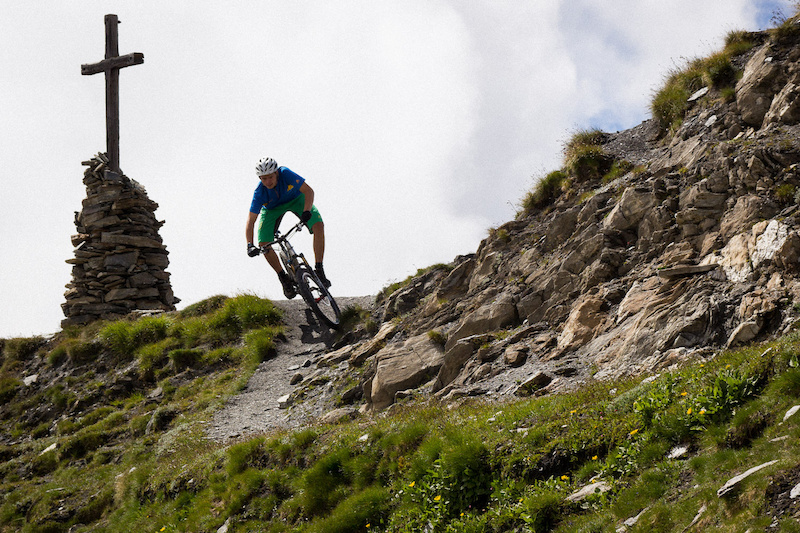 Johannes Riebl starting his descent from the Col de Torrent.
We decided to bring our mid-travel bikes: I took my Orbea Rallon, a 160mm trail bike and it was a great choice. Anything heavier than that would have been a serious handicap for the uphills, yet I was grateful for every millimeter of suspension on our way downhill. We also opted for tubeless tires and despite all the rocks and debris, we did not have to cope with a single flat tire. As both of us ride clipped in, we got ourselves some Shimano SH-MT91's. This is more of a hiking boot than bike shoe, but we were more than happy with our choice. Bringing freeride sneakers or even race shoes on a high alpine trip would have been really risky. Another indispensable piece of equipment were our hardshells, which were provided by Vaude. Most of the time, we stayed between 6,000 and 9,000 feet and wind and harsh weather conditions can happen at any time, even in Summer.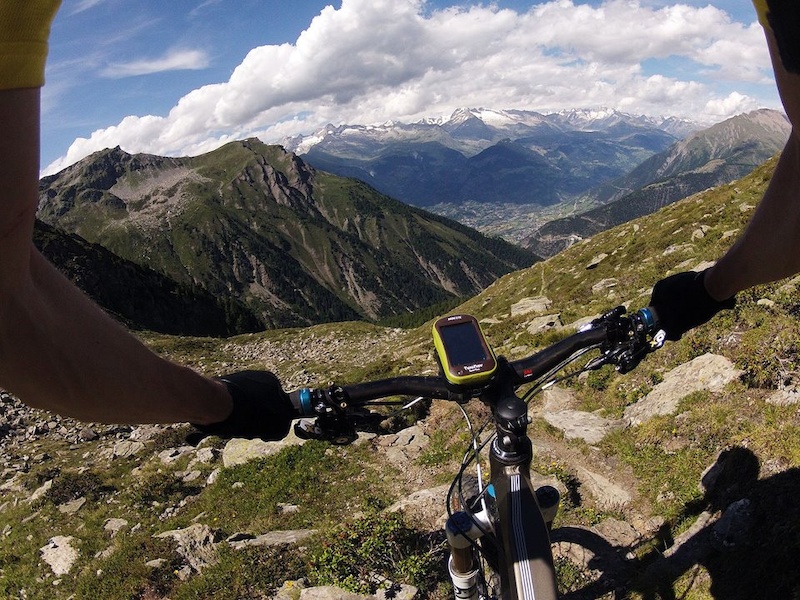 The final downhill to Brig.
Important to know:
-
When to go:
The only time of the year it is possible to ride this route is summer, from July to September.
-
Accommodation:
Sadly, there are no real mountain huts along the route, therefore you have to spend the nights in the hotels in the valleys (Lac des Dix, Arolla, St. Luc, Stalden).
-
Total distance:
111 miles
-
Uphill:
31,217 vertical feet, Downhill: 42,355 vertical feet
- There are a couple of lifts along the way that you can use, but it's still a tough trip.
-
Check out the map of the trip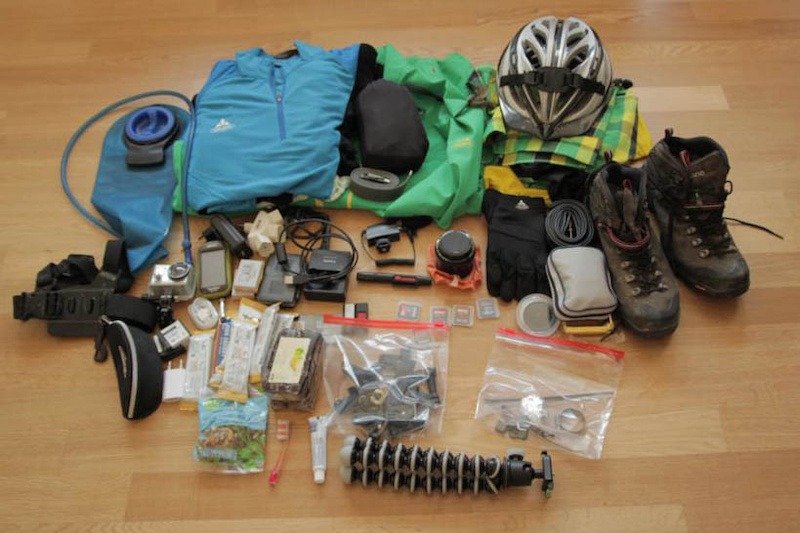 Reduce to the max: We couldn't bring much filmmaking equipment.