thelochness
Member since Apr 1, 2015

Male
Nelson , British Columbia
Block user
Recent

Aug 26, 2020 at 9:36
Aug 26, 2020

Selling
Aug 26, 2020 at 9:36
Aug 26, 2020
$2200 CAD
2019 custom Kona Honzo ST Full xt drivetrain including brakes and rotors 150mm Rock shox revelation with Pike internals Race face Atlas cranks and dropper post Chromag cockpit including grips bza stem and bar with moon dt saddle Minion DHF with CUSHCORE WTB wheel set Bike is well taken care of and has only seen a dozen rides, just dont ride it as much as it deserves. Built it up from frame cost over $5000 to build

Aug 21, 2020 at 13:42
Aug 21, 2020

Selling
Aug 21, 2020 at 13:38
Aug 21, 2020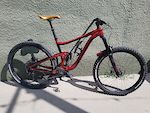 $3700 CAD
Selling a mint 2020 Reign SX, less than 10 rides on it. Upgraded carbon Diety bar with matching stem. Chromag seat and brand new wild enduro tires. Mechanic owned, beautiful ride. Just a little too small for me.

Aug 28, 2018 at 12:08
Aug 28, 2018

Selling
Aug 28, 2018 at 12:07
Aug 28, 2018
$4400 CAD
Almost new 2018 Enduro 29er, with Ohlins 36 fork and Rockshox Monarch Plus. Full Sram GX drive train. Butcher 2.6 tubless tire in the front with a 2.3 in the rear set up tubeless. Renthal bar and stem with Ergo grips. Full SWAT including tool. Washed and maintained after every ride. Only a handful of rides on it. Just didn't find the time. This bike is an enduro riders dream, rides fast and smooth. I'm 6"2 and the bike fits me well.

Selling
Feb 7, 2018 at 14:46
Feb 7, 2018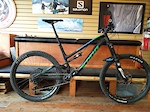 $2000 CAD
Well maintained and upgraded 2016 Kona Process 153. Upgrades include Chromag bar, steam, chain ring and seat. Also installed a mrp ramp control cartridge into the fork in the fall. Brand new Guide RS brakes and new tires front and rear (Minion 2.8/2.6.) will throw in xt pedals if wanted

Jan 22, 2017 at 14:21
Jan 22, 2017

Selling
Jan 22, 2017 at 14:15
Jan 22, 2017

Sep 10, 2015 at 12:38
Sep 10, 2015
Load more...