| | |
| --- | --- |
| | In light of the BOOST 148 rear hub size becoming more and more popular on newer models of non-plus 27.5 mountain bikes, I wanted to shed some light as to why Boost isn't as great as it purports to be, nor as great as it could be in one particular aspect. That is because more than 99% of bicycles in the world have wheels that are under severely imbalanced spoke tension*, and, on this front, Boost only slightly alleviates this problem. Graphics included. |
A simple answer that we as an industry have missed are
asymmetric rims.
Asymmetrically profiled rims are different from your typical bicycle rim due to their spoke/nipple holes being offset from the center of the rim. Companies like
Asian Cycle Express
,
Bontrager
,
Mcfk
,
Nobl
,
Nox
,
Sram
, Tandell, WTB all employ this profile into at least one of their rim designs. And, trust them, it is for a good reason.
Here is your tl;dr, as this is slightly heavy in content:
+ Asymmetric rims with offset spoke holes allow for better triangulation of spoke angles and balance of tensions in a wheel build, resulting in a stronger, stiffer (laterally due to proportionately more lateral tension), more compliant (radially due to proportionately less radial tension), and more reliable wheel.
+ This slight redesign in how we produce rims could potentially have delayed the introduction of Boost rear hubs because the spoke angles would be relatively balanced (compare 70:100% to 56:100%), and 29er wheels would not suffer from lack of stiffness.
+ Boost and Asymmetric rims can co-exist. As wheel builders will probably know, neither option fully remedies the issue of imbalanced spoke tensions in wheel builds. But if used together, we can all enjoy wheels that are just as strong and stiff, while being significantly lighter (subjective) through the use of less spokes and lighter rims.
Now, let's get to the entrée of this meal.
To avoid confusion, let me first say that Boost is necessary on a 29er or 27.5+ bicycle if you want to design frames with:
1. tight/short chainstays and big tires
2. strong and stiff pivots for suspension
3. properly aligned chainlines
4. non-noodly wheels
With that out of the way, back to the topic of discussion:
Asymmetric Rims with Offset Spoke Holes.
I'll let the graphics do the talking for me. This is the reality of almost all wheels with discs.
Here is your typical front wheel with a 100-63 ratio between the left and right spoke tensions: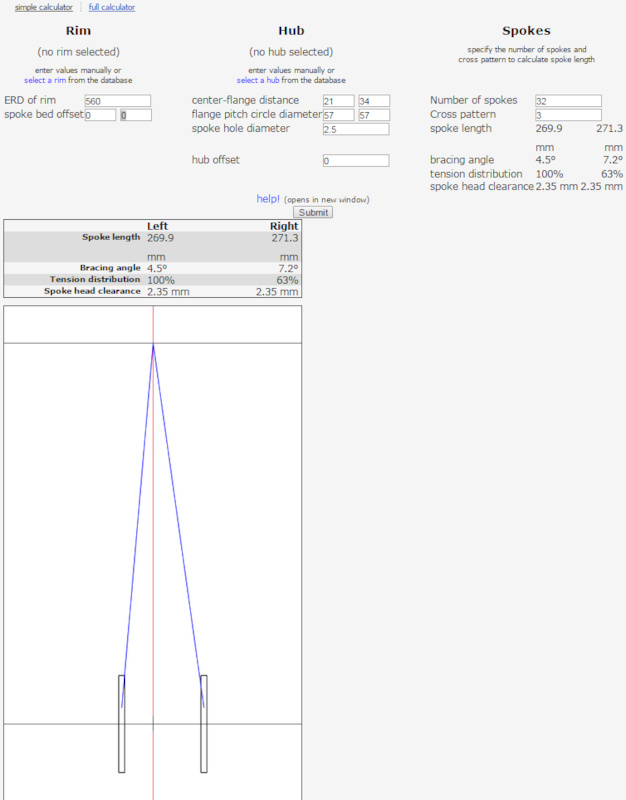 Here, the typical rear wheel (DT240 142mm hub) with a 56-100 spoke tension ratio: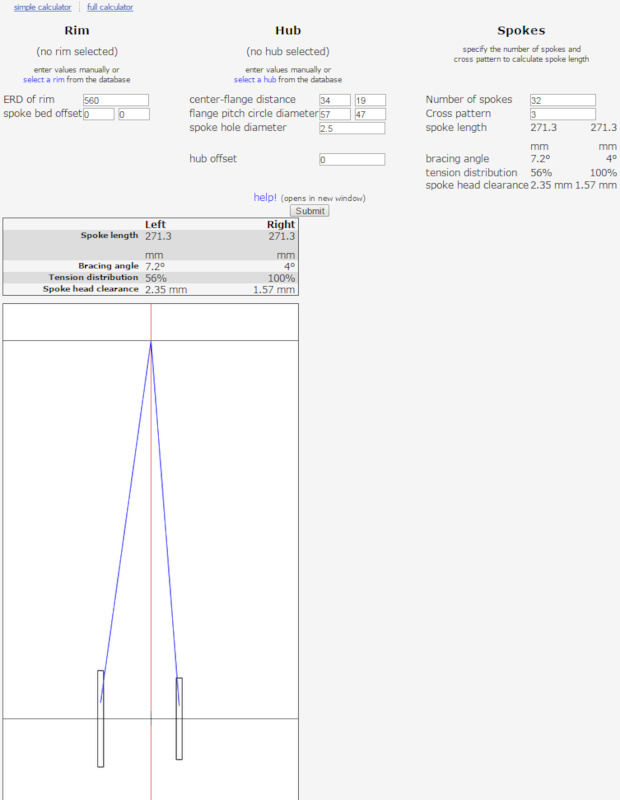 This imbalance is the result of massively disparate angles the spokes make from the rim to the spoke holes; 7.2 degrees is 80% wider than 4 degrees. Since the spoke tensions are balanced laterally between the two sides when building the wheel, a milimeter-deflection of the rim in one direction would result in a humongous deviation of spoke tension from the 100% side. Thanks to overbuilt rims, fatigue isn't a big issue anymore, but having every other spoke with a much higher tension also tends to unnecessarily stress nipples, are harder to build up (conventionally), and especially after a while, are more annoying to true. Not to mention, good luck if you bend or warp the rim away from a high tension spoke...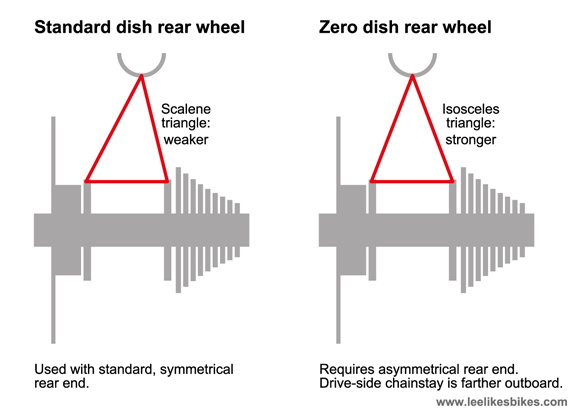 Take note that although the DT 240 hub was designed so you could use the same spoke length for both sides, it comes at the cost of a 2:1 ratio between the two sides' spoke tensions. As you can see, the disc side flange is set wide and larger than the drive side. It is safe to say that having a non-symmetric spoke triangulation would build up weaker wheels which are less stiff than ones built with a perfect triangulation. *Too stiff addressed later/below.*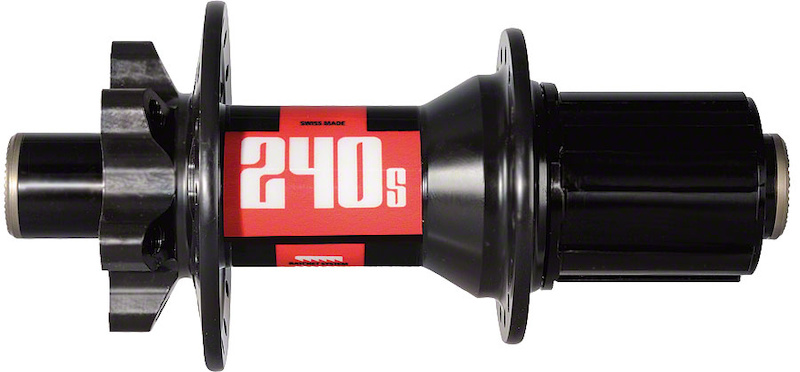 Great hub, as I still have one to this day, but I cringe every time I look at it.
Moving on! Now, here are the same two hubs laced to a 3mm offset rim with the same ERD.
The offset rim produces a 100-77 spoke tension ratio, compared to 100-63. Note: spoke length decreased from 1.4mm to 0.7mm.
The rear 240 hub laced to an offset rim gives a 70-100 ratio, compared to 56-100.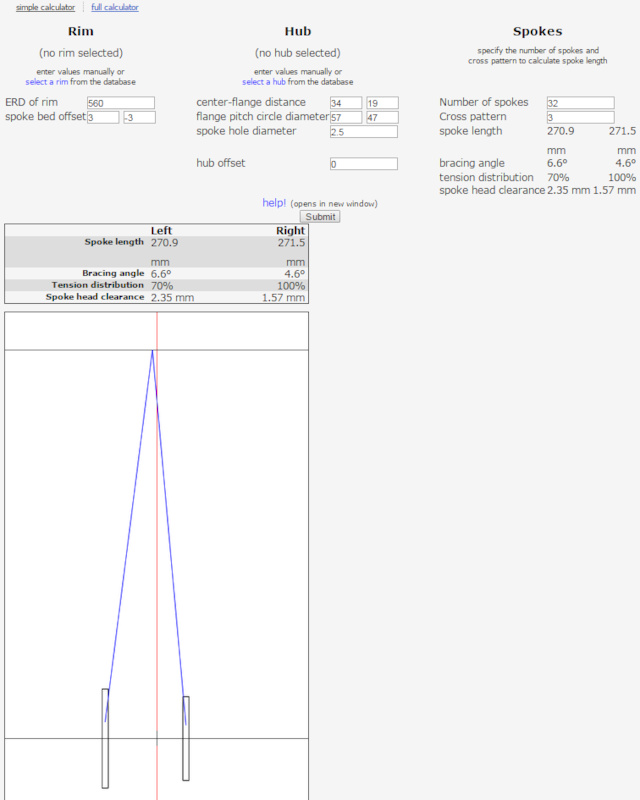 As said before, this hub design focuses on identical spoke lengths for both sides, so the offset actually increases the spoke length discrepancy from 0mm to 0.6mm; it isn't a big deal since it is well within the margin of error.
So what does this mean? Has the bike industry missed a great bike-hack this whole time?
I certainly think so. In every case, even with most singlespeed hubs, using an offset rim allows for a wheel build that has its yin and yang better balanced. It means we can have wheels where we only use one spoke for all sides. Or wheels where we have wacky spoke lengths but a perfectly even spoke angle from both sides. Lighter front hubs with the disc side flange attached to the disc tabs.
| | |
| --- | --- |
| | Does it sound too good to be true? To save 100 grams from even the lightest wheels in the world without any reduction in stiffness, strength or reliability? Better designed wheels can be stronger, more reliable, stiffer or more forgiving than the current crop of great wheels we have today, using less spokes and nipples, lacing lighter rims with less holes drilled to lighter hubs that aren't wider for no tangible reason. The possibilities are many, and it is this very mindset that I hope to see grow, even if bicycles are pretty darn dialed today. |
Irony section:
+ Symmetry in spoke angles, but asymmetry in the rim profile? Although I do not have data to prove this, I certainly hope that rims derive most of their strength from material than a symmetric profile.
+ Skeptics will argue that wheels can get too stiff... so you want to introduce a new rear hub size and build wacky triangles in your wheels to make it compliant?
+ I really feel that Specialized and other companies using 135/142mm rear ends on their DH bikes are going in the right direction. The 150/157mm rear hub sizes and 83mm BBs are unnecessary, although that brings up the same type of issues that Boost 148mm brings: obsoletion of thousands of wheels. Except, do you want mountain bikes to forever have two different rear hub standards for no good reason?
Other notes:
+ Directional rim drilling (giggity) so that spokes aren't straight out of the rim then have to bend towards the spoke hole
+ I think many people would be happy in the long run if all mountain bikes (xc, enduro, dh, plus, etc) rear ends became 148mm for the rear hub. How many more unnecessary hub "standards" will we see in the coming years? Roost hubs and frames anyone??
A new rear hub size every few years is the archtypical embodiment of "oh shit, we

definitely

could have done better..." Predicting the future isn't easy unless you're Steve Jobs, but taking a flimsy stance with 'standards' is further fostering dissatisfaction and despondency that's all too common in our articles that simply mention Boost.