thunderthighs94
Member since Mar 9, 2019

Fredericton , New Brunswick
Block user
Recent

Oct 20, 2020 at 7:47
Oct 20, 2020

Selling
Oct 20, 2020 at 7:45
Oct 20, 2020

Oct 19, 2020 at 9:24
Oct 19, 2020

Selling
Oct 19, 2020 at 9:23
Oct 19, 2020
$150 CAD
Used for a little less than a year and recently had the air can serviced, no longer have the frame it lived on so no longer need the shock.

Oct 18, 2019 at 9:59
Oct 18, 2019

Selling
Oct 18, 2019 at 9:58
Oct 18, 2019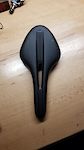 $100 CAD
This saddle was only used for 3 rides as it wasn't working for me. The Arione R3 Open has a flat profile and is ideal for more flexible riders and seasoned enthusiasts who are able to hold their riding position. The light and supportive shell has a central cut-out, which removes pressure from the perineum. The Arione R3 Open Saddle has K:ium rails that are lightweight and strong and its nylon base is reinforced with carbon fibre. This construction gives you a platform that provides outstanding durability and pedaling efficiency. Finishing off this saddle is Fizik's Comfort Core foam and a tough Microtex cover. This saddle is the size Large and with a width of 142 and comes in at 240 g.

Selling
Oct 18, 2019 at 9:56
Oct 18, 2019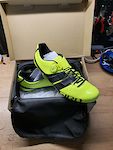 $150 CAD
**Brand new never used** These were a little too small for me, only worn around inside. From Giro: "The Factor Techlace™ offers elite-level performance with the comfort of laces and the convenience of a strap which means a more supple feel across the forefoot. The Boa IP1 dial offers fast, intuitive 1mm adjustment increments when tightening and easy pull-to-release function for quick in and out of the shoe. The Easton® EC90 SLX2 high-modulus carbon fibre outsole is among the the lightest, thinnest and stiffest pedaling platforms on the road so that you get the most out of every pedal stroke." Wicked shoe for a killer price compared to retail of $450!

May 28, 2019 at 11:12
May 28, 2019

May 7, 2019 at 6:15
May 7, 2019

Selling
May 7, 2019 at 6:15
May 7, 2019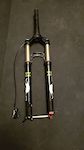 $250 CAD
Fork is a 2014 model Fox 32 CTD Evolution 15x100 29er fork with a tapered steerer tube off of a Scott Scale I bought second hand. I switched to a different fork and have not ridden on this one since purchasing the bike so cannot attest to its performance. The previous owner of the fork worked at a bike shop and claims it is in great working conditions with the only issue being a slight twist of one stanchion which just causes the thru axle to fit a little more snuggly. Normal wear and showing on the fork finishes and still lots of steerer tube left to work with. Fork has a TwinLoc lockout remote with open, pedal, and lockout settings. Don't hesitate if you have any questions about this fork!
Load more...