timnoyce
Member since Feb 4, 2016

Male / 36
Portsmouth , United Kingdom
Block user
Recent

Selling
Sep 12, 2020 at 5:13
Sep 12, 2020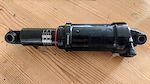 $60 GBP
This ad is for a lightly used shock that is in great condition. I've used it for around 6 months. As shown in the photos there are no marks on the stanchions. It's ML Tune from the factory. Any questions please ask. Collect from PO7 or can post at buyers expense.

May 22, 2020 at 14:39
May 22, 2020

Selling
Sep 12, 2019 at 5:19
Sep 12, 2019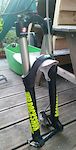 $225 GBP
This listing is for the all time classic RockShox Pike 454 Coil - Mountain Bike Suspension Fork. The fork is 140mm U-Turn. This fork has been refurbished by me this year and has had a full set of seals and serviced. Fitted are a new design of decals, but these can obviously be easily replaced to match your colour scheme. Having been tuning the fork this year, I will supply the fork with a Medium, Firm and an Extra Firm spring and so this should be suitable for anyone from 65 - 100kg + Sadly a new bike forces sale, but this really is one of the best 1 1/8" straight steer forks available. Long steerer length 200mm+ Photos show the excellent condition of the stanchions, they don't have a mark on them. One thing of note is that the motion control knob is missing and it's been replaced with a 3D Printed one. The compression damping and the floodgate still operates perfectly though.

Selling
Sep 12, 2019 at 5:15
Sep 12, 2019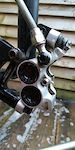 $150 GBP
Used Hope Brake Set. Fully refurbished and rebuilt this year. These are great brakes and the customer service from Hope is sublime as you can still purchase every single spare for these brakes online. The full set comprises a pair of Mono Levers matched with an M4 4 piston front caliper and an X2 2 piston rear caliper. These have been built up with Goodridge Braided Hoses with stainless steel fittings. I have a spare lever plus a bunch of spare fittings, hose (enough for a front brake) and half a bottle of brake fluid for bleeding so I will include these in the package too. I've recent replaced the rear pads and I'll supply a brand new pair of front pads which I'll fit. They will need to be removed from the internal routing on the frame so will require bleeding when fitting. They've been fitted to an XL Orange 5 so the hoses should be long enough for most bikes. These brakes look amazing and are super reliable on any trail or enduro bike.

Selling
Sep 12, 2019 at 5:09
Sep 12, 2019
$325 GBP
This listing is for a refurbished 2009 Orange Five Frame and 2018 Fox DPS Evol Shock. The frame is a Extra Large 20" (I'm 6 foot and it's perfect for me) the large frame size gives a more comparable reach length to much newer bikes. The bike was fully stripped and refurbished in 2018 where it was sand blasted, powder coated and had new decals fitted to a unique design. The bottom bracket was faced and chased to ensure a great fitting and long lasting Bottom Bracket. The swingarm bearings were replaced with top spec Enduro Bearings. The frame comes complete with a black Hope 1 1/8" headset fitted. The bearings are running well and it's ready to go. There is also a matching black Hope seat post clamp. The frame is fitted with a 2018 Fox DPS Evol shock. This has totally transformed the bike from the original RP23 shock as it pedals better and offers so much more control when climbing and descending. I'll also supply a full pack of volume spacers for the shock so that you can further tune it to your riding style. The bike is also fitted with a custom designed chain guide. It's seat tube mounted and minimal in it's design, but it's worked flawlessly since fitted. This will be included. The pictures hopefully show the condition. It's a 2009 frame but is in excellent condition and looks modern and up to date with the new colour and graphics. She gets plenty of comments out on the trail as people think it's a much newer bike! The frame takes a 1 1/8" straight steerer fork. I'll supply spare grommets for running the internal hosing through the swingarm. Pics are shown of a built bike, but just to confirm, this listing is for only: Frame (all bearings, mech hanger etc included), Shock (fitted and supplied with additional volume spacer kit), Hope Headset, Hope Seat post clamp.

Jan 7, 2019 at 0:58
Jan 7, 2019

Oct 29, 2018 at 3:26
Oct 29, 2018

Oct 24, 2018 at 2:51
Oct 24, 2018

Selling
Oct 24, 2018 at 2:48
Oct 24, 2018

Sep 26, 2018 at 6:14
Sep 26, 2018
Load more...