tituskenneth
Member since Aug 8, 2007

Male / 39
Eugene , Oregon
I ride bikes... hells yea!
Block user
Recent

Oct 16, 2014 at 11:23
Oct 16, 2014

Selling
Oct 16, 2014 at 11:22
Oct 16, 2014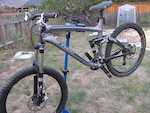 $1200 USD
I have a super nice 2010 Trek Remedy for sale. No dents, dings, or cracks. Just the usual wear that you would find on a used mountain bike. The frame is a technically an XL - 21.5/20 inches. That said, I typically ride a large and this bike fits me perfect. I am 6'1" and wouldn't go any smaller on this bike. Major upgrades to the bike include: DT Swiss EX 5.10 Rims on Chris King Hubs - Matching Wheelset. The wheelset on this bike alone cost over $500 Tubeless Setup - Maxxis High Roller and Kenda Nevagal Tires. Both tires in great condition. Race Face Response Cranks with Blackspire Chain Guide. WTB Saddle. Otherwise, the bike is pretty much stock. Should also note the front fork was recently rebuilt and there is a new bottom bracket on the bike. I will also throw in an Avid Professional Bleed Kit and a set of Blackspire pedals if a full offer is on the table. Serious inquiries only.

Feb 19, 2014 at 15:05
Feb 19, 2014

Selling
Feb 19, 2014 at 15:04
Feb 19, 2014
$1900 USD
Found out a few weeks ago that I am not going to be doing any riding this upcoming season. As such, I have decided to sell the bike that I just finished building up. A serious bummer on my part. Looking to sell a fully custom 2010 Giant Faith. Best Freeride bike I have ever ridden... hands down. The only stock parts left on this bike are the wheels and pedals. No lie. Here is a list of upgrades: RockShox Totem Front Shock RockShox Vivid Rear Shock Deity BL Stem and Bars Shimano Zee Front and Rear Brakes (Used 2x) Shimano Zee Rear Derailleur (Used 2x) Shimao Zee Shifter (Used 2x) WTB Seat (Used 2x) Race Face Respond Crankset Race Face Seat Post Kenda Nevigal Front Tire (Used 2x) Maxis High Roller Rear Tire All of the parts on this bike are in great condition. The bike as a whole is dialed. Oh, and it is a Medium. I am 6ft tall and the bike fits me perfectly. Typically ride a large, but after reading reviews I went with a Medium and am glad that I did. I am willing to knock $250 off the bike if you want to swap out the brakes for a set of Avid Elixirs (work great) I have. Can also work something out if you want to swap the derailleur and shifter ($125) out for a SRAM X-9. And might consider selling the frame and fork for the right price. Message me if you find yourself interested.

Jun 17, 2013 at 23:07
Jun 17, 2013

Selling
Jun 17, 2013 at 23:04
Jun 17, 2013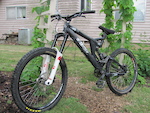 $950 USD
You are looking at a 2006 Specialized Big Hit that has been sitting in my garage for the last three years almost completely unused. Big upgrades are the front fork, which is a Marzocchi 66 RC2X. This fork is also 2006 (made in Italy). This is one of the best forks I have ever ridden. Fox Dhx 4. Hope Rear Hub laced to DT Swiss Rim and a Bombshell front wheel. Otherwise, the remaining parts are stock and in excellent condition. Here is a link that will give you the full run down on all of the parts I haven't swapped: http://www.specialized.com/us/en/bikes/archive/2006/bighit/bighitfsrii#specs. As for the condition, the bike is pretty darn clean. Given it has been siting for a few years, well, I imagine it could use just a little love. That said, the bike is ready to rock and roll as is.

Selling
Apr 16, 2013 at 16:25
Apr 16, 2013
$850 USD
Up for sale is my 2011 Specialized Pitch (Size-Large). As you can see, the bike is nearly complete. Honestly, I hate to see this thing go as it has been one of the best bikes that I have ridden. Just look at the reviews and you will understand why. mtbr.com actually gave this bike a 4.5 out of 5: http://www.mtbr.com/cat/bikes/allmtn-full-suspension/specialized/pitch-comp/prd_417973_1547crx.aspx All parts left on the bike are stock: http://www.specialized.com/us/en/bikes/archive/2011/pitch/pitchcomp Also just purchased a rebuild kit for the rear shock (as a back up-both shocks work GREAT). And just replaced the bushings, so the frame is super solid (no play). This is 100% the best deal you are going to find on a bike like this. As a result, I am firm on the price. Toss in an extra $100 and I will throw in a nice shimano crankset, avid hydraulic disc brakes and some grips. At that point, you pretty much have yourself a complete bike. Also willing to sale just the frame and fork for $700 Willing to trade for a newish Santa Cruz or Intense DH or AM frame...

Apr 16, 2013 at 13:02
Apr 16, 2013

Selling
Apr 16, 2013 at 13:02
Apr 16, 2013
Load more...