tokarsky268
Member since Oct 8, 2014

Male / 41
Roanoke , Virginia
Block user
Recent

May 25, 2022 at 4:51
May 25, 2022

Mar 23, 2022 at 6:14
Mar 23, 2022

Mar 23, 2022 at 6:06
Mar 23, 2022
Review: 2022 Orbea Rallon M-LTD
Call me crazy, but if they're putting this out as their bling build that they know will be set up with a Kashima fork and post, why have a different shade of yellow/gold? Super nit picky on a killer bike, but still seems like an oversight with that intended kit.

Dec 17, 2021 at 5:28
Dec 17, 2021

Dec 1, 2021 at 5:14
Dec 1, 2021

Nov 16, 2021 at 7:24
Nov 16, 2021
Good Month / Bad Month - October 2021
@lacuna: Totally agree about the cringe on the cost. Fwiw I think Gee is a little different because with Rachel off the scene with a baby, Gee's trying to make their fledgling brand visible and more established. They have other racers, but really the Affy's are what get the most attention(and rightfully so; it is their brand).

Nov 1, 2021 at 7:00
Nov 1, 2021

Selling
Nov 1, 2021 at 6:59
Nov 1, 2021

Oct 5, 2021 at 3:36
Oct 5, 2021

Selling
Oct 5, 2021 at 3:35
Oct 5, 2021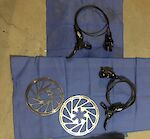 $250 USD
Hi all. Up for grabs are some new take off G2Rs(w pads)front and rear with 200/180 Centerline rotors. Neither brakes nor the rotors have seen a single mile of use and both are bled and ready to go. Lengths: Front: 780mm Rear: 1520mm Also included in the sale would be a SRAM Pro Bleed kit. It has been used a few times, but works perfectly. I would also throw in 1/3 bottle of Motul DOT 5.1 fluid. Everything you need to get riding and maintain your stoppers. Thanks for looking.
Load more...