trestler
Member since Aug 12, 2012

Male / 30
Winter Park , Colorado
Block user
Recent

Selling
Aug 13, 2020 at 20:17
Aug 13, 2020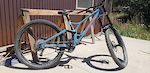 $3000 USD
2020 Demo Expert 29 up for sale. It is the "S4" size, aka Large, and according to Specialized is suited for riders 5'8" to 6'4". This bike is in great condition, no issues. No frame damage, no fork stanchion scratches, I have it protected on the top tube, down tube, and stays from the usual scratches and scuffs. Wheels/Rims are true and dent free. Set up tubeless with Cush-Core inserts. 50 hour service on fork just done (wipers and oil). Front tire in good shape, rear tire still fine but probably ready for a swap out soon. Full list of specs: https://www.specialized.com/us/en/demo-expert-29/p/154300?color=226110-154300&searchText=94519-3004 I believe I price my bikes fairly, not based on the current sellers market price gouging shenanigans that are currently infecting the industry, hence the firm offer listing. Buyer pays shipping, local pick-up is always preferred and prioritized. Hit me up with any questions, thanks for looking!

Selling
Jan 30, 2020 at 13:49
Jan 30, 2020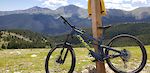 $3200 USD
2019 Pivot Firebird 29 for sale. Large frame, carbon. There are no dents, dings, or scratches on the frame, fork or shock stanchions. I have protected the bike with frame tape and it has kept the bike in excellent condition. No cable rub anywhere on frame. There are no mechanical issues with the bike. The wheels are true, Sun Ringle Duroc 30 wheels. DT Swiss hubs. Tubeless with huck-norris tire inserts. Shimano SLX brakes with new pads and fresh bleed. Fox performance 36 170mm fork with new seals and recent oil service. Fox DPx2 162 mm shock with factory rebuild and service in August 2019. Fox transfer seat dropper. New 2.5 maxxis minion up front, and slightly older minion 2.5 in the back. XO Eagle drive train. Pedals not included. If you know, you know. This is the bike, and the price is right. Happy to answer your questions. If shipping, buyer pays costs. Thanks for looking!

Selling
Sep 15, 2019 at 10:05
Sep 15, 2019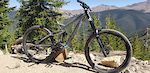 $2400 USD
Up for sale is my 2019 Trek Session 8. Aluminum, 27.5. Bike is in great condition. Frame is clean no dents dings or scratches. Fork and shock are in perfect working order, no scratches. Believe it or not this bike has never been crashed. Fork seals, wipers, and oil done rebuilt 3 weeks ago. New brake pads with fresh bleeds. Rims are true and have no dents or impacts. Rear tire is close to needing replaced. Priced to sell, take advantage of the season ending and me not needing a DH rig until next Spring. Buyer pays shipping, preference always goes to in-person pick up. If its posted, it is available.

Selling
Jul 5, 2018 at 14:19
Jul 5, 2018

Selling
Nov 2, 2017 at 9:33
Nov 2, 2017

Selling
Oct 27, 2017 at 14:45
Oct 27, 2017

Selling
Jul 31, 2017 at 14:25
Jul 31, 2017

Selling
May 4, 2017 at 10:46
May 4, 2017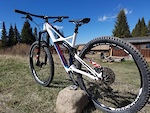 $3000 USD
Up for sale is my 2016 Specialized Enduro Expert Carbon 29, size L. I would classify the condition of this bike as excellent or like-new. I purchased this back late Summer 16 and splitting time between DH and trail riding, this bike has not seen many miles. The factory installed clear-bra has done it's job as there are no dings or scuffs on the underside of this bike whatsoever. Cable rub is non existent as well. The headtube photos here look like there is scuffing but that is just some dirt/cable rub on the clear coat protective, peeling this away reveals an unscathed bike. This bike has embarrassingly enough, never been crashed. Fork and shock are in mint condition with no leaks, wear, or markings. Because of my end of season purchase of this bike it is still a ways away from needing any sort of suspension regulatory maintenance. The drive train has substantial life left in it and shifts smoothly and silently. Carbon cranks are still pristine, seat dropper actuation is flawless. Wheels are true, original tires with tons of tread. I did set up tubeless. MSRP 6000$, for the amount of use this bike has seen, this is one hell of a deal. This bike is in absurdly good shape, come see for yourself, you won't be disappointed. Here is a list of specs: https://www.specialized.com/us/en/enduro-expert-carbon-29/106626 NO TRADES

Feb 6, 2017 at 13:29
Feb 6, 2017

Selling
Feb 6, 2017 at 13:13
Feb 6, 2017
Load more...