unclesomebody
Member since Jun 26, 2008

Male / 39
Edinburgh , United Kingdom
Block user
Recent

Selling
Mar 5, 2022 at 13:57
Mar 5, 2022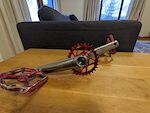 $850 GBP
The best cranks in the world but I'm de-blinging a second bike so that I can sell it more easily. These are the 170mm version and are in great condition. The exact setup for sale is: - 170mm eewings cranks - Unite 30t chainring (fitted but new) - hellbender BB (68/73mm) - great condition (photos of the BB to follow - sorry) Pedals not included in the price. Preference is to meet face to face for a sale around Edinburgh, Peebles, Inners etc. Happy to drive a little if that helps. I can post but will only do so insured and once payment is cleared in my account.

Mar 5, 2022 at 11:06
Mar 5, 2022

Selling
Jan 3, 2022 at 2:26
Jan 3, 2022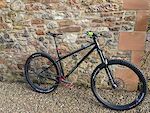 $2600 GBP
I decided to build up a hardtail as my Nomad was feeling like a bit too much bike but the truth is that I haven't ridden the hardtail once! I always go on my Nomad. This was built with a mix of new and lightly used parts, all listed below. I can change some of the bits and pieces to reduce the price - the biggest being the cranks and BB. Frame: Norco Torrent Large (paint is actually a sparkly black - looks cool in real life). Very good condition with a few minor marks. Has helitape on some parts to protect it. Fork: Rockshox Lyrik Ultimate Charger 2.1 at 150mm. These are new (still have the tag on the axle!) Wheels: DT Swiss XM1650. These are actually EX511 rims on 350 hubs. Wheels are new. Tyres: Minion DHF and DHR 2 with EXO/EXO+ casings. Both new. Brakes: Shimano Saint with shimano rotors (180 rear and 203 front). Brakes are used, rotors are new. Handlebar and Stem: Renthal fatbar and 50mm apex stem (the bar is cut down to 780mm). Both used by me on a previous bike. Drivetrain: Shimano XT shifter, derailleur, and cassette. Used but in good condition. Cranks and BB: Cane Creek EE Wings 170mm length with a new 32t chainring. Cane Creek Hellbender BB. Very good condition. I can remove these and replace with something far less bling for a price reduction. Pedals: Crankbrothers Mallet. Used but in good condition. Seatpost: PNW 170mm dropper with PNW loam lever. Both new. Saddle: Fabric Scoop - pictures show an SQlab but I am selling with a Fabric Scoop in VGC I would sell without cranks/BB for £2000. Bike is between Edinburgh and Tweed Valley. Happy to meet anywhere locally but note that bike literally hasn't seen dirt since being built up.

Oct 12, 2021 at 9:18
Oct 12, 2021

Aug 9, 2021 at 5:46
Aug 9, 2021

Selling
Aug 9, 2021 at 5:45
Aug 9, 2021

Jul 24, 2021 at 14:08
Jul 24, 2021

Jun 22, 2021 at 15:48
Jun 22, 2021

Jun 3, 2021 at 2:13
Jun 3, 2021

May 20, 2021 at 1:10
May 20, 2021
Load more...