vancouvermatt
Member since Jul 3, 2018

Male / 35
Vancouver , British Columbia
Block user
Recent

Oct 8, 2020 at 21:18
Oct 8, 2020

Selling
Oct 8, 2020 at 21:16
Oct 8, 2020
$3500 CAD
Hey all, Selling my DH to buy an enduro so I only need 1 bike. 2017 Norco Aurum C7.1. Bike is all original parts except for brand new derailleur, brand new back wheel (never ridden), and naturally different tires. Rear is set up tubeless already. Carbon cranks, carbon bar and carbon frame; rear triangle is aluminum. Fox Factory 40 on front, Fox Float X2 rear. Put new seals on both shocks at end of last season. Have receipts for all of the maintenance. Seat has a corner of the plastic broken off but that's it, otherwise everything is pretty solid. Haven't polished bike up since purchase so pics are from when I bought it. $3,500 obo, but please no tire kickers or low ballers, as usual. Thanks

Sep 4, 2020 at 10:56
Sep 4, 2020

Selling
Sep 4, 2020 at 10:55
Sep 4, 2020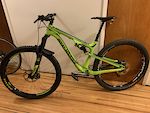 $2900 CAD
Hi all, I'm selling my 2016 Rocky Mountain Instinct 990 MSL BC Edition; MSRP when new was $6,600. Full specs are here: https://www.bikes.com/en/bikes/instinct/2016 No real upgrades but a few parts have been replaced with the same components since purchased, including rear rim, cassette, derailleur, one of the rotors and chain. Race Face Chester pedals included. Bottom bracket was literally just replaced as well (haven't ridden since), as part of a full tune up (I have all invoices for verification); all maintenance was done at MEC. Dropper post works well (Rock Shox Reverb). Air can rear shock & front fork seals replaced in November last year. The bike was an ex-Whistler demo trail bike when I bought it, so the carbon frame has a few nicks/chips on the rear triangle, but overall the carbon frame is fully intact. Both rims/tires running tubeless (I just re-taped and put new tubeless sealant in the front wheel yesterday). Overall a fun bike and perfect for the North Shore - climbs really well. I'm selling this bike and my DH bike to have one all-round enduro for North Van or Whistler. I'd also prefer a slightly larger bike (L frame) as I'm 5'11" and 165lbs. I should be around Saturday and Monday this long weekend if you'd like to take a look!

Oct 8, 2019 at 14:45
Oct 8, 2019

1st time scoping out Cypress...gnarly.
13.7 km - 01:46 - 3 achievements

Feb 24, 2019 at 17:29
Feb 24, 2019

Selling
Feb 24, 2019 at 17:16
Feb 24, 2019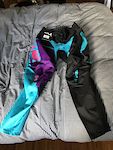 $60 CAD
Brand New Alias A2 Burst Pant 32 Black/Aqua/Purple Pants in 32. High quality black leather knee guards on the inside on the pants; I'm quite impressed by it. Accidentally bought 2 pairs online and don't want to pay shipping to return them. Shipping extra. Price firm. No tire kickers PLEASE. I've literally received 20 messages from tire kickers. Thanks

Feb 24, 2019 at 17:11
Feb 24, 2019

Selling
Feb 24, 2019 at 17:08
Feb 24, 2019
$120 CAD
Leatt Bicycle DBX Comp for sale in white & Black. Still in decent condition from moderate use. No cracks anywhere in the brace and only a small tear in the front fabric (front right). Still has 3 pairs of adjustable sizing pieces (the smallest, 4th set is missing one side). Chest strap and manual, and back wedge adjustment piece included too. Text or email; I'm in Kitsilano in Vancouver. Thanks
Load more...