We've hinted at it a few times during the past month, there's chatter out there about 20-millimeter through axle hubs and forks getting the Boost-spacing treatment.
Wait—don't 20-millimeter through axle forks already feature 110-millimeter hub spacing? Yes, they do.
What we're talking about, however, is hub manufacturers spreading the hub
flanges
apart (five more millimeters on each side) on their 20x110-millimeter, through axle hubs. Spreading those spoke flanges will, of course, mean that the brake rotor is now five millimeters closer to the non-drive side fork leg and that, in turn, means that the disc brake mounts on the fork lowers need to be repositioned as well.
In short, things appear to be changing. Again.
As of today, only a few companies have come out of the closet on this one. DVO's new Onyx dual-crown, DH fork, for instance, will feature Boost-compatible lowers. Same goes for Suntour's latest Rux DH fork. Suntour has also hinted that their latest Durolux, single-crown enduro fork may be offered in both its current Boost 15x110 offering and a 20-millimeter Boost 110 version. Might we wind up seeing the demise of the 15-millimeter through axle and the return (across the board) of the 20-millimeter through axle? Frankly, it's too early to tell.
You might welcome all of this news. You might, however, also feel like tearing out your hair over the idea of yet more changes. If you count yourself among the latter group, things are not as bad as they might seem. Downhill fork manufacturers, for instance, can provide rotor spacers that allow you to use your existing 20-millimeter wheel with their new Boost 20x110 fork (the rotor spacer would just shift the rotor over five millimeters).
Likewise, if Boost 110-spaced, single-crown forks suddenly get the 20-millimeter axle treatment, you might be able to use existing wheels with 15-mm through-axle hubs by simply swapping out the stock end caps for 20-mm end caps and adding a rotor spacer.
In short, at least this particular shifting of standards offers some backwards compatibility. There's that, thankfully. Still, I wanted to talk to people on the inside who are knee deep in all of this. Why is this all happening? Here's what Bryson Martin at DVO had to say.

When did you decide to go Boost 20 with your latest dual-crown fork, the Onyx?
Well, we decided when we first launched the project because we knew RockShox was going to go there. Fox is going to go there too. SRAM and Fox are 800-pound gorillas--they can build momentum for something like this. Our company is a small fish in this market. We don't control where it's going. It's a force that's greater than all of us, man. If we didn't do it, I'd be screwed because I have to come up with a new casting or I'll have an OE customer who says, "We want to buy a bunch of your forks, but they have to be Boost." And then I'll be checking under the cushions of my couch for eighty grand in change to make new fork castings. I don't know about you, but I don't have eighty grand under my couch cushions.
But the cool thing is that it's backwards compatible. If you have a 20-millimeter downhill front wheel, it still fits because it's already 20 mil by 110...you just don't have the benefits of the wider hub flange.
So you can run your old wheelset—you just have to space your rotor five millimeters out and we'll be providing rotor spacers with the fork that let you do that. Eventually, 10 years from now, everyone will be running that….at which point the bike industry will probably come out with yet another axle standard—Boost 200 because, you know, we've done the tests and you get 500 times more stiffness.

You and I are joking around here, but you know that is exactly what readers are thinking. I mean, I'm not against 20-millimeter axles at all, but when does this shit stop? And, in all seriousness, what kind of stiffness gains do you actually get by going to Boost 20 and spreading those hub flanges five millimeters on either side?
You know, Vernon, I was talking to Brent Foes the other day about this and you know the last time I folded a front wheel? It was 1992.

That's exactly my point! Who out there is actually finding a 15-millimeter through- axle too flexy? I'd have been happy if we'd never left 20-millimeter axles on single-crown forks for 15-millimeter ones in the first place, but now that we have, do we really need to change it all up yet again?
Well, I listen to some of my top riders who really push the forks a lot more and they could go with a stiffer set up—they appreciate Boost—but those guys represent the top 2 percent of all riders. But there's always a cost benefit thing to consider. The industry is spending hundreds of millions of dollars to get this improvement in stiffness for the top 2 percent… Is it worth the cost? I don't know, but I know the industry is moving that way and if we're bringing out new product we have to consider it.

So how did you even hear that your competitors are going on with Boost 20x110?
I mean, it's real predictable. You see stuff pop up on Pinkbike, you see stuff at events like Sea Otter…you know what direction things are going. It's a natural progression. You see when the momentum starts building. Now the back end of the bike…that's still up in the air.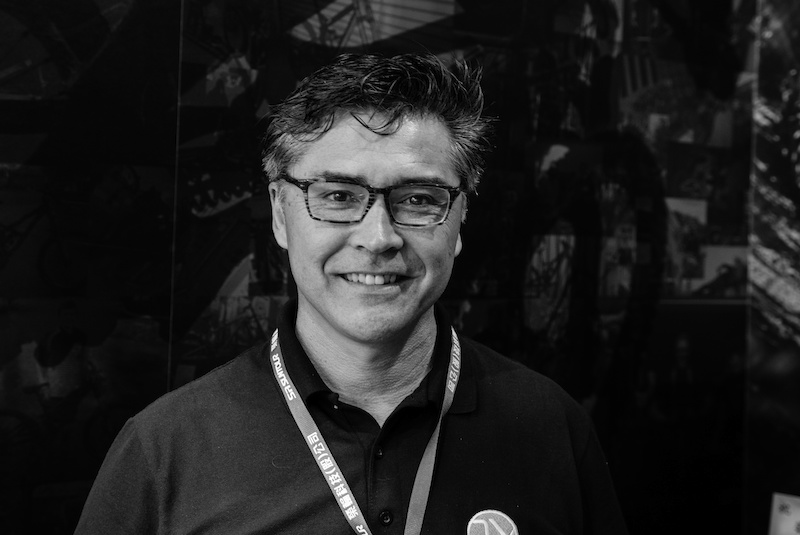 Ha! I was just going to ask you about that. If we are trying to eke out a bit more stiffness in the front end by pushing the hub flanges out a few millimeters—if that is crucial, then when is the bike industry going to decide that a 12-millimeter through axle at the rear isn't stiff enough? I mean you have braking forces, drivetrain forces, a hell of a lot of body weight biased back there… Is there going to be a point at which the industry suddenlty decides to bump up the rear axle diameter?
Yeah, I'd have to say there probably are a lot more forces in the back of the bike. I mean how about landing a bit sideways on a jump? You have torsional forces, an incrtedible amount of radial forces going on… I mean you could look at it and think that bigger axles would have been a benefit back there.

Well, should we have just gone to 20-millimeter through axles front and rear to begin with?
You know, in my Marzocchi days, in 2001 I came out with the first quick-release 20-millimeter through axle.

Yeah, the QR20.
Exactly. And for us, I was thinking 20 millimeter axles made sense everywhere because, really, the weight difference between 15 and 20? It wasn't much at all. And there was the benefit of just standardizing axle sizes up front. You still could optimize your axles, do some cool tapering of the axles, to make them lighter. All the hubs are still 20, they're just putting 15-millimeter end caps on them…

So, do you see 20-millimeter through axles being adopted across the board on front suspension?
At this point? No. But it could happen, I suppose. It really could. You could make a casting that accepts either 15 or 20—you'd just drill it differently, but then you are also going to have extra weight. And that's the thing, there's a give and take. There are all these caveats. It's like you're in a room with all these black doors and you don't know which door to go through. You go through door number one and you're trapped and you go through the other door and you have all these girls waiting for you on the other side…It's tough, right? These decisions are tough.

You know, your hypothetical worlds are a hell of a lot more interesting than mine.
Well, that's just how I see things. I'm very 3-D.

Did the brake mount position have to change? There wasn't any wiggle room that would have allowed you to keep the brake mount where it was and keep the fork castings unchanged?
We tried, dude. We spent a lot of time trying to create something with complete backwards compatibility, but that just created too many problems with adaptors or maybe the tabs breaking off, we just want to make sure that it's as safe as possible and this is the best way to do that.
You know, we need some kind of consortium. Like a group of guys that gets together and talks this standard stuff over. It's so important because we could do it without hampering or stalling progress. It'd just be a way to say, 'Hey, let's move, as an industry, together in the same direction." Everyone would benefit from that.

Hell, yeah. Right now someone is reading this article and thinking to themselves. "Damn it. Damn it. Damn it! When is this going to stop?" I mean people don't actually want innovation to stop—they want bikes to get better—but they also don't want to keep buying wheels and forks and frames, and then find out that the latest standard has a shelf life of just three years. That's what it seems like it's come to now and people are pissed. And rightfully so.
That's what's killing the bike industry right now. I think riders are so confused and worried that they don't want to take a risk buying something new anymore. We went through so many changes. And now when the next change comes about, that $6,000 bike you just bought that you thought you could resell for maybe $4,500…that bike is suddenly worth $2,600. And that hurts the consumer.

Absolutely. I hear people say it all the time: they'll buy a new frame or wheelset when things calm down and the standards stop changing every day, but things don't ever seem to calm down anymore. And absent some kind of gathering where the industry talks about standards, we're going to keep having bike companies making these half-step innovations that lead to standards that have the lifespan of a fruit fly. I mean Boost 148…I'm not saying it's a bad thing, but how long will it last? Who knows?
It's really hard to get a group of men together to talk about this kind of thing. There's egos and we're competing against each other—we're so used to just beating each other up. I'm not saying it'd be easy to pull it off, but I think it's what the industry needs to do. When everyone is trying to cut each other up, there's just too much blood loss. It's not good for the industry and it's not good for riders.