Pivot has been rolling out all manner of new models of late. Today came the announcement that they were waving the magic re-design wand towards two of their cross-country/trail offerings, the Mach 4 Carbon and LES hardtail.
Here's the Cliff Notes version: The Mach 4 Carbon remains an ultra-light, speed weapon, but receives a stiffer chassis in the bargain, while the brand's World Cup carbon hardtail is now available in a more nimble 27.5 package.
The Mach 4—A Little Bit Country, a Little Bit Rock and Roll
The Mach 4 has been kicking around Pivot's line up from the company's start. In all that time it's always been a wicked little cross-country whip. Well, Pivot didn't screw with the basic formula much with this update on the old standard bearer, but they, no doubt, noticed that even cross-country riders are demanding more descending prowess from their featherweight rides. Long gone are the days of ultra-steep head angles, mile-long stems and a design rationale that went something like "Well, it's twitchy as a meth addict in lock up, so that must make it a great race bike". Long gone. And good friggin' riddance. That's me editorializing. I'll get back to facts in a second.
I'm not sure if being a more capable, more trail-oriented bike makes you more country or more rock and roll (to everyone in Estonia scratching their heads right now, just
click here
…it's a long, slightly-creepy story), but the takeaway is that Pivot wanted the Mach 4 Carbon to retain its blazingly fast acceleration and nimble nature, but gain a bit more confidence when the going got rough.
Mach 4 Carbon frames weigh as little as 5.1lbs (2.3kg). Complete bikes are available under 22 (10kg) lbs.
So, for 2018 Pivot completely redesigned the rear triangle with an eye to increasing stiffness and adding tire clearance. Pivot says the bike will fit up to a 2.6-inch tire… that's a lot of rubber for a little 'ol XC bike. Impressive. As you probably guessed by now, the bike gets Boost 148 rear hub spacing. The company is also offering the Mach 4 Carbon in both Trail and XC Race build kits. You spend your nights dreaming of donning a skin suit and crushing the dreams of other people in skin suits? You're probably going to opt for the XC kit with the Fox 32 Step Cast fork, pinner Maxxis Ikon 2.2" tires and flat carbon bars. Want to just, you know, ride the hell out of a fast bike on a trail? A trail kit with a 130mm-travel Fox 34, a set of Maxxis Ardent 2.35s and wider riser bars is probably the better choice.
Those are, frankly, the main distinctions. Drivetrain, brakes, and wheels remain constant, so it's not like you're gaining a piggyback shock and a gift certificate for a full-face helmet when you opt for the trail build kit, but the differences are distinct enough to matter on the trail and it's cool to see more companies offer XC bikes in more flavors…including, real-world-capable configurations. How much does the Mach 4 Carbon cost? Pivot currently offers 14 different build kits (both Shimano and SRAM). Starting price for complete bikes is $4,599 (single-ring, XT build kit) to $9,499 (XTR Di2, 2x group).
Mach 4 Carbon Details
• 115mm travel DW-Link suspension with race and trail tuning*
• Full carbon frame featuring Pivot exclusive hollow box internal molding technology
• 27.5" wheels
• Fits tires up to 2.6"
• Available in either trail-oriented or XC racing-focused complete bike builds
• Boost 148mm rear hub spacing
• XS, S, M, L & L(long) sizing, with our X-small featuring the lowest stand-over clearance of any 27.5" suspension bike made
• Full-length internal cable routing, and Shimano Di2 compatible with Pivot's exclusive cable port system
• Dropper post compatible with internal routing
• Enduro Max cartridge bearings
• Custom tuned Fox Float DPS Kashima rear shock
• Frame weight from 5.1lbs (2.3kg)
• Complete bike weights starting under 22lbs (10kg)
• 2 sets of bottle cage mounts
• Ultra-quiet, low durometer rubberized frame protection
• Price: $4,599 (Race XT 1x kit) to $9,499 (Team XTR Di2 2x kit)
• For more info, check out
www.pivotcycles.com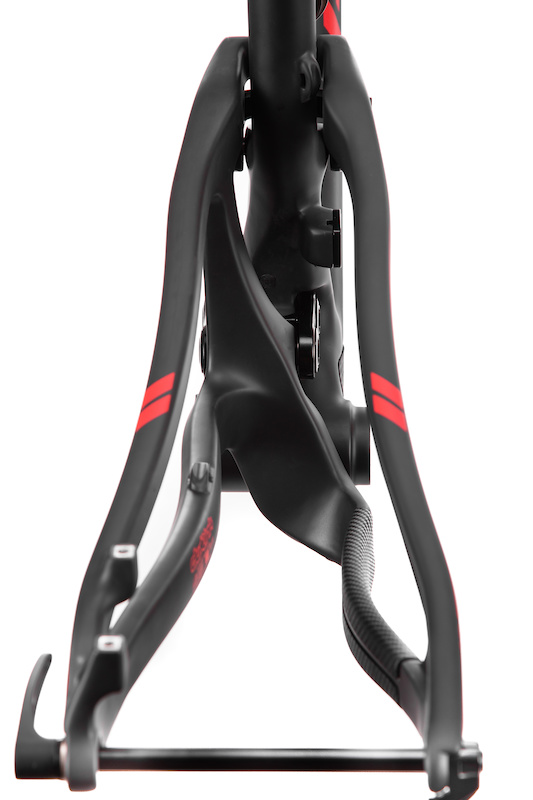 Pivot has been offering their ultra-light, LES 29er hardtail for some time now. The LES 27.5 is, you guessed it, a smaller-wheeled model that, according to Pivot, exceeds previous standards for stiffness and power transfer. Bold-ass claim there. What we can say at this point is that the new carbon hardtail features Boost 110/148 front and rear spacing, and stubby (16.77 inches/426 mm) chainstays. The addition of smaller wheels will appeal to riders who prioritize nimble handling and Pivot claims that the bike has a decidedly BMX feel to it… or as BMX-like as a World Cup-caliber, cross-country bike gets. We'll see.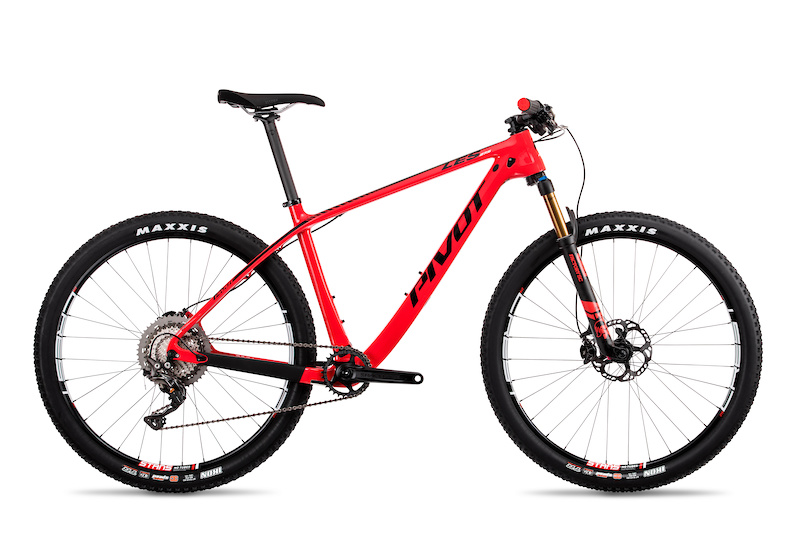 The LES 27.5 is available in a wide range of sizes—from Extra Small to Large. The XS model fits riders on down to 4'10" and still accommodates a water bottle inside the front triangle. The LES 27.5's compact frame design makes it possible to build a sub-19.4lb / 8.79kg race bike—sweet music to the ears of people seeking the best possible power to weight ratio.
Pivot dresses the LES 27.5 in nine different build kits at present. Prices range from $3,599 (USD) to $8,599 (USD)
LES 27.5 Details
• Ultra-light, ride-tuned, carbon frame featuring leading edge carbon fiber materials and Pivot's proprietary hollow core internal molding technology
• Complete bikes under 19.4lbs / 8.79kg
• 27.5" wheels
• New-school hardtail racing geometry
• The LES hardtail design has been ridden to victory in UCI World Cup, professional XC, endurance and short track races.
• Boost 110mm front and 148mm rear spacing for ultimate in responsiveness and handling precision
• Extremely short 16.77"(426mm) chainstays
• Frame fits tires up to 2.6" wide*
• Designed to work with forks from 100-130mm in travel
• Full-length internal cable routing and internal Shimano Di2 integration via Pivot's exclusive, easy-to-maintain Cable Port System
• 1x and 2x gearing compatible
• Available in sizes XS, S, M, L for riders between 4'10" and 6'1"
• Price: $3,599 (Race XT 1x) to $8,599 (Team XTR Di2 2x )
For full specs and details, visit
www.pivotcycles.com