viknbbb
Member since Jun 21, 2013

O+
Male / 54
Edinburgh , United Kingdom
Block user
Recent

Sep 25, 2017 at 9:31
Sep 25, 2017

Selling
Sep 25, 2017 at 9:28
Sep 25, 2017

Sep 18, 2017 at 11:03
Sep 18, 2017

Selling
Jan 16, 2017 at 9:01
Jan 16, 2017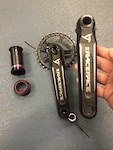 $100 GBP
These 2016 Raceface Turbine Cinch 175mm cranks come with a 30t chainring. They were taken off a new Yeti SB6c shortly after taking delivery so have only been ridden on three occasions. They have sat around in a drawer since. They come with a 30mm PF92 raceface bottom bracket and all spacers required to set up the cranks on a conventionally spaced frame or a boost frame. Condition is really excellent with only a couple of tiny marks. I'm after £100 for all of this these plus £10 postage. They shall be packed and posted first class recorded delivery.

May 11, 2016 at 3:30
May 11, 2016
Tragic News - Stevie Smith Passes Away
So sad. I remember him being so driven at Fort William - one of the best riders to watch ever. On one run early in his career he overcooked it into one of the berms high on the course and went over the top - so spectacular! He always gave 100% which is the way life should be. So sad.

May 5, 2016 at 0:47
May 5, 2016

May 5, 2016 at 0:32
May 5, 2016

Selling
May 5, 2016 at 0:31
May 5, 2016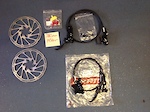 $170 GBP
SRAM Guide RSC front and rear brakes and rotors - brand new and unused Taken from a brand new Yeti SB6c build These are bled and ready to go. Front hose is 780mm Rear hose is 1450mm Centreline rotors are 180mm front and rear They require matchmaker handlebar clamps, or alternatively fit directly to reverbs and sram shifters making a very clean handlebar set-up GBP £180 plus £6 first class recorded delivery Paypal only please

Feb 12, 2016 at 12:32
Feb 12, 2016
Pinkbike Awards - Female Athlete of the Year
"...she was helping repair the rest of the field's bikes between stages..." Love this. Karma is good. In the megavalanche in 2010 Tracy broke her chain right next to us - we were spectating and waiting to ride the men's final on Sunday. The chain was a twisted mess but dude next to me took the chain off his bike and offered it to T-mo. I had a spare power link in my bag and in double quick time we had her bike functional again. Good to see Tracy passing it forward. The race report from 2010 didn't tell the full story - Tracy was just behind Anne Caro when her chain broke. "In the women's race Anne-Caroline Chausson won with a fantastic time of 67 minutes and 40 seconds, which would have got her a top 20 finish in the men's race. She was followed by Emmeline Ragot and then Meggie Bichard. Tracy Mosely managed 5th..."

Feb 6, 2016 at 14:12
Feb 6, 2016
Load more...