vitesse
Member since Dec 11, 2015

Male / 43
Bridgeport , Texas
Block user
Recent

Sep 4, 2020 at 9:29
Sep 4, 2020

May 18, 2020 at 15:04
May 18, 2020

Jan 24, 2020 at 8:41
Jan 24, 2020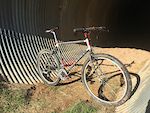 Looking at it now, yeah its angled up high. It was fine that day, it was only six or seven miles. It was just a shake down ride. I had just re-greased the headset, replaced the brake pads and adjusted the cables. I don't think it had been used at all over the years, there were no brake tracks on the rims or anything.

Jan 23, 2020 at 7:31
Jan 23, 2020
Video: Matt Jones Learns the History of Marin Bikes
I just picked up a '93 Eldridge Grade like the one in the photo. It was mostly original, the grips had been changed and bar ends taken off. Still had the OE Marin tires. I put new brake pads on it, swapped the tires, cleaned and greased the headset and took it out on Monday. https://www.pinkbike.com/photo/18203089/

Selling
Nov 21, 2019 at 7:49
Nov 21, 2019

Jun 21, 2019 at 15:34
Jun 21, 2019
Pinkbike Poll: Who's Breaking Bikes These Days?
@orientdave: From the angle in the video it looks like the wheel was beside the guy before impact. Imagine being mid-jump, and looking to your left and thinking to yourself: "Looks like some poor bastard lost his wheel, I'd hate to be that guy."

May 13, 2019 at 12:09
May 13, 2019

May 13, 2019 at 8:44
May 13, 2019

Selling
May 11, 2019 at 9:43
May 11, 2019

Apr 16, 2019 at 10:33
Apr 16, 2019
Load more...