vpan12
Member since Oct 13, 2020

Cambridge , Massachusetts
Block user
Recent

Dec 29, 2020 at 13:52
Dec 29, 2020

Dec 23, 2020 at 3:30
Dec 23, 2020

Dec 23, 2020 at 3:09
Dec 23, 2020

Selling
Dec 23, 2020 at 3:07
Dec 23, 2020
$900 USD
2015 Ibis Ripley Frame Fox Float CTD Adjust Factory Series with Kashima Coat Cane Creek Headset Shimano XTR Bottom Bracket The frame is in good condition with a few minor scrapes on the chainstays, all shown in the photographs, and one area where the bottle rubbed against the frame. The underside of the downtube and bottom bracket are both spotless. I bought this from a guy who had it in storage for a long time, looking for a winter build project. But, I just found my dream bike and need to raise cash to pay for it. the shock rear compresses without noise or any issues. I'd recommend servicing the shock and pivots, and the bike is priced accordingly. US Shipping will be at the buyer's cost. **In response to a few messages; -I am only recommending a basic service for the shock and pivots because I don't know the last time they were serviced. They both seem to operate perfectly, but are worth checking out. -I did not detect any structural damage to the frame. All scrapes and rub areas appear minor and pass the tap test.

Nov 28, 2020 at 13:24
Nov 28, 2020

Selling
Nov 28, 2020 at 13:23
Nov 28, 2020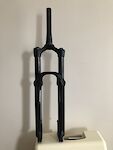 $350 USD
2015 RockShox Rock Shox Pike RCT3 Charger Damper 29" / 27.5"+ 140mm travel Solo Air 15x100 Through Axle, Maxle not included 51mm offset 7-15/16" / 200 mm tapered steer tube This fork came with a frame I recently purchased and is in great condition. A few very minor bucks and scrapes that I've shown in the photos.

Nov 19, 2020 at 17:18
Nov 19, 2020

Selling
Nov 19, 2020 at 17:17
Nov 19, 2020

Nov 11, 2020 at 17:37
Nov 11, 2020

Selling
Nov 11, 2020 at 17:34
Nov 11, 2020
$250 USD
2004 RockShox SID Race 1-1/8" straight steer tube - 7.25" / 184 mm 80mm travel (this may be adjustable, I'm not sure) 26" wheel 100mm QR dropouts Immaculate condition, stanchions are perfect, slight paint chip at one dropout. This thing is crazy light and in amazing condition. I got it for a retro build I'm working on, but couldn't get the stack height on my large size frame low enough.
Load more...