Disclaimer
: This article is meant to be a satire. My very intention with it is to entertain you and eventually provide some food for reflection in case we treat our sport a bit too seriously. I honestly do not wish to insult or harm anyone or any company. Eventual resemblance to persons, names and places might be coincidental.
---
After several years spent racing on the internet as a WAKi troll, I have been contacted by many people who share my fears of where mountain bike technology is heading; people who work for the industry and just can't bear the volume of hype they must incorporate into their designs. Under the condition of anonymity, they decided to share with me the hottest concept designs in the bike industry, things that were not meant to be seen until they hit the runways of Cycle Fashion Shows like See Potter.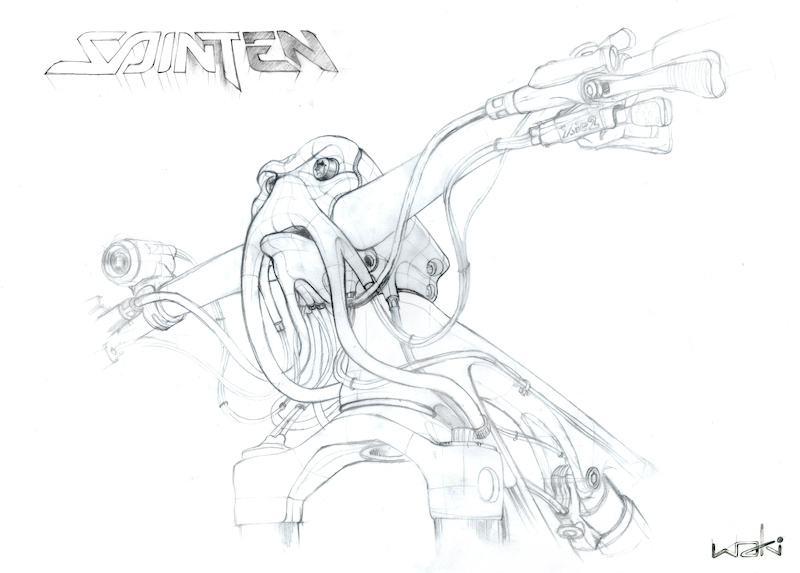 In the first installment I shall present you with what my spies have found in the R&D department of one of world's biggest bike corporations, the SheMan-Oh. I was sent some design sketches and concept drawings of a new enduro racing specific gruppo called SaintEN. I learned that the they were not out to make a lighter version of Saint, but to create a line of products with technology revolutionary enough to impact the way the new racing format will be developing. They set the course for the new land - electronics. It will be the next big thing in MTB, like disc brakes were, like carbon, like the bigger… and those less bigger wheels. It seems that SaintEN will be all electronic and there will be some new components we haven't seen yet in MTB before. For now I just got hold of a few drawings, but I got you guys a real big deal here: the heart and mind of the upcoming SaintEN gruppo, the computer steering all the sub-components on the bike.

Corsair Control Stem
This is the heart of the SaintEN group, a stem containing a device that is meant to take care of the growing number of cables from shifters, levers, triggers, switches and who knows what else they will try to stuff us with. It sounds like they are trying really hard to complicate the simple thing a bicycle really is, but Sheman-Oh will surely turn things around, telling you that those new technologies will simplify things and allow the rider to focus on nailing race-winning lines. Corsair – yhm, an undead pirate robbing souls lost in the sea of hype! There was also another prototype called Ctulhu Stem which you can see below, but they abandoned that as the whole group would be having too many satanic connotations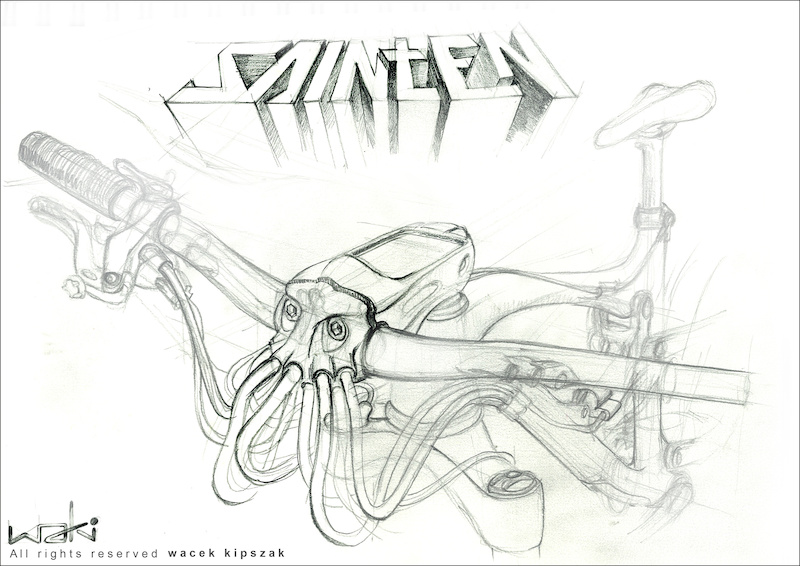 What's inside? The Garment computing unit, powered by a quadrocore micro-processor and a set of sensors in the fork, shock and crankset. Surprisingly, it will also monitor the brake fluid flow and temperature! The device will have a GPS tracker, 4" LCD screen, and come with rechargeable batteries and 300 yards of various cables. I was unable to determine what it is that the data from the sensors will be used for but I can only speculate that it is mainly for controlling the behavior of the suspension. This is the list of things that they want to plug into it:
- Front and rear derailleurs - electronic only!
- Two mineral-oil-only filled disc brakes - hydraulic ports
- Dropper post - electronic as well (God save us!)
- Forks compression and rebound
- Fork travel adjustment
- Rear shock compression and rebound
- Power meter on cranks
- Sim card port
- 2x USB-mini ports
- NoPRO 4 Blue ray camera
- HDMI
- VGA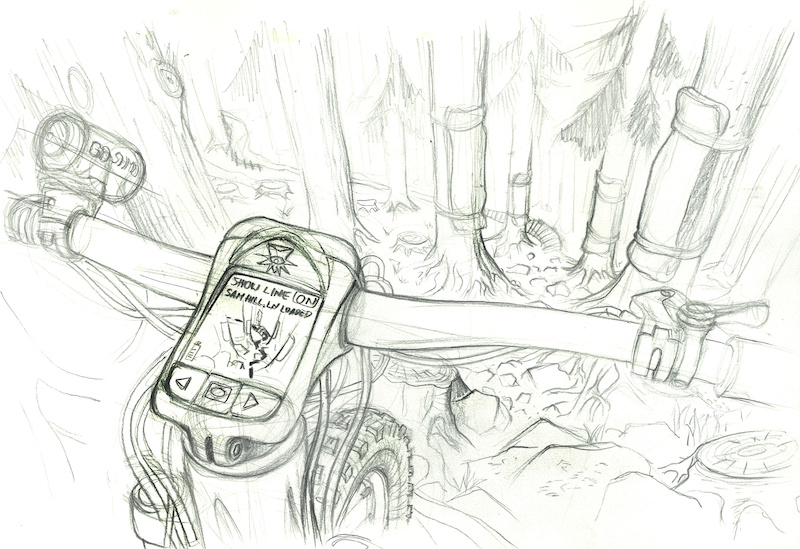 I also got a bit of info about what sorts of apps are going to come with the Corsair Stem. First of all you will be able to set up your own profile on the bike, style of riding, weight, height, and upload info on trails you are about to ride on. Then you will be able to adjust the suspension just by using the screen, you will control compression and rebound, various presets available – in case you got blisters from turning knobs. The best part is that Sheman-Oh wants their sponsored riders to provide tracking info for world's best downhill courses. Based on GPS and the current image from NoPro 4, the system will know exactly where you stand and put suggestions for your race line on the screen, so you can compare it on the fly with what you see in reality. They are also working with Brava tracking solutions to develop a micro projector that could display a ghost image of yourself or other riders on the inside of your goggle lens, to compare times and chosen lines.
In the next installment I will show yet another enduro specific product from Sheman-Oh, their answer to SPAM XX6! The Xtroll drivetrain!
Arguably yours
Wacek Kipszak - Waki
waki-leaks.blogspot.com