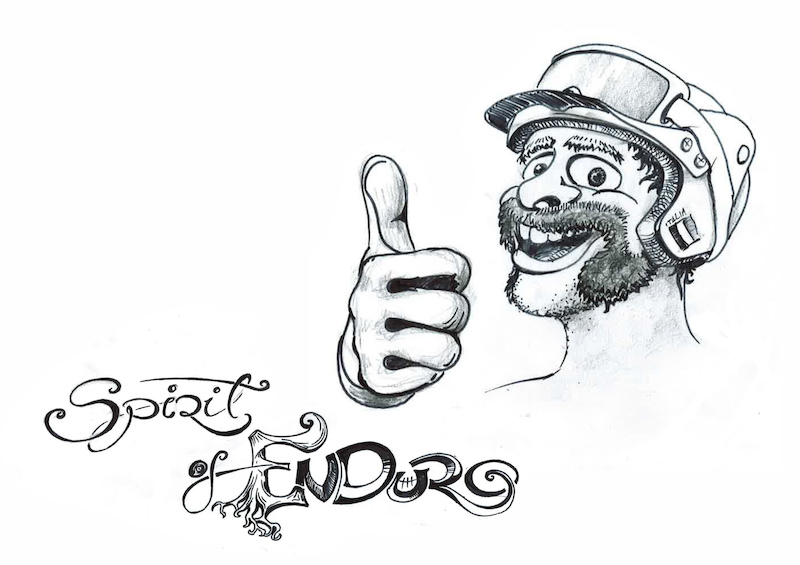 2013 was a very special year in the history of mountain biking. The Enduro World Series kicked off, a new racing format for the kind of riding most of us do. Get to the top and then have as much fun as possible on the downhill. Chat with riding buddies on the way up, and race with them on the way down. Since the series was announced many people were very confused about what enduro really means; some argued it could be called just "mountain biking" and that enduro is just another term that industry uses to grow a new trend in order to steal our money. We also heard the expression, "the Spirit of Enduro". Chris Ball was using it very often, but just as the term enduro, it was a blurry idea to many people. Nobody knew whether that meant riding with friends, fair play, not cheating, not cutting the course or something else. I was distressed, I needed to find the answer what the Spirit of Enduro means to me.
I decided to contemplate that issue on a long ride, I thought that being out for hours in nature on my beloved bicycle would give me the answer. Every now and then I stopped to meditate. I chose different spots, like under a large tree or at the edge of the cliff but I could not find the answer. Finally I decided to get in touch with the trail and the earth it is set upon, and I sat in a pool of stinky mud. Then amidst the discomfort I came in contact with a higher being. I felt a deep connection with the universe, the sense of perfect now - it was deep yet very vivid. I focused harder and a kind of vision appeared - I saw a figure shining with an inner light, riding a bike, jumping and turning hard on a trail, with the sea in the background. The figure stopped after a while, got off the bike on its ghostly legs and started looking around. Suddenly it pointed its eyes at me - I froze, terrified! I opened my eyes in panic and wanted to stand up, but the vision appeared again. The figure approached me, I started crawling back out of the mud pit, and then it smiled very widely and loudly said, "Bongiorno! Non abbiate paura! - Mi chiamo Antonio! Io sono lo Spirito di Enduro!" He said it in Italian but I understood it perfectly, even though I cannot understand Italian. It was: Hello! My name is Antonio! I am the Spirit of Enduro! - I replied with a shaking voice, "Hello! My name is Wacek, I was just meditating"... "Aaa! English! I can speak English too, but with the accent - understand?" "Yes," I said. He smiled widely again and said. "Very good, bravo! You contemplated the nature of mountain biking, and you found me. Very few really do, but that is alright! Look, I am sorry, I have to go, my wife is going to kick my kulo, I must ritorno subito! Speak to you later! Arrivederci!"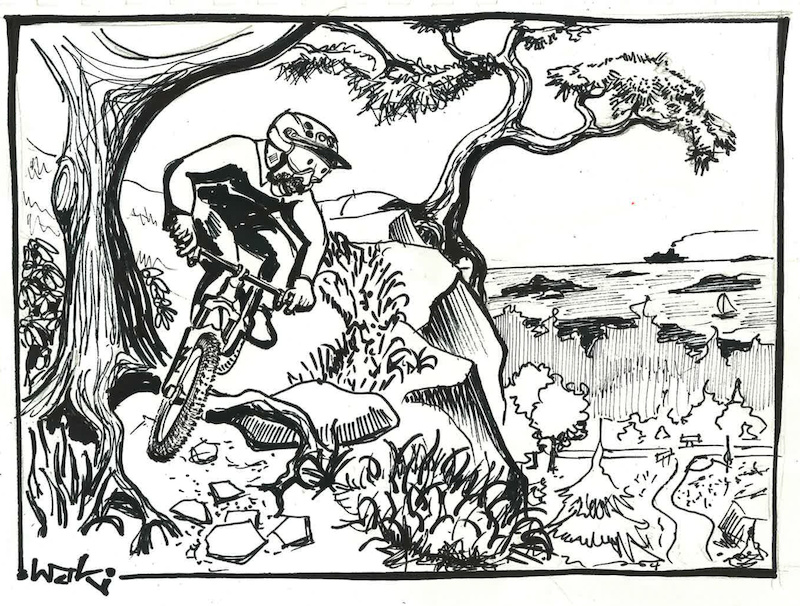 Spirit of Enduro riding in the heart of Gothenburg's trail riding: Änggårsbergen
So a few days later I meditated again and got in contact with him, and we spoke a bit and he was very eager to come and visit me here in Sweden to ride our muddy, rocky trails and drink some coffee. It was a good day riding indeed, he is an incredible rider, very fast and incredibly smoothly. He is very strong as well even though his ghostly flesh looks like the Italian cuisine is treating him well. After a long day of riding I asked him if he would like to give me an interview as I wanted to share. He shone like a second sun and said, "That is an excellent idea, let's do it!" So... here it is my friends, I give you Antonio - The Spirit of Enduro.
1. WAKi: Hello, I feel honoured to talk to you, how do you like our trails here in Sweden?
Spirit of Enduro: No, no, please - I'm honoured myself, I am a spirit I can ride anywhere I want and talk to everyone I want. Sweden is cold and dark now, a lot of mud, my Duccatti bike gets too dirty. I like blond girls and moose.
2. Where do you come from originaly, how did you come into biking.
My mother was Italian and father is French, my job since 17th century was to be a Genius Locci waiting for artists wandering in the woods around Nice, and giving them inspiration. Then one day, 50 years ago, a guy came with a bicycle and I got hooked up on it. These days I spend most of my time between Genova and St.Tropez, nice trails, a lot of sun, beach, frutti di mare, gelato, you know "dolce vita" as tourists call it.
3. What is enduro?
It is what it is. It is something all mountain bikers are doing, but it is not just mountain biking, it is a very deep experience, like making love! A true enduro rider makes love to the trail, no cuts. Enduro is riding in la natura but no fireroad - understand? It is the atmosphere of sharing a ride with your friends, It is not just a racing ok? Very important, not only racing! You have to say it with Italian accent en-DUro!
-Enduro
- no no, enDUro, the accent on Du is importante ok?
- ok!
4. What do you think of the Enduro World Series, can it change the way we ride and race compared to how the French and Italians have been doing it?
Enduro was big in southern Europe for a long time, but the EWS made it bigger, it makes me happy. It is good that people from all over the world can ride together. It was very relaxed, well organized. I am proud to see people from places like New Zealand or Austraila meeting and smiling to each other.
5. There was a lot of controversy regarding the rules on practice, what do you make of it?
If you practice a little bit then that is very good, because if you ride only blind then it is hard to get into the flow and being in the flow is like making love to a beautiful woman. The riders must decide if they want to shag a sex bomb, a virgin, or train for a month to turn it into sleeping with the old wife your mother chose for you. True mountain bikers are great lovers, they would never have a bad woman in the front and a sponsor from the back - understand?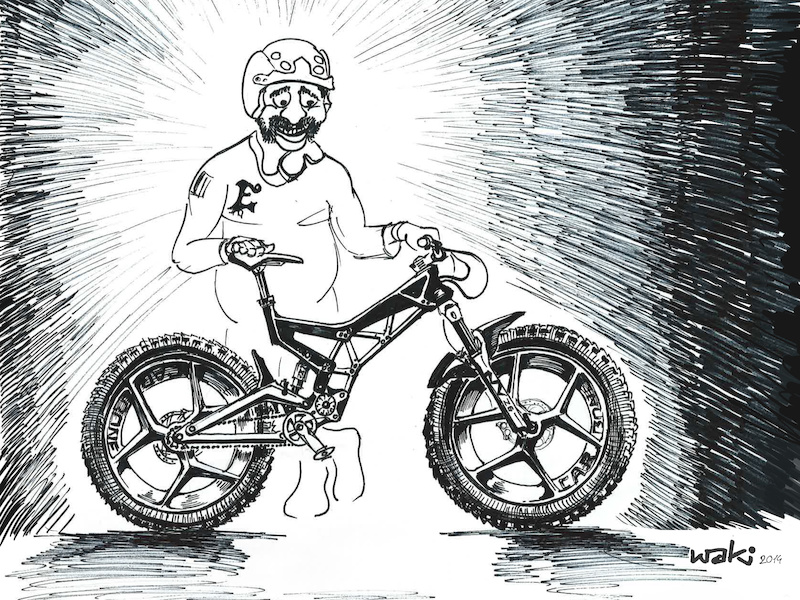 Custom Duccatti Enduro bike
6. What do you think of penalties on some top riders in EWS - weren't they kind of harsh?
Who am I to decide? Rules are necessary, otherwise you get Italian government, you know? I liked how the penalized riders accepted the decisions - that made me very proud! They behaved like champions. True enduro riders!
7. Do you have a favourite rider?
Yes, Alex Lupato, because he is Italian. I also like the winner of World Enduro - Jerome, because he's French and he can really go "a manetta!" And I like very much Anneke Beerten - very beautiful, and very talented. However, I must say here, I'm sorry ok? I'm sorry, I don't like this Greg, you know? The track is never good for him.
8. I see you have a very special bike that suits your ghostly body, are you a bike-part nerd? Can you tell us a bit about it?
Yes I am a bit of a bike nerd, this one is made for me by Duccatti, and I have a custom Marzocco fork, almost everything is Italian here. Tri Colore on the head tube, that is important. The grips and pedals are very special because they must provide contact with my spiritual entity and this material world. I had to make them myself. What else... integrated Marzocco dropper post, Selle Italia saddle, 140mm of rear travel - I don't need more, ehm, Car-bone wheels, a bit heavy but they look fantastic. A gearbox made for me by Ferrari, very good!
9. What do you think of the industry hyping enduro-specific products?
I don't care, I ride bikes they make for me, as long as they get me home and I am smiling. Geometry is important to me, also the suspension must feel right, I guess it is all in the feel. I don't count numbers I don't listen to theory I rely on my senses. Enduro will always be what it is in the heart of a true mountain biker, no matter what business tries to make out of it.
10. Is there any message you would like to send to all the riders out there?
Ride your bike like you stole it, don't worry if it is carbone, big wheel or small wheel - you can ride enduro on anything, even a Session. Make love to the trail, care for it, don't cut corners - QUE CAZZ...!!!! Scuzi, Sorry I got angry, some Strava idiota made a cut on my favorite switchback in Finale yesterday. Scuzi... So yes please ride your bikes to have fun and look for the flow, not for seconds. A racer looks for seconds when he has found the flow. The flow is important - understand?
Eee...Thank you very much for your time!
My pleasure, I am sorry I have to go, my wife Angellica is calling me.
Thank you for reading
Arguably Yours
Wacek Kipszak
Waki-leaks on Facebook
waki-leaks.blogspot.com
Installment#1 Sheman-OH SaintEN
Installment#2 Sheman-OH Xtroll
Installment#3 SPAM XE1l
-------------------------------------------------------------------------------------
Disclaimer: This article is meant to be a satire. My very intention with it is to entertain you and eventually provide some food for reflection in case we treat our sport a bit too seriously. I honestly do not wish to insult or harm anyone or any company. Eventual resemblance to persons, names and places might be coincidental.