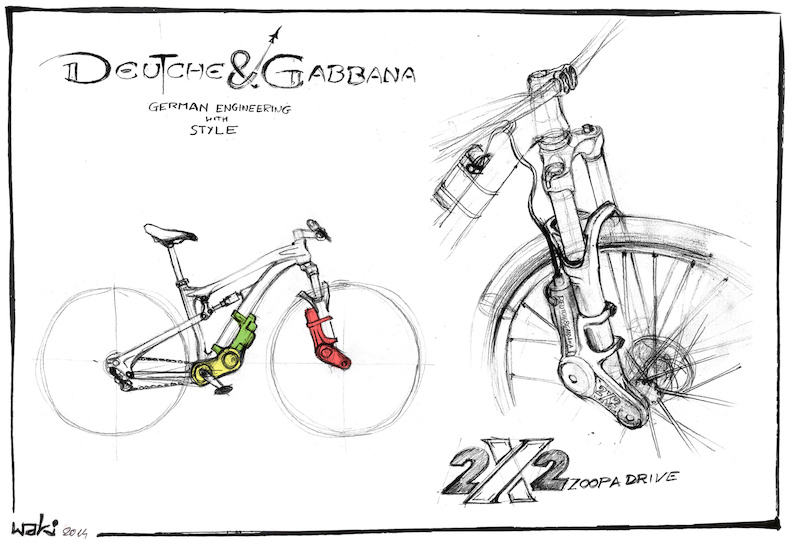 In recent days, on Pinkbike, we've had the opportunity to read two "opinion" articles on electric engine, assisted mountain bikes. For some years now this genre was slowly growing, mostly amongst smaller companies coming mainly from Germany, but the 2013 Eurobike show has shown that even more mainstream companies like Scott or LaPierre are coming up with designs for such bicycles. Let's be honest, the topic is very controversial, everyone is asking themselves questions, "how far can we go with that?", "why don't we just buy a motor bike?", "How bad is it compared to shuttling or lifts?" The insults are flying! I wanted to ask some hard questions to people making those bikes.
I met Andreas Morgentoser and Klaus Sprachfluss from an upcoming company called
"Deutche und Gabbana"
who shared their ground braking design with me. Their main philosophy is to make electric bikes appear less like freaks, they want to make them look and work better. In their own words: "
Se first yeer vi vent to Eurobike vi undaehstood sat se most eylecthric baycycles look tehribell. Vi vanted to shov se vorld sat it can be done in a mohr innovaytive vay, in a metch bettehr looking peckedge, Vi olzo undaehstood sat if four veel, tzvoo axel dhive car is bettehr in teyreyn sat one axel dhive, sen se same principell can be used in mauntein biking
".
2x2 is not a new concept in trekking or transport bicycles, but it will be its first shot in mountain biking. The whole system, the front engine, rear engine and the battery, can be mounted on most mountain bike frames as well as most forks as long as they are equipped with 15mm or 20mm thru-axle. Actually it is the fork where the most innovation takes place. A special front hub comes along with the system, but it uses a classic 32 hole layout so you can lace your favorite rim to it. The whole kit weighs 11,2kg, the fork engine alone adds 1,3kg to the fork. Battery can last up to 3000 vertical feet. The maximum speed reached by Andreas on a horizontal asphalt surface was 67km/h.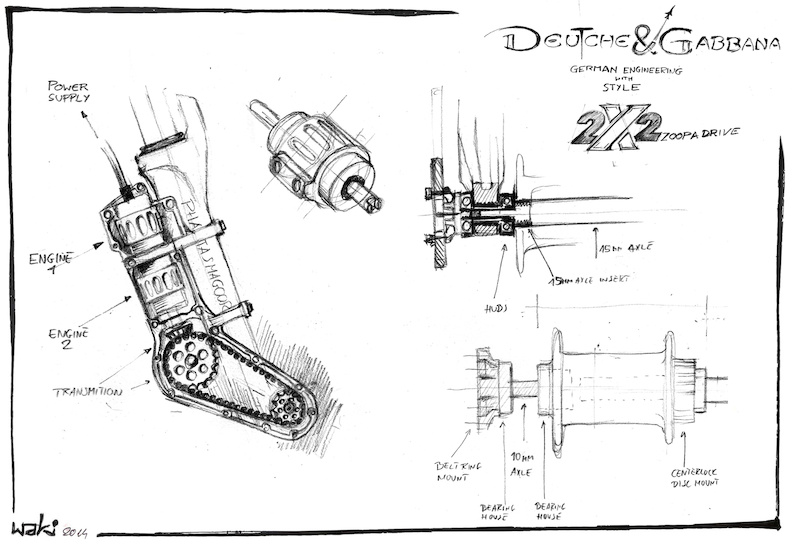 Details of the Front Engine
The creators claim that one engine is like 26" wheels, we need to move forward, the second engine adds traction on steepest uphills, keeps bike tracking in the corners when on power and according to their tests increases your chance of getting a KOM by a good margin. Also like with Tornado airplane, if one engine fails the other one can still get you home. Klaus added that 2x2 Zoopa Drive improves the stability and cornering as it lowers the center of gravity of the whole bicycle. They said that this set of engines gives you a chance to uphill like XC and downhill like a DH bike. It has been underlined for me that it is just a tool, like a knife; you can onions with it, and you can stab people, choice is yours. He told me a story of a permanently injured rider that could keep on riding thanks to that, a guy who broke his pelvis so badly yet his biggest pain was a very thought that he may never ride again. He also got a touching testimonial of a 34 year old student with an eating disorder who could choose a healthy life style of riding a bike, instead of wasting his life away, being addicted to fantasy series full of aggressive sex scenes. They can all enjoy mountain biking only thanks to electric engine assist. The more mountain bikers the better is at the very core at Deutche & Gabbana: more riders, riding more. We all want our sport to grow. For the greater good, for the better trails...
Klaus asked me if I want to try one and I said sure, but I would ride it on a regular basis. I like hardship, I like to be exposed to my own weakness. They replied that I can get tired, But at a higher speed, having more fun! My counter was that I want mountains to stay big to me. I don't ride for speed, it is important to me but it is not why I bike, descent is like an ice cream to me, awesome but I cannot live eating just that. So we agreed that we all have our own painkillers, chair lifts, lighter wheels, more suspension travel, stronger brakes... the progress is always up to the one that wants to progress. We are who we are, same tool that will kick me in the butt, can make another person stagnate.
Thank you for reading
Arguably Yours
Wacek Kipszak
Waki-leaks on Facebook
waki-leaks.blogspot.com
Installment#1 Sheman-OH SaintEN
Installment#2 Sheman-OH Xtroll
Installment#3 SPAM XE1l
Installment#4 Spirit of Enduro
---
Disclaimer
:
This article is meant to be a satire. My very intention with it is to entertain you and eventually provide some food for reflection in case we treat our sport a bit too seriously. I honestly do not wish to insult or harm anyone or any company. Eventual resemblance to persons, names and places might be coincidental. Certain parts of text may not express the true beliefs of the author and may be deeply ironical.