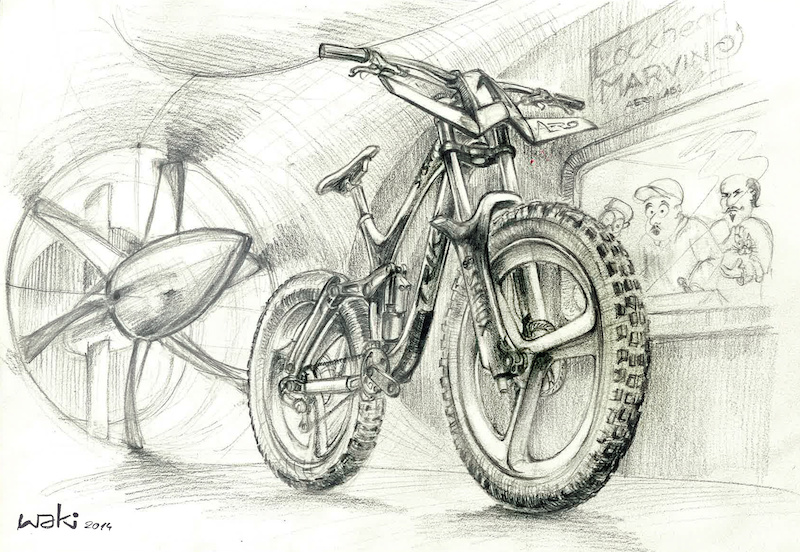 These days many mountain bikers turn their eyes to Enduro. Downhill has lost flair a few years ago when it used to be the most spectacular discipline of mountain biking. Downhill feels retro these days, and with emergence of less bumpy, bike park style tracks, it's getting into deep trouble. While top DH racers defy laws of physics on fine gravel, Enduro guys defy self preservation instinct by riding their small bikes blind on some of the bumpiest stuff on earth. Once Brendan Fairclough and Sam Hill were considering running 9" forks, now a bloke on a 6" bike gets the bronze medal in Downhill World Champs. Cheer or cry, that's the way it is, the sport evolves, just like everything else.
In order to face the challenges of new, super fast, manicured DH tracks like Pietermaritzburg, the technology of bikes must change. Riders will demand more control at mach speeds. From what I have learned, Trike Bicycles seems to be at the forefront of the new breed of bikes. Before the World Champs in Canberra, which also wasn't the roughest track ever, they were already playing with aerodynamics of their bikes, adding side skirts, finding the most effective aero-tuck position. Lately they decided to dig out the project and keep on developing it. They added the front wing to provide the down force in the corners, as well as the uplift on straights to decrease the rolling resistance of the front wheel. It's position is controlled via left hand shifter. Then they also added the aerodynamic brakes to shorten the braking path. The front wing can open to provide aerodynamic drag, opening flaps will be placed on the seat stays of the swing arm. All Aero-Brakes are activated every time the front brake lever is pulled. A few aerodynamic side skirts are added to the custom tuned Shmox 40. They minimize aerodynamic drag of the super fat stanchions and direct the stream of air away from rider's knees. The final thing the system seems to offer is the emergency parachute, hidden under the seat. The last thing a racing team needs is a seriously injured rider, so Trike Factory Racing wants to minimize risks of crashes at high speeds.
The bike will also come with super hot, 27.5" Buonragou Aero XXX carbon wheels with wide, raised tyre bead, according to all the latest discoveries in bike technology. A rumor has it that Trike Factory Racing will also be the first team ever to use tyre warmers. Some bike makers are already claiming that their suspension is using F1 technology, Specialized and their Öhlins shock for instance.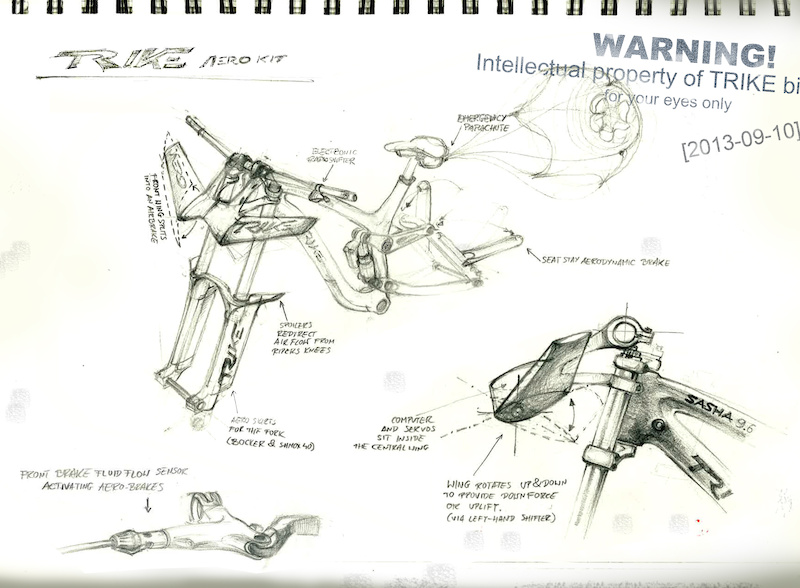 Details of the system. From classified Trike documents
We may not like the way the sport goes, the way bikes and tracks change, but what is most important to us stays the same, we can control it fully, it is the difficult answer to the question: "
why do we really ride our bikes?
"
Thank you for reading
Arguably Yours
Wacek Kipszak
Waki-leaks on Facebook
waki-leaks.blogspot.com
Installment#1 Sheman-OH SaintEN
Installment#2 Sheman-OH Xtroll
Installment#3 SPAM XE1l
Installment#4 Spirit of Enduro
Installment#5 2x2 Zoopa Drive
---
Disclaimer
:
This article is meant to be a satire. My very intention with it is to entertain you and eventually provide some food for reflection in case we treat our sport a bit too seriously. I honestly do not wish to insult or harm anyone or any company. Eventual resemblance to persons, names and places might be coincidental.