wanickbill
Member since Nov 19, 2018

Male / 44
Mesa , Arizona
I work in R&D as the machinist at Pivot Cycles...
Block user
Recent

Dec 24, 2019 at 8:26
Dec 24, 2019

Nov 27, 2018 at 11:07
Nov 27, 2018

Selling
Nov 23, 2018 at 8:41
Nov 23, 2018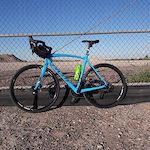 $3000 USD
This is my 2019 Pivot Vault. Size is Large. It only has about 100 miles on it and works perfectly. I can't find any blems on the frame at all. The tires are a bit dusty from the last ride to the coffee shop, but that's about it. It is WAY more bike than I need. I thought I would get into doing CX, or gravel racing, but I really don't have the time. I can send more pics if needed but it is EXACTLY how you would get it from Pivot, and was setup to spec by Pivot Techs for me personally. (I work at corporate, so I made sure to have it set up perfectly) On October 3rd, so check out their website if you need any tech data. Or just ask and I'll try my best to help you out. This seems to be the only 2019 up for sale in the US that i have seen. (Other than directly thru pivot for a lot more). So, I'm pretty firm on the price. It is not even broken in at this point. I will make sure that it is gone thru for a 30 day checkup and adjustment be for I ship it to a buyer. I'd prefer to deal locally if possible. Not sure if this is the right category, as this is a "gravel bike" but it can also perform as a road bike.... if you are looking at this, you probably know that though. :)
Load more...