westcoastmassive
Member since Mar 30, 2015

Male / 53
Argyll Forest , United Kingdom
Block user
Recent

Aug 17, 2022 at 9:16
Aug 17, 2022

Selling
Aug 17, 2022 at 9:14
Aug 17, 2022

Jul 6, 2020 at 13:16
Jul 6, 2020

Dec 7, 2019 at 8:46
Dec 7, 2019

Selling
Dec 7, 2019 at 8:43
Dec 7, 2019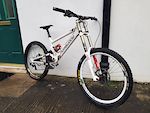 $600 GBP
2012 Morewood Makulu. Frame in decent condition, one side of the head tube has a slight bump stop dent (don't they all!). A few scuffs and scratches but generally in good nick for its age, well protected with heli-tape. Bearings in good condition, no lateral play. Boxxer team forks, firm spring, stanchions and seals in good condition, no play or leaks. Bos Stoy shock, tuned by J-tech at some point in the past, massively adjustable. 400 pound spring, which complements that firm spring in the boxxer pretty well. Zee brakes, new in 2018, 203 rotors. Brand new rear lever just fitted and brake bled ready to go. Alex Supra wheels, 20mm front, 150x12 rear. Wheels pretty straight. Minions front and rear, neither great to be honest. X0 shifter, zee mech, close ratio dh cassette. Works well. E13 lg1 chain guide. Sdg i-fly saddle and post. Easton havoc 35 800mm bars, easton direct mount stem, odi grips. Spare front wheel, straight with decent sealed bearings, wearing a super tacky wet scream in decent nick. 60a rear wetscream also included. A very modern feeling, roomy downhill bike for its age, doesnt feel that different to riding my large kona process apart from the weight and extra travel. I love having this bike for the occasional uplift day, it's retro but still extremely capable, smart looking and always gets admiring comments from those who know and who don't scoff at 26" wheels. It doesn't get used nearly enough to have it gathering dust in my shed though, and my son (who's bike it really is, if I'm honest!!) could do with the money to buy tools for his work. We're not giving this away, so no stupid offers please. If you're genuinely interested though, message me through here or give me a phone. If you want any specific pictures, just ask and I'll email them to you. Cheers, Simon.

Sep 5, 2019 at 9:31
Sep 5, 2019

Aug 31, 2019 at 10:17
Aug 31, 2019

May 22, 2019 at 9:15
May 22, 2019

Mar 1, 2018 at 7:14
Mar 1, 2018
DH World Cup Round 1: Building the Lošinj Track - Video
@Bigernmcracken: most of the time they are being paid decent money to create tracks that will draw tourists to a resort, their name being associated with it brings it kudos and therefore visitors. That means their hands are tied though, no resort is going to pay big bucks for somebody to design a hardline-style course because tourists won`t be able to ride it. I`m not saying every pro racer is capable of designing a good track, but a lot of them could do a lot better if they weren`t working within the guidelines set out by the people who are paying their wages.

Aug 21, 2017 at 5:07
Aug 21, 2017
Load more...