willbikeleeds
Member since Jan 4, 2015

Male / 26
Haslemere , United Kingdom
Block user
Recent

Aug 8, 2023 at 14:08
Aug 8, 2023

Jul 31, 2023 at 8:12
Jul 31, 2023

Selling
Jul 31, 2023 at 8:11
Jul 31, 2023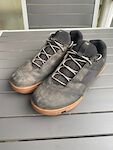 $25 GBP
Crankbrothers Stamp Lace Flat in Size 11. Purchase December 2021 and used until April 2023. They have been fairly well used as photos show, and are just taking up space which I could do with freeing up for other stuff. Really comfortable shoe and pedal feel is pretty good through the sole, they aren't quite as grippy as some of the FiveTen shoes on offer. Will ship within the UK for £5, paypal preferred for payment with buyer to cover fees. Collection from Haslemere, Surrey also available. Will consider offers.

Selling
Jul 26, 2023 at 9:33
Jul 26, 2023
$600 GBP
This is my EXT Storia V3, purchased new in April 2023 and ridden for approx 3 months (shock was away for warranty work for 1 month). Shock is like new and has seen very little mileage. Selling it as I prefer air shocks and switched to a Super Deluxe Ultimate. Size is 230x62.5mm Can't fault the shock, I just prefer the feel of an air shock and my frame isn't quite progressive enough for a coil shock. Comes with unused 500lb and lightly used 550lb springs, the 550lb being the new lighter weight version, and two 3D printed adjustment tools for on-trail use. The shock is tuned for 400-500lb springs so the 550lb pushes the limits of the rebound range but have found running the max rebound damping fine - you can get this retuned to better fit the spring rate you require. Generally speaking, if you want to get the best out of this shock, it's best to retune to your frame kinematics anyway. Shock mounting hardware is 25x8mm at the top and 30x8mm on the bottom and can be included if needed. Will ship within the UK for an extra £12, fully insured and tracked. PayPal is preferred for payment, buyer to cover any fees.

Selling
Jun 5, 2023 at 13:26
Jun 5, 2023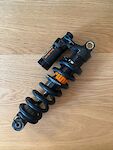 $250 GBP
RockShox Super Deluxe Ultimate Coil shock with a Vorspring tractive tune (tuned to Megatower 2). Includes a 550lb and 600lb spring, 550 is fitted. Purchased second-hand at the start of May as a replacement for my EXT Storia whilst it went in for some warranty work. Now no longer required although the shock has been fantastic in that time. The rebound dial is a little on the stiff side but otherwise in good condition with a few marks here and there. The previous owner said the next service is due in October. No shock hardware included however the lower mount is a bearing mount which did fit the 30x8mm mount on my Nukeproof Mega 297. Will ship to UK mainland only, signed for and insured for an additional £10. Collection is also possible from Haslemere, Surrey. Reasonable offers will be considered, but no trades. Please PM me if you have any questions.

Selling
May 14, 2023 at 6:43
May 14, 2023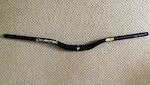 $35 GBP
Burgtec Ride High 38mm rise handlebars with 35mm clamp. Bars have been cut to 780mm. Good condition with the usual marks from brakes, shifter etc. and a couple of other small marks. Will ship with in UK for an additonal £5. Reasonable offers will be considered. Payment by Paypal only, buyer covers fees.

Selling
May 3, 2023 at 9:29
May 3, 2023
$40 GBP
Burgtec MK2 stem in black, 35mm clamp, and 35mm length. Condition is good with a few marks from use. I also have a set of Burgtec Ridehigh 38mm rise bars, cut to 780mm. Not listed yet but will be up next week. Will be listed at £35. Few marks as to be expected but otherwise good condition. Reasonable offers will be considered. Collection from Haslemere, Surrey or will post within mainland UK for an additional £5.

Selling
Apr 24, 2023 at 9:04
Apr 24, 2023

Apr 24, 2023 at 9:00
Apr 24, 2023

Selling
Apr 24, 2023 at 9:00
Apr 24, 2023
Load more...