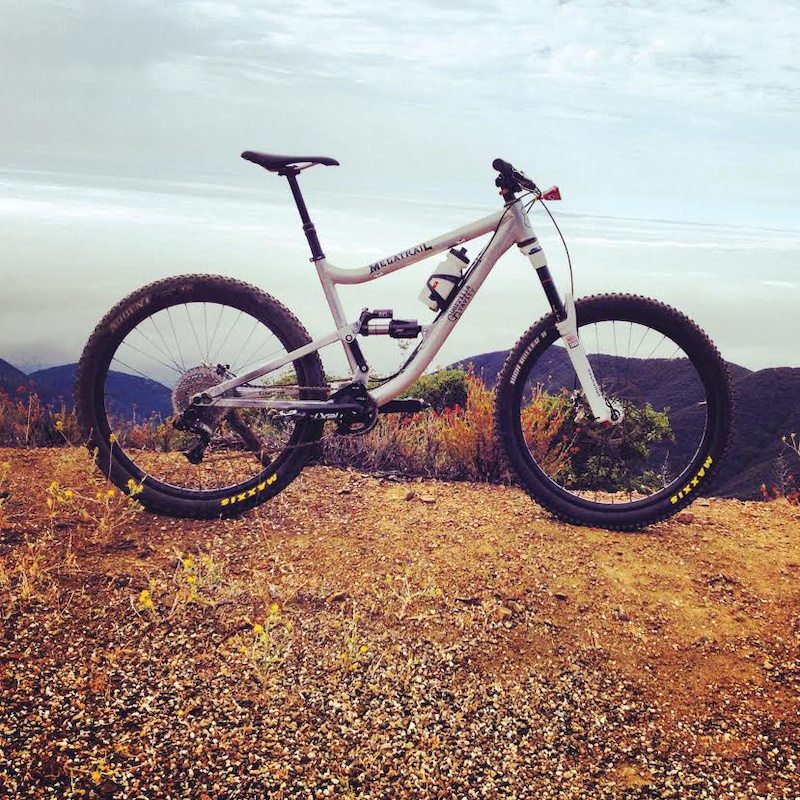 When I caught my first glimpse of Guerrilla Gravity's new Megatrail, its unique styling and the fact that it was hand built in the USA caught my attention. When all the details were released I knew that this bike would be right up my alley. By coincidence I happened to break my old frame days after the original glowing review from Vitalmtb was released and I knew I had to have it.
I immediately put down a deposit on a frame and was contacted by Will, one of the co-owners thanking me for my purchase and offering any help along the way. The crew at Guerrilla Gravity went above and beyond to get me all the informationI needed to get me on the correct size bike and wheel size for my type of riding.
Originally I was slightly concerned about the length of the front end compared to my old bike. At 5'10" I could have gone with a small or a medium. Willassured me that the extra length in the cockpit would make for a better riding position but at almost 2" longer than my last frame I was still a little leery. The GG guys offered to meet me at Sea Otter to let me take it for a test ride. Within a few seconds of sitting on the bike I knew that he was right, their sizing is spot on. The extra length felt perfect and the bike was actually easier to throw around than my old Giant Reign X.
Fast forward a few months and I had a shiny new Megatrail in my garage. I went about building up my dream bike, sporting a Pike up front, Cane Creek DBA Cs in the rear and a Renthal cockpit. I decided to go with 650b wheels as allot of my local trails have big square edge rocks and the extra stability and roll over seemed like a benefit. From the moment I got on the thing I couldn't believe I actually rode a bike with such a short front end. The Megatrail feels so balanced with a much more natural riding position both climbing and descending. On the climbs I can finally stand up and hammer without fear of hitting my knees on the bars. Descending is a whole different ball game now. The ability to move around on the bike is night and day better, now I can really weight the front end in turns without the rear end feeling like its going to step out. With the short chainstays the bike manuals with ease and pumping through little downsides on the trail is much easier with the roomy cockpit.
Because my area mostly consists of DH bike worthy trails I have elected to ride the bike in "Gravity Mode" exclusively, yielding a 12.7bb height and 65.5deg head angle. (I am running a -.5 Angleset so my head angle is actually 65deg) I initially had some reservations on climbing technical terrain with such a low bb height but once again my concerns were unfounded. After the first few rides I adjusted my pedal strokes accordingly and crank strikes aren't something I'm concerned with. The bike pedals exceptionally well, better in fact than my old Maestro equipped Reign X. On my old bike I felt like I was struggling to climb anytime the Propedal was turned off. The Megatrail, even in Gravity Mode motors right up climbs even with the shock wide open. For long extended climbs I do utilize the Climb Switch but for short punchy climbs mid descent, I don't even bother to flip it on. Naturally any bike with such a slack head angle isn't going to like going slow so there is a bit of front wheel wonder when in the granny gear spinning it out. For me it's not an issue as I try to keep my momentum up and a simple switch to Trail Mode would put the geometry in the ballpark of the majority of bikes on the market. In the limited time I have in Trail Mode the bike feels extremely efficient pedaling and the steering response at low speed is noticeably quicker. If I was riding more rolling terrain I would most likely be using Trail mode more often but my trails are a big climb to the top and then pretty much all burly downhill after that.
Every time I ride this bike I am blown away by its ability to slay rock sections and rough terrain. It feels so stable at speed yet is very agile in the corners. It definitely rewards an aggressive riding style, it seems like the harder you push it the better it works. One of the main differences I've found is the incredible amount of traction at the rear wheel. The rear wheel stays hooked up far longer than anything I've ridden before, with the Ardent I had on originally it was literally too much traction for my cornering style. I actually switched to a less aggressive rear tire (Continental X-king) as I was used to drifting loose turns and switchbacks. Basically the Megatrail will allow you to push it as hard as you want/are able to.
Frame stiffness was also something that was very important to me when selecting a new bike. My old Giant's flimsy rear end wasn't cutting it and I actually snapped both chain stays railing turns. The GG guys hit it out of the park as far as frame stiffness goes, this thing is beefy. No matter how hard you blast a berm the thing feels solid and tracks strait and true. It makes for a very predictable, confidence inspiring ride that makes you want to attack every section of trail as hard as you can.
If I had to say something negative about this frame it would have to be that it is slightly heavier than some of the bikes in it's category. Mine built up to 31lbs which for me is totally acceptable. To get a bike this stiff and strong you have to give up a little in the weight department or allot more $ for a carbon bike. To me the trade off of an extra pound or two is well worth the fact that it feels like you are riding a mini downhill bike that still pedals very well. After testing one of the newest 27lbs 160mm carbon bikes from a major manufacture I am even more happy that I went with the Megatrail. While that bike definitely felt a little easier going up the difference on the way down was astonishing. The Guerrilla Gravity guys made a very, very good bike, I honestly don't see myself ever riding anything else.