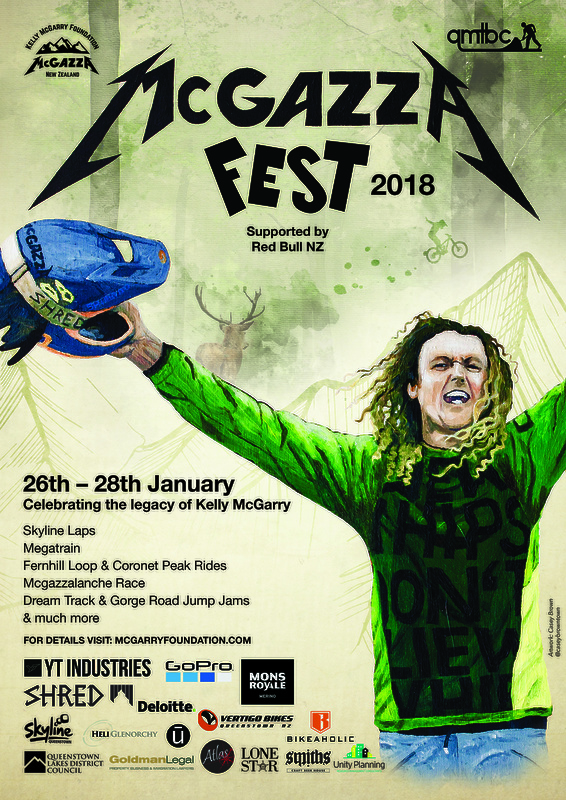 On behalf of the Kelly McGarry Foundation, we are proud to announce the 2nd annual McGazzaFest - celebrating the legacy of Kelly McGarry. In 2017 over 300 riders from around the world descending on Queenstown, NZ to shred for Kelly. The Kelly McGarry Foundation has worked with local government and the Queenstown Mountain Bike Club to ensure McGazzaFest becomes an annual event for years to come!
This years event will take place 26 - 28 January 2018, the weekend before Farm Jam 2018 (3 Feb). By teaming up with The Frews and Farm Jam we hope to attract even more international and New Zealand riders to both events.
For details, visit:
McGarryFoundation.com
or
Facebook
Event Program:
Friday 26th Jan
6:30pm
Mcgazza Mega-train
Meet top of Skyline (Hammys trail)
Saturday 27th Jan
12pm
Mcgazza Memorial Ride
Fernhill Loop to McGazza Memorial Table via Beached As
Saturday 27th Jan
2pm
Mcgazzalanche Race
FHL Waratah to 1 Mile carpark
(Limit 200 entries) first in first served, Enter at the Mcgazza memorial table
Saturday 27th Jan
4pm - 7pm
Dream track jump jam
Upper Dream track
(Limit 100 entries) invitation / first in first served
Saturday 27th Jan
8pm till late
McgazzaFest Party & KMF fundraiser.
Lonestar
Sunday 28th Jan
12pm
Coronet / Rude Rock Group Ride
Coronet Peak Base - Ride up Coronet Peak, descend & down Rude Rock to finish.
Sunday 28th Jan
3pm till 6pm
Gorge Road Jump Jam
Sunday 28th
7pm
Chill & Wrap up.
Mcgazzafest Shredder of the weekend award
Atlas Bar
#mcgazzaforever
#mcgazzafest2018.