Hey Guys, I really really want to share this with you all.
I was very inspired by Contour and GoPro communities. I did set my self a goal to get Countour ROAM or GoPro hero camera as soon as I can. Thing was that I had other cool family expenses and I was not able to get one straight away. I thought: "I will definitely get one, but I want to get my stuff on camera and share NOW!!!". That's how idea of making my own camera mount came to me.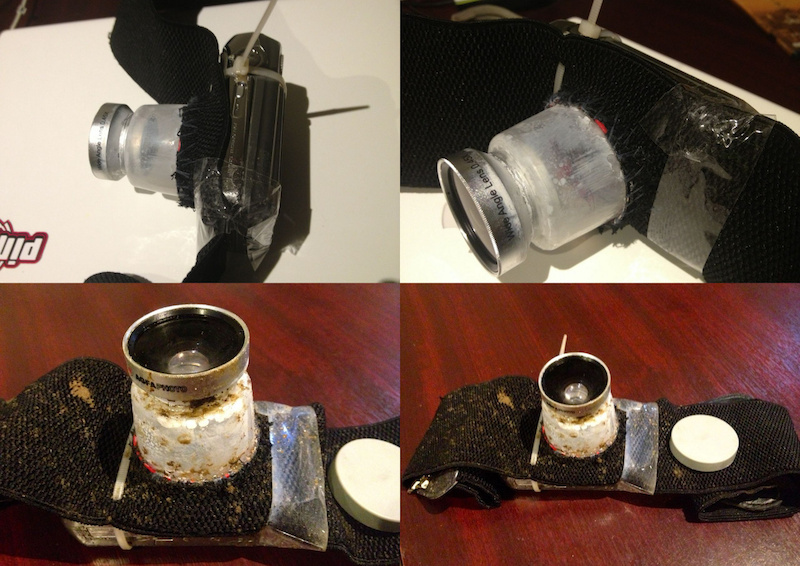 Story behind the camera mount
I had my lovely wife's old camera in my drawer which we don't use very frequently as we have other cameras to capture our everyday fun life. I though I will just put it on myself somehow and get going. I used my wife's belt, which she was very nice to give me to "destroy". I made a hole in it, turned on the camera, pushed inside that hole and wend down the hill. I'm glad I didn't kill the camera with all that dirt on my first attempt.
I came up with idea, that I need some kind of protection for camera lens. Then I figured out that wide angle lens mountable on any similar type of cameras would be great, I just need a proper shell to glue everything together. So I used my daughters little plastic food freezing jar as a shell and sticked wide angle lens (with proper distance from actual camera lens) on one side, and belt with hole in it on the other side. I still need some sticky tape to hold one side, as I don't have another strap in my tool box. Will get one later.
Anyway, basically I used very old camera, wifes belt, part of vitamins bottle cup, food freezing jar, wide angle lens and lots for powerful glue to stick everything up. Ok, also one strap and a bit of sticky tape. It took more than three weeks of development and testing.
Finally tried out, what I call beta version 3, this morning. It works as good as it can, I guess. Good angle of view, good dirt protection. What else do you need? I just don't think I want to test crash this one, haha. And yes, low resolution record, as camera is really old.
Story behind the video
Most probably most of riders will notice - I'm going down this trail with hardtail+rigid fork. Initially I have assembled myself dirt/street bike as I didn't have access to nice hills or trails. I have moved few months ago, found some nice places close to my home. And... Downhill is my passion, i knew that, I just needed right place to start. I have an upgrade plan - suspension, big wheels etc, but for now... Like someone said "<...> There is no place you can't ride<....>", I will say there is no bike you can't ride. So I am enjoying soft version of downhill while I am waiting for my upgrade to get going further. Also I'm learning a lot about stability and control as hardtail and rigid fork are not very forgiving, haha.
And here's one of todays shots: