xavierp
Member since Sep 12, 2020

Male
Golden , Colorado
https://protectourwinters.org/
Block user
Recent

Nov 14, 2020 at 8:25
Nov 14, 2020

Nov 9, 2020 at 13:18
Nov 9, 2020

Selling
Nov 9, 2020 at 13:18
Nov 9, 2020

Selling
Sep 17, 2020 at 10:03
Sep 17, 2020

Selling
Sep 12, 2020 at 10:44
Sep 12, 2020
$3150 USD
Guerrilla Gravity Pedalhead, size 3 (large), silver decals. Please refer to GG's website for sizes reference. The pedalhead is a big bike, that needs to be ridden aggressively. At 6', it feels large (but obviously, super stable and planted!) 400 miles on most components, about 150 miles on the frame, wheels, about 7-800miles Bike will be ridden a little until sold, but it was built recently. Some light scratches on the NDS stays, and down tubes (will send pictures on request) Rock Shox Pike RC2 ultimate 130mm 2020 42mm offset Shimano XT shifter M8100 Shimano XT Cassette 10-51 M8100 Shimano SLX derailleur 12s M8100 Shimano SLX Chain 12s M8100 Shimano XT M8000 Crankset (new) 170mm, with wofttooth 12s chainring, 30t OneUp bars, cut at 760mm Fabric 50/01 grips Race face aeffect 50mm (not pictured here) OneUp 150mm seatpost Chromag Moon DT (not picture here) Sram Code R brakes, with an extra set of pads, just bled at the shop 180mm shimano rotors one is a RT56, one a RT86 (I think, both resin and metal compatible, centerlocks). I had that on hand, so I used them. They work just fine with sram brakes. Assegai DD 2.5 WT front (Very good shape) DHR II 2.4 DD WT rear (OK shape, good amount of life left, but depending when the bike sells, I may replace it by then) M1700, 30mm inner width (wheels are about 2 yrs old, rear rim was replaced once, and has a tiny flat spot since, hold tubeless and running well) 36t upgrade, and new microspline drive. Come with Torque caps for the Pike, and I'll leave the regular end caps as well. Buyer pays shipping (packing by shop and expediting) and Paypal fee, local sale preferred. Bike is in Bellingham, but we're moving to Denver toward the end of November.

Selling
Sep 12, 2020 at 10:42
Sep 12, 2020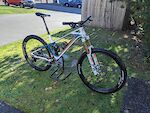 $5500 USD
Due to moving, bike will be packed and stored in a container November 24th. Selling my Mondraker Superfoxy 2020, ridden 500 miles, mostly trail riding, no shuttling or bike park (which is the main reason of selling, don't really use such a bike). If you like going fast, this is the bike for you. It has incredible traction, tracks incredibly and it just generates speed by pushing on the bottom bracket. Pumps the terrain like nothing else, while leaving the suspension very active. Corners like its on rails, but obviously, due to its length, well, you have to prepare your corners, and open them! I've taken this bike on long alpine rides as well, 5k ft climbs and such, in tight rocky switchbacks, and it works, but requires to be muscled through them. At least, it's pretty light, and easy to move around! Mostly stock, upgrades include XT M8120 4 pots brakes, brand new enduro stainless steel headset bearings, fully rebuilt suspensions less than 200miles ago Frame is wrapped in a ridewrap tape, and is very clean. Couple of tiny chips (very minor) between the tape and a bit of rub in the shock well. Fox 36 Grip2, 170mm Fox Float X2, 2pos lever, LSC/LSR Shimano XT 4pots brakes, just bled, instead of the stock Code R (happy to swap the codes back on there!) Full XT M8100 drivetrain 12 speeds Raceface turbine crankset, 32t chainring DT Swiss E1700 wheelset (tiny, and recent, flat spot on the rear rim. Holds tubeless, no leak, wheel still straight) DT 350 hubs (some play in the rear centerlock rotor, also happened when the bike was new, so I figured it's "normal") DT competition spokes DHF Front / DHR II Rear, EXO + casing, very good condition FR, starts to show wear RE (probably 50/60% used) Onoff Krypton Carbon, rise: 12,5mm, width: 780mm, 9° backsweep, 5° upsweep New Chromag HiFi 35mm stem, black Onoff Pija dropper 150mm, mondraker's brand. Very smooth action, works fine. Pedals, oneup tool, bottle cage and mudguard not included Buyer pays shipping, packing and PP fee, will ship within lower 48 only I'm 6'0", I would say it would fit well someone 5'11" to 6'2" NO TRADE Bike is in Bellingham, but we're moving to Denver toward the end of November.
Load more...