yahmon
Member since May 26, 2015

Male / 24
New York , New York
I like to play on my bike. Sometimes competitive, but usually only with myself.
Block user
Recent

Apr 21, 2020 at 14:32
Apr 21, 2020

Selling
Apr 21, 2020 at 14:31
Apr 21, 2020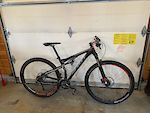 $500 USD
2012 Medium Scott Spark 29 Comp, Black/Silver/Grey Fair condition with typical cosmetic damage on frame and fork. I rode High School XC races on this bike for one season in 2012. Other than that, it saw very little use. Shimano Hydro disk brakes, Shimano SLX 3x9 drivetrain Still shifts perfectly and suspension is buttery (for what it is). It's not a bike to turn any heads or drop any jaws (or cliffs), but it's a great starter for an aspiring XC rider or for someone who doesn't push it especially hard. I prefer local pickup from the Middlebury, Vermont Area.

Nov 8, 2019 at 7:25
Nov 8, 2019

Nov 8, 2019 at 6:52
Nov 8, 2019
Polygon UR Team Aims to Reduce Their CO2 Output for the 2020 Season
@fartymarty: if the measure of whether any of us are allowed to talk about climate change is our country's action, then none of us would be allowed to talk about it. Plus, believe it or not, my actions as an individual are separate from those of my government. Even then, I vote for climate conscious and environmental activist candidates. Don't accuse me of not trying.

Nov 8, 2019 at 5:04
Nov 8, 2019
Polygon UR Team Aims to Reduce Their CO2 Output for the 2020 Season
@jaame: You have clearly underestimated how severe the climate crisis is, and are making suggestions that sound nice to you, but are actually insufficient at solving the issue, and have mixed in a little eurocentrism and racism/classism with your beliefs. Your suggestion that humans should pay the price of climate change, first of all, will disproportionately affect those in lower socioeconomic brackets already — those who live in volatile, vulnerable areas because they have to and do not have the money to move simply when they want to. So you and your family and friends may not pay this supposedly positive price of their lives and wellbeing, but people the world over will, and already are. Second, blaming "third world countries" for having too many babies, and claiming that convincing them to have fewer is wrong, and whiffs of eugenics. Westerners contribute a massive amount more pollution and carbon emissions to the globe — the "modernized" world powers climate change, whether by driving, flying, shipping our food, or by creating the industries that we export to countries and regions who we then blame for damaging the environment, e.g. India's textiles market or China's trash burning. Finally, if you would try listening to the experts on the subject (who are being paid remarkably little; and have nothing to gain from alarmism; tenured scholars and professors and writers) you would find that your oh-so-easy 80-year plan isn't enough, and the world would be irreversibly changed by then. We have until 2050 to fix where we are going, if that. And your beef thing: 2000 years ago, there was not a massive beef industry that powered industrial farming and cultivation, shipping, refrigeration, etc. No one will tell you that climate change is all due to farts. Nor will they tell you that you have to cut beef entirely if you don't want to. I think the figure of red meat intake reduction worldwide to make a significant dent in emissions is 30%. Skip it one meal a day.

Nov 2, 2019 at 16:09
Nov 2, 2019

Selling
Nov 2, 2019 at 16:09
Nov 2, 2019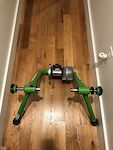 $100 USD
Kinetic Roadmachine Fluid Trainer Basic wheel-on trainer. Easy to use, easy to adapt to bikes with thru axles whether Boost-spaced MTB or 12mm road. A nice way to shake the legs out in the winter if you don't care about getting on a smart trainer and Zwifting your life away. Not super loud, good progressive resistance with fluid. Buyer pays shipping.

Selling
Nov 2, 2019 at 16:03
Nov 2, 2019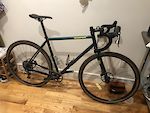 $1200 USD
2019 Kona Sutra LTD 54cm, chameleon sparkle green If, as a mountain biker, you're going to own one bike that isn't a mountain bike (and still might sometimes be a mountain bike) this is the one to get. It's a steel machine, and can serve as your gravel, bikepacking, touring, drop-bar MTB, CX, monstercross, power commuter, or whatever-the-hell-you-want bike. It makes of the mellowest trails you know a rowdy, somewhat scary, extremely fun experience; turns loose gravel into a playground; and with 2.2" tires, you'll glide over the mud pits that your gravel pals bog down in on their 35c tires. Some special things to know about this Sutra LTD: - It has been frame-saved inside and mastic-taped on the chainstay. No rust and no chain slap in its foreseeable future. - It comes with a Whisky No. 9 Carbon Seatpost and Whisky No. 9 24-degree flared carbon handlebars. - Bars are taped with Fizik Microfiber 3mm bar tape. Perfect for gloveless riding on rough roads and trails. - Comes with two sets of tires: - Teravail Cannonball (rear) and Rutland (front), both 700x42c. - Maxxis Ardent 29"x2.25" set - Brand new brake pads - Chain and Cassette replaced in July -- have less than 250 miles on them. Cassette upgraded from stock. - No major scratches or damage aside from cosmetic scratches on shifters - Includes original Kona flared bars - Mechanic-owned, ridden sparingly and not particularly hard Negotiable: - Would take Whiskey bars off and reinstall Kona bars and drop price by $100. - Would sell with Maxxis Ardent tires alone and drop price by $60 Buy this bike and do whatever you want with it! It's fun.

Sep 18, 2018 at 18:43
Sep 18, 2018

Selling
Sep 18, 2018 at 18:43
Sep 18, 2018
Load more...