yetifur003658
Member since Mar 29, 2015

Male / 46
Staffordshire , United Kingdom
Block user
Recent

Selling
Jul 19, 2022 at 6:26
Jul 19, 2022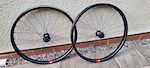 $350 GBP
27.5", 110 boost front, 148 boost rear. DT Swiss 350 Wheels have been used for the last couple of years and have been faultless. Bearings are smooth and star drive has been cleaned and greased regularly. Supplied with either 11 speed shimano freehub or SRAM driver. Wheels have been priced to reflect cosmetic scratches that have been picked up during normal use. One of the spokes in the rear wheel is slightly bent. I never bothered replacing it as the wheels have stayed true and reliable Grab a bargain.

Selling
Jul 19, 2022 at 6:22
Jul 19, 2022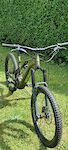 $3500 GBP
The bike has just had a brand new motor fitted under warranty (the new motor has done less than 1km). I have had no issues at all (bike has mainly been used in eco, while riding with my friends on normal bikes), however, bearings had some wear so I had this done so that the new owner has peace of mind. The rear shock is a Fox DPX2 which was replaced under warranty - it is brand new, never ridden. The battery health is 100% and only has 29 charging cycles. Chain, jockey wheels and cassette have recently been replaced. The bike has the following upgrades: - Rockshox Zeb ultimate (180mm) - 200mm Rockshox Reverb seat post with 1x remote - XT drive chain with XTR 11 speed shifter - 220mm front disc The warranty is transferable to the new owner (16 months left). As you would expect, the bike has picked up a few scratches and marks through normal use but most of these are to the invisiframe which could be removed, if the buyer desires. The fork stanchions and shock shaft are unmarked. There's some paint chips on the inner chainstay from removing the backwheel during transportation. Size S5 This has been an excellent bike and I'll be very sorry to see it go. £3500 Pedals not included

Jun 28, 2022 at 3:01
Jun 28, 2022

Selling
Jun 28, 2022 at 3:00
Jun 28, 2022

Jun 26, 2022 at 13:03
Jun 26, 2022

Selling
Jun 26, 2022 at 12:59
Jun 26, 2022

Sep 7, 2021 at 4:03
Sep 7, 2021

Sep 7, 2021 at 3:35
Sep 7, 2021

Selling
Sep 7, 2021 at 3:30
Sep 7, 2021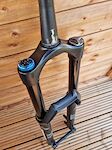 $450 GBP
Marzocchi Bomber Z1 Air 2020 650b / 27.5 180mm Fork comes fitted with an Fox Grip2 damper. This was installed by JTech along with low-friction SKF seals.The upgrade transformed the fork, effectively making it the same spec as a Fox 36 performance elite. Fork is used but in good condition. Recent lower leg service. The original GRIP damper is included should you ever want to convert the fork to standard. The steerer length is 196mm.

May 23, 2020 at 11:22
May 23, 2020
Load more...