*This whole endeavor is a one way ticket to voided-warranty-land, if that kind of thing doesn't upset you... keep reading!
A Little Backstory
Like most of the people I know, seeing riders race up trails on the skinniest tires possible while wearing road bike kit isn't what piqued my interest in mountain biking. Yet here I am, a true roadie of the woods. Most of the past 5 years I have spent on a mountain bike have been on a hardtail… and during a big chunk of that time my hardtail was rigid! If it was seeing stuff like Redbull Rampage and the DH World Cup footage that lit the fire inside me… how did I end up riding and racing XC? The short answer is probably geography… I live in lower Michigan. I can't tell you how many times I have heard someone say ''you don't need THAT much travel around here'.
Whatever it was, I feel like I lost my way. With plans to move out west in 2018 and trips to places like Marquette (siqqqqqq trails) and Brown County becoming more frequent, I felt inspired to pick up a full suspension trail bike last fall. Having a good relationship with my local Specialized dealer and a lot of great experiences on their XC hardtails, I had it narrowed down to the Camber and Stumpjumper FSR. I wanted to keep it around or under 5k; the Camber Expert had a nice spec, met my price range, and came dressed like Johnny Cash. I didn't like some of the changes the SJ saw in 2017… mostly boost. I had a set of wide carbon MTB wheels that were 142/100 and I wanted to use them on my new trail bike. I pulled the trigger on the Camber.
I loved it. It was like a gateway drug to how I always wanted to ride mountain bikes. As fun as it was it was, it didn't take very long before I wanted 'more'. I kinda wished that I had bought a Stumpy. I had remembered reading that when the Camber and SJ got a facelift in 2016 they ended up sharing
identical front triangles and chainstays
. The more I looked into this, the less I found. I decided it was time to kill two birds with one stone. I would get the Stumpy that I should have bought, and be the first to document what it really takes to turn a Camber into a Stumpjumper… something that had been impossible to find on the internet.
Step 1. The Front
Stuff you will need:
-A new fork
Since the front triangles of both bikes are literally the same, the front part of this conversion was easy. I went with a RockShox Pike because duh. I went with 140mm of travel and a 46mm offset because that's what the 2016 model was spec'd with. I rode my bike like this for a little bit before tackling the back end. It was a huge improvement, the full degree of slackification to the headtube angle was awesome. The additional travel was awesome. It only affirmed my regret of not getting an SJ to begin with and I couldn't wait convert the rear end of the bike.
Step 2. The Rear
Stuff you will need:
-A new shock (197mm x 48mm)
-2016 SJ fsr seatstays
-2016 SJ fsr shock extender
-2016 SJ fsr shock link
-2016 SJ fsr hardware/bolt kit
-4 linkage bushings, ask for these ahead of time.
The hardest part of the rear end conversion was figuring out exactly what I needed. I worked with my local shop to secure the goods and made it clear that I understood that this little endeavor was a warranty voider. It was a little unnerving at first but then I remembered that I would have a one of a kind bike and that a half-dozen people might read all about it on the internet. Once I got all the stuff, setting it up was easy. The only complex task is removing the Camber's seat-stay bolts from the the shock link. They involve a set of bolts threaded into each other and if you don't take the inside one out first it will push a bearing out of place and ruin the linkage. If you ever want your bike to be a Camber again don't f*ck that part up.
Step 3. Riding Your Bike
"Everything's a jump if you're goin' fast enough"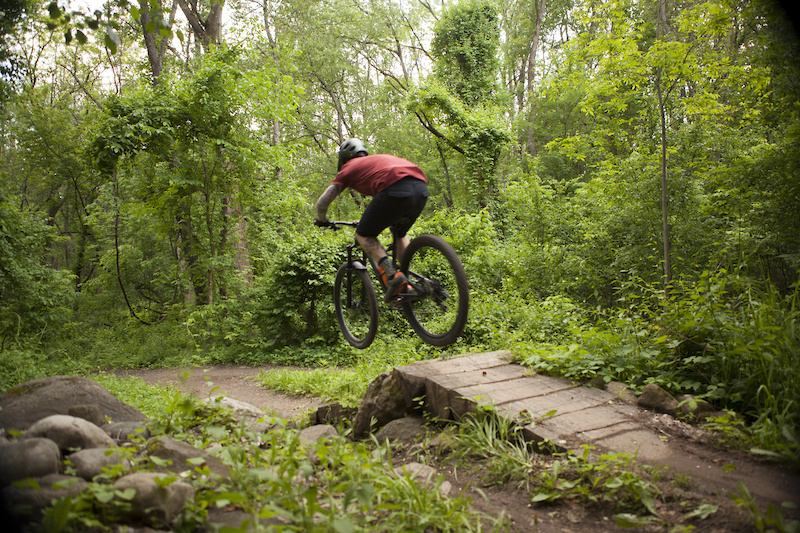 This project was a blast and wouldn't have been possible without the wonderful folks at HOWTOBIKESTUFF. Big shout out to early 2000's hip-hop sensation Cam'Ron, the name Cam'Jumper wouldn't be possible without him. You can check out a wonderful video chronicling this endeavor below. Keep riding, keep having fun, and never let anyone tell you that you don't need
THAT
much travel.
Follow me on Instagram! @bradmoshpitt
Follow HOWTOBIKESTUFF on Instagram! @howtobikestuff