Have you ever found yourself always giving your mates a few tips every time you go out for a ride? Are you the person people always turn to when their girlfriend/boyfriend wants to start riding and they need you to give them a lesson? Maybe you teach a winter sport like snowboarding and want to do a similar gig in the summer? Maybe you just want an excuse to go ride with a pro instructor and get some decent coaching for a few days?
If any of these apply to you, look inside for the
2010 PMBI Instructor Training Course details & schedule...
As the mountain bike industry continues to thrive, the need for safe, effective, well-trained mountain bike instructors is now higher than ever. More and more bike parks and mtb companies are offering coaching, camps and clinics as the idea of "getting a lesson" continues to grow in our amazing sport of mountain biking. In the interests of promoting safe, effective, consistent instruction, we started the PMBI courses in 2000 as part of an "Instructor Training Program" for a series of summer camps in The 'States. A few years down the line, and with plenty of experience training instructors in both mountain biking and snowboarding (working as an Examiner for the
Canadian Association of Snowboard Instructors
), we started to run our own courses in Whistler under the official
Professional Mountain Bike Instructor-PMBI
name... unsatisfied with the current training courses that were available at that time.
Fast forward five years and the PMBI courses are doing great. Having just returned from training a group in Utah, we now have more PMBI Training locations and dates than ever, for 2010. The PMBI Instructor Training courses are now an
industry leader in mountain bike instructor training
and are
currently recognized by
;
Kicking Horse Bike Park
Silver Star Bike Park
Trek Dirt Series
NONSTOP Adventure Bike Camps
Whistler MTB School Cross Country Connection
Elevation Outdoor Programs Association
BaSE Mountain Bike Camps
Idaho Bike Ranch
Trailsports Inc. and more...
The PMBI courses offer professional training with a modern approach. We will develop your skills and enthusiasm into a passion for teaching others, and possibly even into a career!
The main focus of the 95% practical-based courses (lots of riding!) is to provide a detailed understanding of the theory behind how we ride, safely guide and teach, and therefore act as a professional mountain bike instructor; which in turn allows you to adapt your knowledge and skills to any mountain biking situation. Whether you are leading a group ride on XC trails or ripping with some clients in a DH setting, you'll be able to ride and teach effectively in either discipline.
PMBI Level 1 Main Content
:
"Six Skill Concept" training - Riding Development & Theory
Teaching, Sessioning & Guiding Practice, Development & Theory
Rider Analysis, Improvement and Feedback Sessions
Skill Based vs. Maneuver Based teaching
Terrain & Feature use in teaching
Client Safety & Satisfaction
Riding & Teaching Evaluations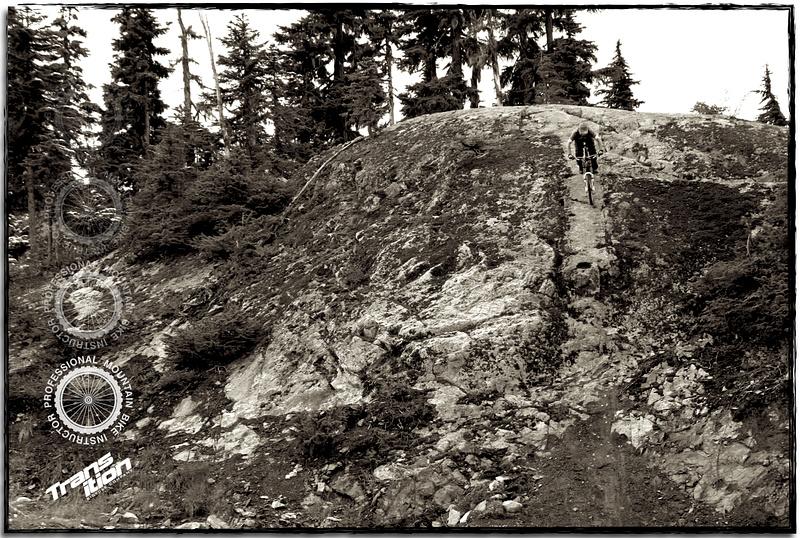 2010 PMBI SCHEDULE
IDAHO BIKE RANCH
PMBI Level 1:
June 15 - 17th
WHISTLER VALLEY
PMBI Level 1:
May 21st - 23rd
May 28th - 30th
June 11th - 13th
June 19th - 21st
SILVER STAR BIKE PARK
PMBI Level 1:
July 2th -4th
PMBI Level 2:
July 8th -11th
Sep 9th - 12th
KICKING HORSE BIKE PARK
- (THE KOOTENAY'S FIRST OFFICIAL PMBI TRAINING CENTER!)
PMBI Level 1:
June 7th - 9th
PMBI Level 2:
July - TBA
Instructor Training is what we do
and what we've always done... training new instructors to help ensure safe, effective instruction is a key way to help promote our sport to new riders and keep current riders happy and progressing safely.
For more details, testimonials, FAQ answers, info and how to sign up for a course, log on to www.professionalmountainbikeinstructor.com
(PMBI courses are run by ZEPtechniques... supported by Transition Bikes, Fox Racing Shox, Straitline Components, MRP, 661, and Sunline)