zslavitz
Member since Jun 4, 2013

Male / 28
Portland , Oregon
Block user
Recent

Oct 14, 2021 at 0:24
Oct 14, 2021

Oct 12, 2021 at 21:40
Oct 12, 2021

Selling
Oct 12, 2021 at 21:31
Oct 12, 2021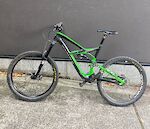 $1000 USD
2013 Specialized Stumpjumper. I rode this mainly in Ashland and in Scappoose Oregon. I bought this bike used in 2016. It has been ridden well, minimal crashes. All the paint scratches were there when I originally purchased the bike. That said, the paint has begun to crack near the headset. I believe this can be remedied with some carbon fiber treatment if desired. Drive train is decent. I just bought a new chain. Suspension is working well. The bike still rides well. Let me know if you have any questions, or just want to talk about experiences I've had with this steed. Cheers, Zander

Selling
Sep 19, 2018 at 18:50
Sep 19, 2018

Selling
Apr 4, 2016 at 20:55
Apr 4, 2016

Selling
Aug 31, 2015 at 13:53
Aug 31, 2015

May 1, 2014 at 18:25
May 1, 2014

Selling
Mar 10, 2014 at 14:29
Mar 10, 2014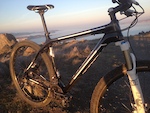 $1100 USD
2013 Trek Superfly Carbon , 21" frame with 2011 components. The fork is functional but needs some work. See full original specs at http://www.trekbikes.com/ca/en/bikes/2011/archive/trek/superfly/# I raced this bike my senior year of high school but since have only ridden it when I come back from breaks from college. Original 2011 frame cracked at front derailleur mount (turned out to be a common problem with the 2011 frames) and then recently received a brand new 2013 frame. Current frame is practically brand new with 15 hours of riding on it. Trying to sell the bike quickly to pay for a new downhill bike. Super fun bike and great for ascending and descending. Please let me know if you would like more pictures or information.

Dec 25, 2013 at 20:17
Dec 25, 2013

Dec 3, 2013 at 14:51
Dec 3, 2013
Load more...