Duluth Devo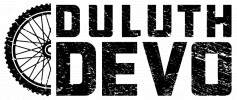 Duluth DEVO Mountain Bike Program builds strong bodies, minds, and relationships through lifelong cycling.

Founded in 2013, as the Duluth Composite Mountain Bike Team, we began as a team participating in the Minnesota High School Cycling League, and have expanded to include programs for elementary aged youth, as well as riders seeking more technical riding in our enduro program, and youth interested in adventure riding rather than racing.

Our programs have expanded to serving over 300 youth in 2022 in grades 2 - 12, and we are now known as Duluth DEVO Mountain Bike Program.