Central Maine NEMBA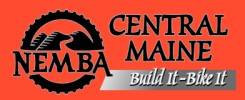 The Central Maine chapter of NEMBA (CeMeNEMBA) is a dedicated, enthusiastic group making a difference for locals and folks from away who enjoy mountain biking on the growing network of trails in Central Maine. Our mission is to "Build it, Bike it" for trail lovers like yourself!

In addition to our ongoing work in the Augusta – Hallowell area, our recent efforts have focused on trail projects at the Pine Ridge Recreation Area in Waterville and advocating for mountain bikers at the new Androscoggin Riverlands State Park in Turner.

We also work on new mountain biking trails at the Quarry Road in Waterville and an off-road trail system within Waterville city limits linking Pine Ridge and Quarry Road, and at Bond Brook in Augusta.

If you enjoy mountain biking in Central Maine, please join CeMeNEMBA today!
Review Central Maine NEMBA
No reviews yet, be the first to write a review!
Earn Trail Karma by Donating to the Local Trail Association
help fund trail maintenance and development
Donate