So it's a week into January and there's a layer of snow and ice covering your favorite singletrack. What's a rider to do?
If you're unadventurous and aren't looking for a new thrill, chances are your two-wheeled friend becomes a ceiling ornament in your garage. Your wedge-shaped seat is replaced by a big comfy couch and your handlebars make way for the vibrating plastic Xbox controller. But if you can handle sub-zero temperatures and want to keep riding your bike while others are riding the sofa, the good news is there are some great options for studded winter mountain bike tires that will make riding on snow and ice like a day in the park.
The only problem is which tires to go with.Although the options for studded tires aren't nearly as endless as with regular tires, there are still many choices ranging in price, size and quality.
So we decided it was time to do a comprehensive test of as many winter bike tires as we could get our hands on. The word went out to every manufacturer of studded 26" mountain bike tires and the result was impressive with nine different tires entered representing nearly every winter tire on the North American market ranging from the $40US (each) Continental Spike Claw 120 up to the $125US (each) Nokian Hakka 300.
We wanted every tire to be tested in the exact same conditions, so we turned to some friends at Chippawa-Willoughby Memorial Arena in Niagara Falls, Ontario and they allowed us the use of the whole ice surface for an entire morning.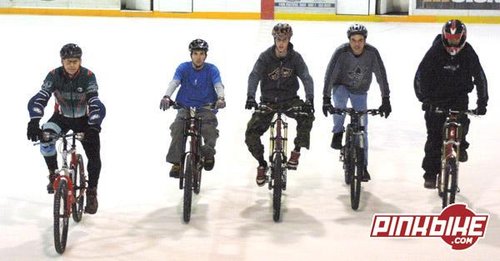 To make for more realistic circumstances, the surface was left uncleaned after being used for a hockey game the night earlier.
Over the course of a few hours, each set of tires was ridden by six different test riders. Every tire was then rated on control, acceleration ability (which also simulated climbing), braking, quality, value and an overall impression. At the end of the day the numbers were put together, averaged out and the winners were chosen.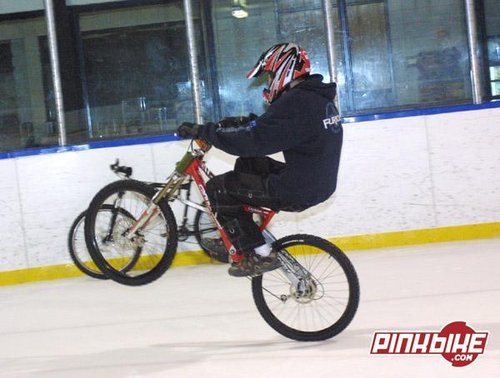 So, (drumroll please), the winners of the Pinkbike.com winter tire shoot are the Nokian Hakka 300 and the Nokian Extreme. At $125US and $100US, respectively, these are definitely not for the light-walleted, but if you want the best of anything, it's going to cost some serious coin. If that's a little over your budget, coming in a close third behind the two Nokians (which effectively tied for the win) was the Continental Spike Claw 240, an amazing tire at half the price of the powerhouse Fins.
FIRST: Nokian Hakka 300

| | | | | | | |
| --- | --- | --- | --- | --- | --- | --- |
| Control | Slip | Braking | Quality | Value | Overall | Total |
| 10 | 10 | 10 | 10 | 8 | 9 | 9.5 |