So many of you may know me as the guy who make's videos from time to time, I used to cover BC Cup fairly frequently, I've also had a front page article from time to time, and I even made an appearance in a
Spoked Media
shirt covering Crankworx last Summer. I try to do what I can to help promote and support the bike community, working at the local shop I don't make a crazy $25 an hour nor do I work 50 hours a week raking in the cash to do with what I please. On top of all of it, I just recently graduated high school, and now I have to personally pay for my university Journalism education. So what I'm trying to say is, I don't have a lot of money to put back into what I love, taking photos and making films. That's where all you Pinkbike readers come in. So here's the plan....!
About a year back, I started a little "business" with my friends, making sweaters to sell to fund our own sweater making fetish. We were known as
Rainshine Apparel
. After finding out that it took more hours to sew a sweater then it did to knit one, the whole thing fell apart. I spent the next few months learning to print t-shirts still using the Rainshine logo just to try a keep things going, but it never took off and I couldn't commit to it enough to try.

The "company" logo
So you're probably wondering what this has to do with you. Well, in simple terms, I want your money, but in more attractive terms, I want to lend my skills to give you something that perhaps you've always wanted, needed or desired, in order to help fund my photography/film passion.
I am proposing to either design a selection of shirts that I could print for a reasonable price, and sell them to the local Pinkbike community.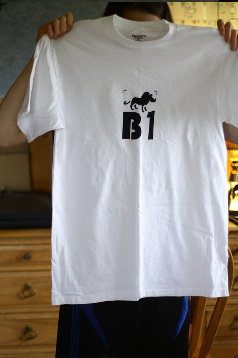 A project I am currently working on for a friend who is using the profits to make a trip to Kenya to build a school.
Here is the deal:
I print each and every shirt I make by hand. From the design process to the finished product I do them personally, by hand. I draw the design, cut out each stencil, and print them onto the t-shirt with no machine or any synthetic assistance. I use a pen, a paper knife and a screen, ink and a squeegee; the result is a 100% authentic, and often one of a kind,
hand crafted
printed t-shirt.
I would like to make a set price for the shirts, with a possible if your friends buy one, I'll give you yours to you at the cost it was to buy the shirt (between $5-$10)!
I would like to hook up with any new flim, photo, or bike crews that have a company or team name, and make you a set of shirts with that name, or your favorite logo on it! Like what the work I did for Adam at Spoked Media.
I would like to give anyone who would like the opportunity to design a shirt for yourself to send me your design so I can work with you and you can have your own 100% one-of-a-kind t-shirt!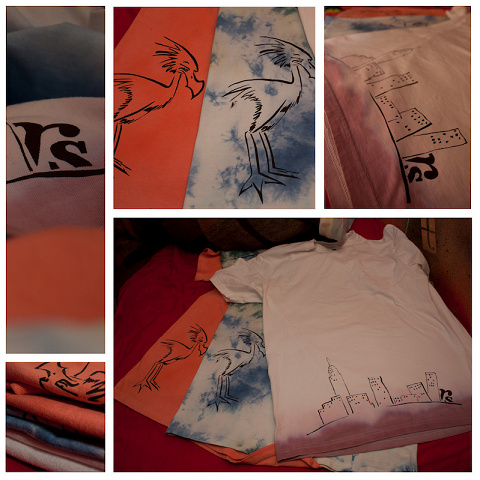 3 Shirts I printed for a friend.
This is the first blog just to get things rolling. I would like some input from you the Pinkbike reader on a matter of affairs:
1) Just by reading this write-up would you possibly be interested in purchasing a shirt from me.
2) Is there anything you would like to see on a shirt, or any themes that would entice you to buy a shirt.
3) What do you feel is a fair price for a shirt like this? I make shirts out of high quality 100% cotton t-shirts, mainly white.
4) If there is any young aspiring graphic designers who would like to give me a hand, make a shirt that I can make a run of and sell, I would be happy to give you a free shirt and a wack of stickers for helping me out.
5) If you have any other ideas, please please please let me know!
Thank you for reading.
-Eric