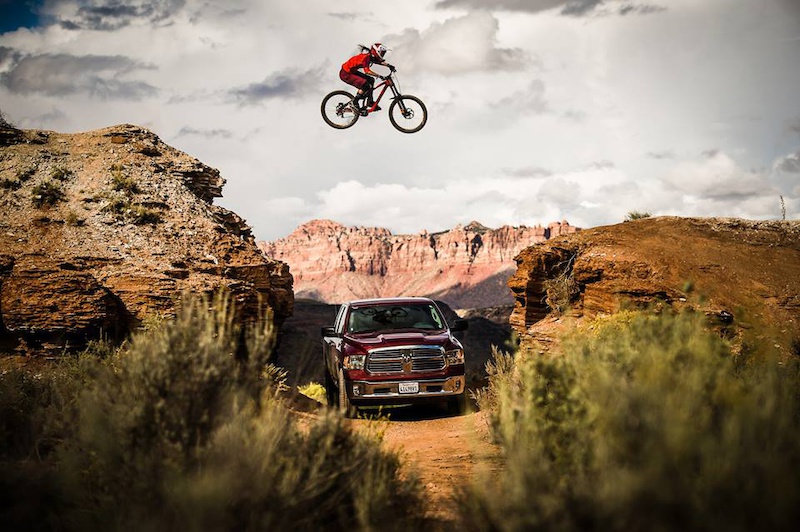 Some may know who Steffi Marth is, and some may not. So who is Steffi Marth?
German Trek rider. 5 time National BMX and 4X Champion. Bronze winner at the 4X World Champs 2014 and 2015 along with a long list of many great results across her 18 year racing career.
Steffi wanted to complete a season Downhill World Cups this year, but after a crash in practice at the first World Cup race at Lourdes, she had to conquer a tough season struggling with a shoulder injury. At the end of the season she turned back to in her words the 'less dangerous' discipline of 4X for the World Champs in Val di Sole, where she took the Bronze.
Despite her season not going to plan, she has still been causing a stir when the image of her hitting the Grafton Road Gap in Utah appeared on social media. So I wanted to find out more about this great rider who, along with the Trek Gravity Girls, is doing lots to inspire confidence into female riders around the world.
Hey Steffi. Thanks for taking the time to answer some questions! I thought I would kick the interview off with where it all started for you. What are your earliest memories of riding bikes?
I started at the age of 12 on a BMX track near my house. Since then this was and is my happy place. I am still going there whenever I am home to ride for myself or with the local kids.
When was it you realised you wanted to race and ride bikes for a living?
That is actually not very long ago. I finished my Master degree in Architecture in 2013 and after that I found myself just doing what I always did…riding my bikes. But from then on I had to organise my media work better to earn a living from it.
Do you think your early days have influenced who you are as a rider and person today? Who would you say had the biggest influence on your riding growing up and helped keep you so dedicated? Or did that dedication come from within?
I am a hundred percent sure that my early days influenced me to who I am now. BMX is just the best way to learn how to handle a bike and to learn a precise technique. I would suggest everyone to ride BMX or at least a Hardtail before stepping on a big bike with full suspension. Sometimes I do wish that I started even earlier than 12 years because at the very young age of 5 to 10 you are the most adaptable and learn the fastest.
Focus is such a big part of racing, even with endless amounts of training a lack of focus can throw things off track. Was there ever any advice or a turning point where you learnt how to keep this focus?
It is definitely right that you need to be very focused to win a race besides all the skills and training you need anyways. Many riders have the skills and training to win races but the mental aspect puts off most of them. I was terribly nervous in my first five to ten years of racing. Of course I am still nervous nowadays but I know I need to what degree and the adrenaline is helping me to go faster. When I am at the start gate I think of nothing else than going as fast as I can.
You come across as an extremely confident rider, especially after the photo emerged of you hitting the Grafton Road Gap in Utah! With your riding experience however, did the reputation of the old Rampage site unnerve you before hitting the gap?
I've grown my confidence a lot in the past few years by hitting some big jumps fine. I've also never really crashed whilst doing jumps and I know it is one of my strengths. When I look down the take-off of a jump I mostly know in my head if I can do it or not. And if I decide to do it and visualize me successfully making it…the confidence is high. At the Grafton Road Gap it was actually exactly the other way around as you described: Seeing people hitting stuff at Rampage made me readjust my view on heights and lengths…
Was it something that happened on the first attempt at clearing it, or did it require a bit more prep behind it like run ins? I know I've had to just hit things on my first run of the day in the past in order for me to ride them successfully!
I looked at the gap one day before which resulted in a sleepless night. Back there again I tried to find some guys to come with me to see somebody do it before I tried it. I had two or three speed checks and then just hit it full commitment. The landing was mega off-camber, which made it hard to not crash the landing, but I made it fine. I decided to only do it once, but then it was Rampage time. After 4 days of Rampage I wanted to go back to the Grafton Road gap because I was so pumped of what I saw at Rampage. I did jump it about 6 more times then.
From the posts on your website and social media, it is clear to see you're a confident jumper. What/who helped the most in getting you to the level you're at now?
Just doing it! The only thing helping your confidence is to jump as many different types of jumps and much as you can. Then you'll learn how to judge the length of a jump and it´s shape of take-off and landing. Of course you also need to be confident with your bike set-up.
In the UK the confidence female riders have is continually growing with more and more women getting on bikes. A topic I always find crops up is advice on jumping. There's so much advice out there coming from male riders, so have you got any tips for riders new to jumps? Apart from practice, which we all know makes perfect, was there anything that helped give your ability to get air-born a boost?
The best is to begin with learning how to bunnyhop, of course with flat pedals. Bunnyhop up and down kerbs on the road for example. Then find some small tabletops and practise how to jump your bike fast with a tuck but also high with less speed. Just get familiar with what your body needs to do and how the bike reacts on it. Then just get bigger and bigger. Sometimes it also helps to let somebody take a video or photo of you so you see what you might do wrong…mostly it is a too upright position on the bike.
Now I have one last question for you. In my interview with Laura Bingham, she gave my readers the challenge of writing a bucket list. Despite living the dream already, what's currently at the top of your bucket list to do in the future?
I seriously have to admit that I am a thousand percent happy with my life and all the projects I have made and want to make. I just want it to continue like this forever! For now I am on the way to finish my second studies in PR and then get my shoulder surgery to be ready to prepare for next year.
Good luck to Steffi in her off-season and of course the 2016 season of racing. To follow her through her future riding adventures as she continues to inspire fellow riders follow her on social media or visit her website:
Twitter: www.twitter.com/steffimarth
Facebook: www.facebook.com/steffi.marth
Instagram:
@steffimarth
Website: www.steffimarth.com